Let's Talk About Multilingualism with WordPress: BigWP London 2023
In a world increasingly defined by global interactions, the ability to communicate across different languages has become a defining feature for any successful enterprise. This is especially true in the digital sphere, where Inpsyde, Europe's largest WordPress agency, has made substantial strides.
Their CEO, Alex Frison, recently shed light on this subject at BigWP London, exploring the significance of multilingual capabilities for enterprise websites, the use of their tool, MultilingualPress, and how future developments in artificial intelligence (AI) will impact multilingual plugins.
MultilingualPress: A reliable solution for multilingual websites
Inpsyde's solution to multilingual content management in WordPress is a plugin called MultilingualPress. Built with enterprises in mind, this plugin helps businesses effectively communicate with partners, clients, and customers worldwide in their native languages.
"I'm slowly becoming convinced that MultilingualPress is the only sane way to run a multilingual site on WordPress."

—John Blackbourn, WordPress Core Developer, Human Made
MultilingualPress not only facilitates smooth translations but also offers SEO optimization, multilingual media management, and user-friendly language-switching features. This WordPress VIP-approved tool allows every language to have its own site within the network, offering unparalleled flexibility. It has been successfully deployed by big names like SAP, PayPal, and whitehouse.gov.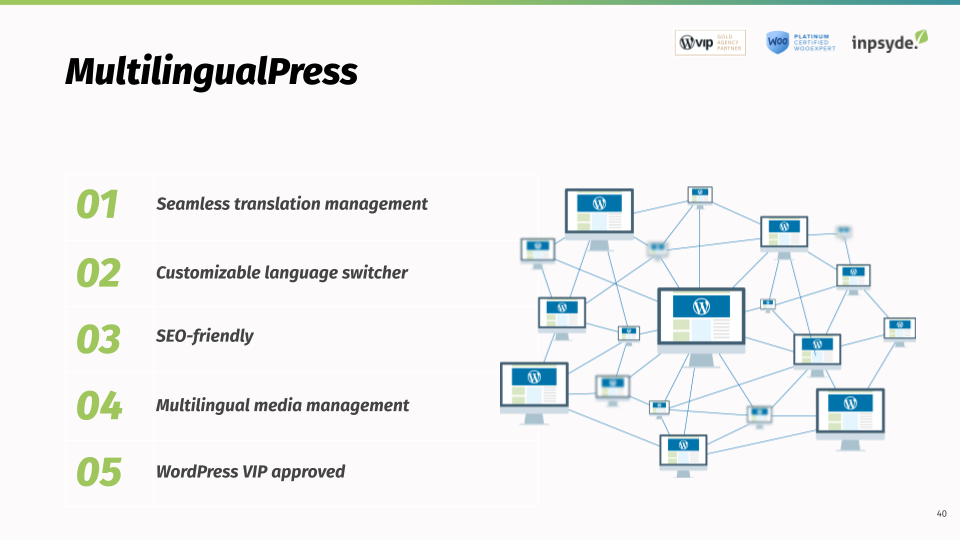 The advantages of a multisite approach
MultilingualPress is rooted in a multisite approach to multilingualism. In comparison to single-site solutions, the multisite approach provides scalability, design flexibility, and superior performance. It offers SEO optimization tailored to specific countries and languages. It also simplifies maintenance within an agency network, reducing the time and resources required for updates.
The multisite approach ensures future-proofing because it's a core feature of WordPress, which means the plugin is prepared for version updates, including Phase 4 of the Gutenberg project. MultilingualPress users can rest assured their multilingual solution will remain reliable and efficient.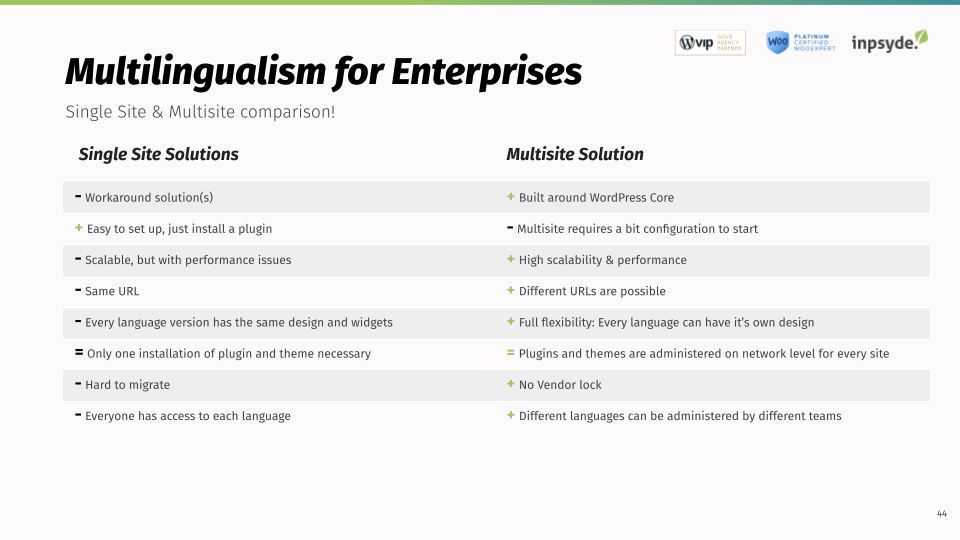 The future of multilingual plugins: Automation and AI
As the digital landscape evolves, so too must the solutions for users. Inpsyde is already looking ahead, exploring how automation and AI can revolutionize multilingual solutions.
Their ongoing project with a major media house in Switzerland is a prime example, where user-generated content undergoes automatic translation upon approval.
The integration of AI will lead to more advanced translation capabilities and faster generation of original content. While these first iterations may seem rudimentary, they mark the beginning of a significant evolution in the capabilities of multilingual plugins.
Future-proofing your enterprise website with MultilingualPress
The future of enterprise-level multilingual websites hinges on embracing solutions that offer flexibility and adaptability to technology advancements like AI. Here, MultilingualPress is leading the way in providing a scalable, customizable, and forward-looking solution for organizations.
More BigWP content
Can't get enough of BigWP? Neither can we!