Enterprise WordPress Integrations Survey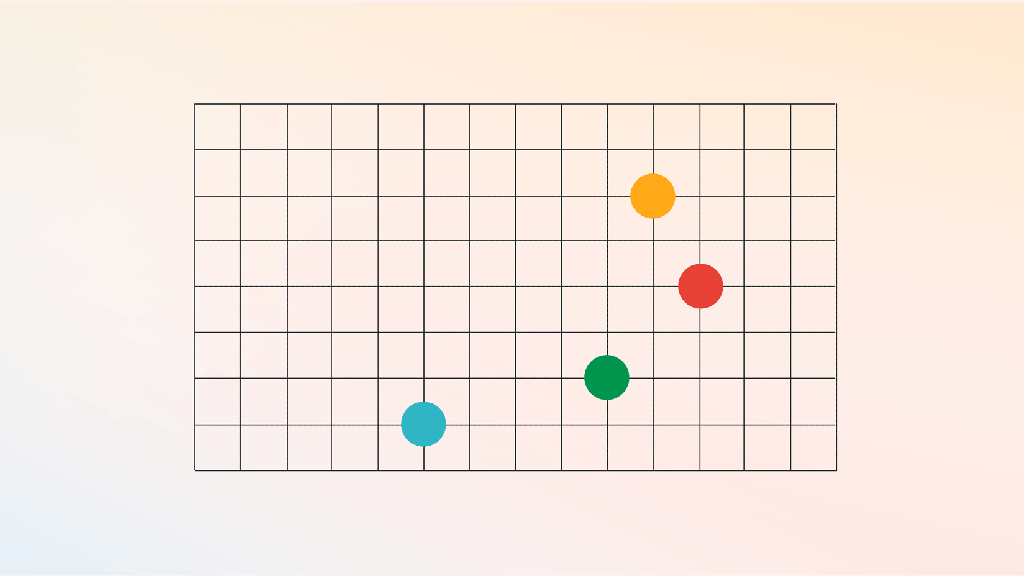 Content is the heart of your digital experience.
It's what brings people to your products and keeps them coming back for more.
However, there's no one-size-fits all approach to successful content management. Behind the scenes, delivering timely, performant, secure, and engaging content requires an ever-evolving constellation of tools and technologies.
One of the strengths of WordPress as an open source platform is the flexibility it provides to customize your architecture with third-party integrations. Over the last decade we've seen WordPress VIP customers (some of the world's top brands) build sophisticated and innovative content ecosystems that achieved transformational results in their businesses.
Inspired by their success, we conducted this first-ever survey of enterprise WordPress technology integrations. We asked our customers which integrations they rely on for results in key business areas like ecommerce, marketing automation, and business intelligence. Our goal was to surface best-in-class, proven solutions, and share those insights with senior leaders looking to improve the agility of their marketing and operations.
Table of Contents:
Who participated?
Analytics and business intelligence
Personalization
Digital asset management
Marketing automation
Multivariate testing
SSO, video, ecommerce, and more
Conclusion
Who participated?
We surveyed WordPress VIP customers with sophisticated implementations of WordPress at scale.
Geography
Respondents represented major brands across three continents: 70% of respondents are based in the U.S. and the other 30% span the globe, including Switzerland, Australia, Guatemala, and the UK.
Job function
We separated respondents into two categories, publishers and content marketers. In this case, the Publisher's main source of business revenue is generated from content on their website. Meanwhile, Content Marketers are using their website to support a product or a service.
48% were content marketers
52% were publishers
Industry
Less than 5% of the respondents were split between industries like financial services, sports/entertainment, pharmaceuticals, and travel/hospitality. The majority of respondents came from:
55% Media/publishing
10% Education or the arts
7% Business services
What does your team use for analytics and business intelligence?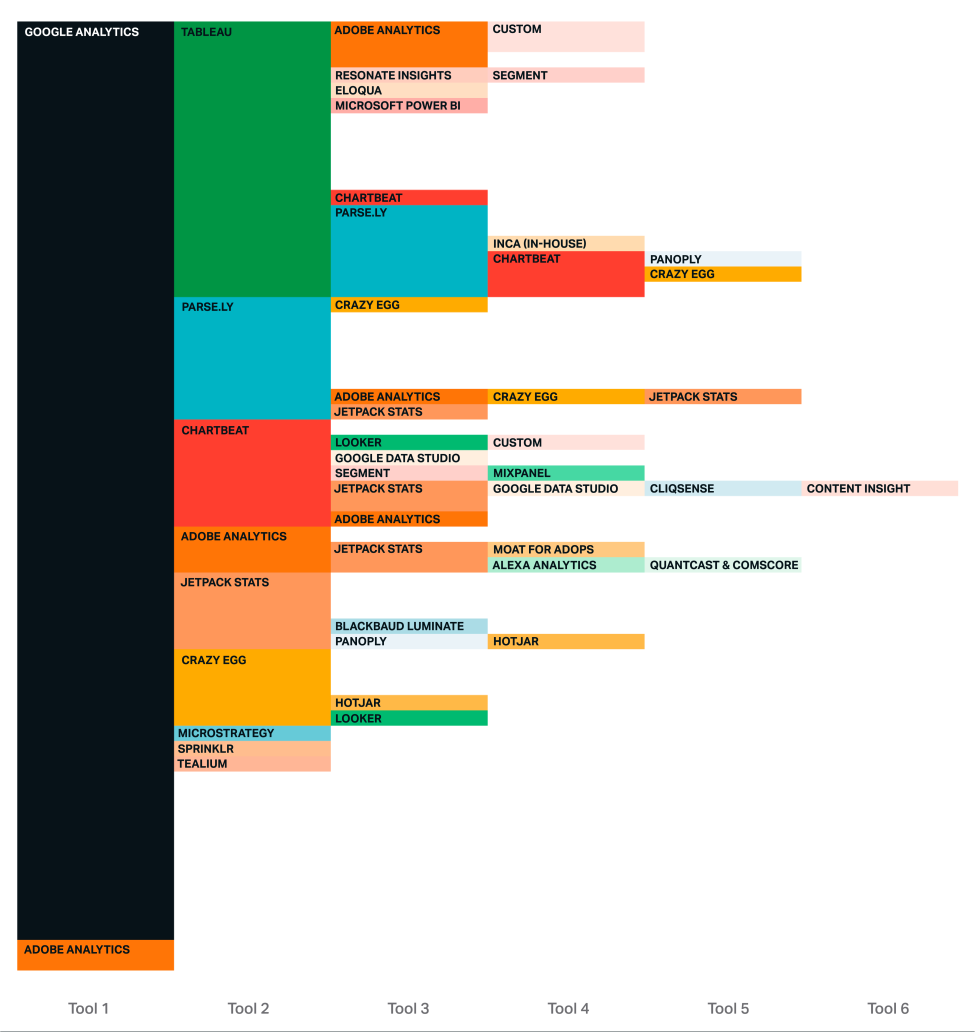 What does your team use for personalization?
Takeaways
50% said they hadn't figured out how to implement personalization.
13% said it wasn't relevant to their business model.
Of those that were using a personalization tool, 16% were using Salesforce Marketing Cloud, 8% Cxense and 6% Adobe Audience Manager. 14% of content marketers said personalization wasn't relevant to their business while only 9% of publishers said it wasn't relevant.
How does your team define personalization?
Results
Here's how several of our respondents defined the role of personalization. For many of them, the practical applications and financial incentives are still up for debate. Examples include:
"Being able to flexibly change something to meet our needs."
"Allow the user to customize the experience and content they receive."
"Recommending content that a user is more likely to be interested in and engage with."
"Giving a superior experience to users to increase desirable behaviors."
Because of services like Outbrain "financial incentives to do personalization has practically disappeared."
"Custom content displayed to different user groups based on something we know about them."
"Having the ability to adjust your brand's vision/messaging on the web to the preferences of a particular user or customer."
What does your team use for digital asset management?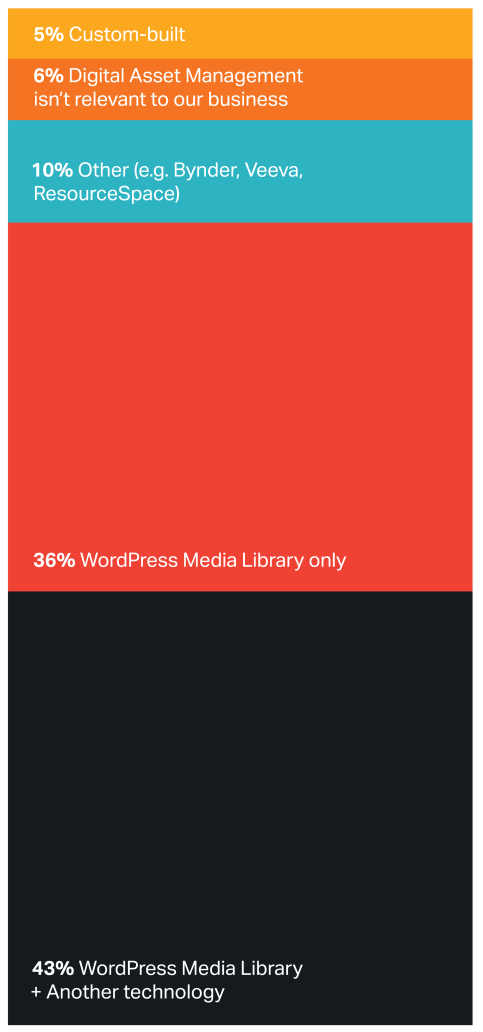 Takeaways
The WordPress Media Library is a malleable tool. Many teams who answered Media Library only have heavily customized the technology to support finding and managing millions of assets. Every respondent who said they custom built a solution was a Publisher in the media/publishing industry.
Of those that said they were exclusively using the WordPress Media Library, 40% were content marketing teams.
What does your team use for marketing automation?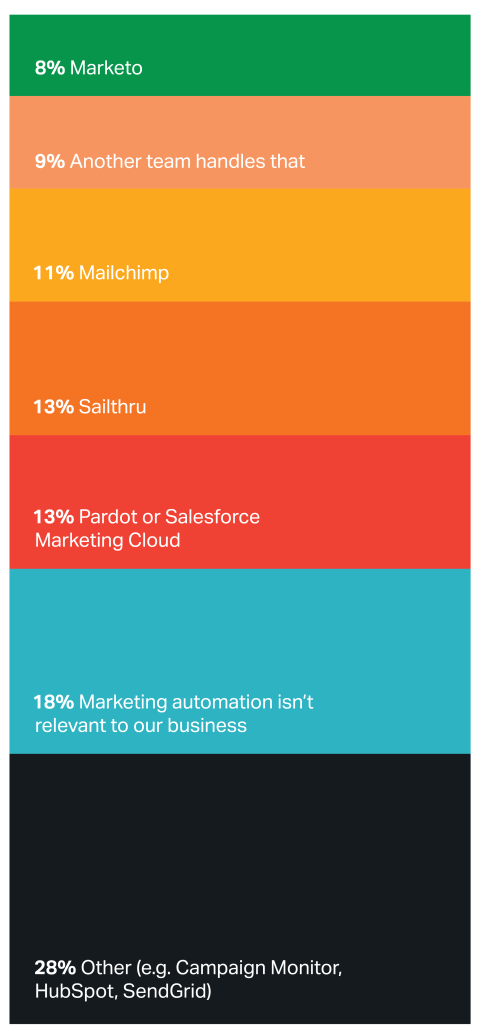 Takeaways
27% said marketing automation either wasn't relevant to their business or it wasn't managed by the CMS team.
Of those who said marketing automation wasn't relevant to their business, all but one was in the media/publishing industry. Teams that responded for Sailthru were all in the media/publishing industry.
What does your team use for multivariate testing?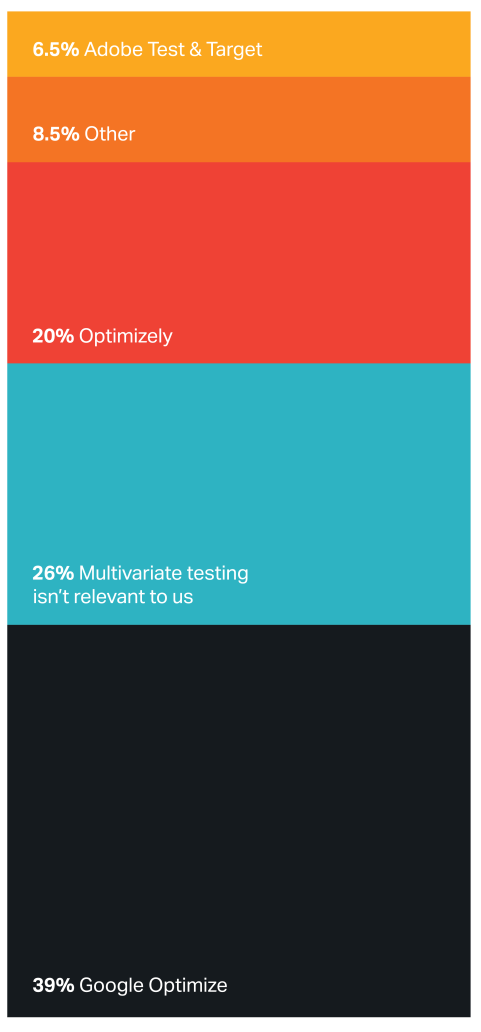 Takeaways
There were no patterns between multivariate testing tools and industry or website type.
Do you have favorite solutions or current partners in any of the following categories?
Takeaways
Translation is a focus with US-based marketers
Every respondent who said they had a translation partner was a content marketer. 85% of respondents who said they were relying on a translation integration or partner were U.S.-based teams doing content marketing for a consumer brand.
Everyone cares about Access Management
Between single sign-on and identity management, nearly every respondent said they worked with a tool to manage one or the other. Auth0 was the leading tool, followed by OneLogin and Piano.
Publishers are exploring ecommerce
19% of publishers said they were working with an ecommerce platform.
Of those who said they were using a video player, who were they using?
Brightcove was the runaway favorite for video tools followed by a mishmash of "Other" like YouTube and Vimeo.
Conclusion
Enterprise WordPress content management is an ever-evolving ecosystem of tools and technologies. We're witnessing a growing demand for large organizations to build flexible, adaptive toolsets that respond quickly to changing markets and changing business goals.
This report provides a snapshot of trusted tools in the current business environment. While some capabilities, like personalization, are yet to be fully realized at many organizations, other business needs (like business intelligence and marketing automation) are fairly mature, with several proven solutions.
Publishers are pursuing creative revenue opportunities, as seen in the growth in ecommerce capabilities. Content marketers are looking to enter new markets, with translation as a top priority.
Access Management continues to be a leading requirement across organizations and industries, as does video.
We'd like to thank everyone who participated in this survey. If you have any questions, comments, or ideas, we'd love to hear from you. Please get in touch.
Read the report
Fill out the form below to receive a link to the report in your inbox.