Getting Engaged: The Power of Agile Content to Drive Growth
Enterprise Stories from Salesforce, AccuWeather, the DNCC, and OKdo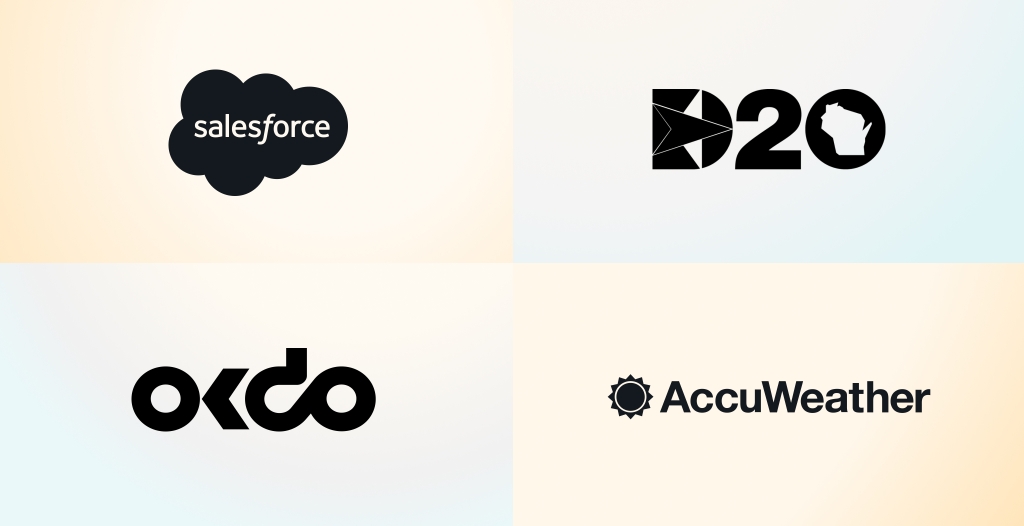 Content has the unique power to drive enterprise growth and audience engagement—no matter the business mission, no matter the industry. Because, at its core, every company is really a content company.
And in an era of great business change, the story—your story—still needs telling. But how?
AccuWeather, the DNCC, OKdo, and Salesforce are just four examples of enterprise leaders reimagining how they create, manage, and deliver engaging content and digital experiences to customers, wherever they are.
Their stories, which contain must-have lessons for all content marketers, share a common chapter. It opens with an agile content platform backed by a powerful enterprise ecosystem. Let's take a look.
Salesforce Elevates Content Marketing to Achieve Revenue Growth
Salesforce is the world's #1 customer relationship management software founded in 1999 and now partnering with 99 of the Fortune 100. The company's revenue passed $17 billion in 2020, growing 29% year over year.
As a world leader in connecting companies with their customers, Salesforce understands the essential relationship between content and business growth. In fact, CEO Marc Benioff sees the future of the company aligning with a shift in their marketing strategy: talking to people in a different way, prioritizing authentic communication over selling a product. That's why Salesforce is trailblazing the elevation of content across the organization's entire marketing ecosystem.
"How do we help people in their jobs?" Hayley Nelson, Salesforce's first-ever VP of Content Marketing, asks herself. "We have valuable insights to share with people across all segments of our user segmentation grid. It's time for us to organize our narratives and organize our efforts to really take advantage of this moment."
In the last year, Salesforce has migrated several of its properties to WordPress VIP, including its Newsroom and the revamped 360 Blog. "Tools that can enable us to be agile are crucial," explains Hayley.
Insights from Salesforce
Salesforce created a new role, Vice President of Content Marketing, to lead the transformation of content marketing across five business units.
To build a successful content marketing organization, Salesforce leadership encourages its marketers to stop thinking about one-off campaigns, and instead focus on creating an ecosystem of content united across five core
themes.
Content marketing is the future of marketing. "None of us will have jobs as content marketers in the future. We'll just be running marketing, because content should just be something that every marketer has in their toolkit," Hayley
predicts.
---
AccuWeather Wins its Competitive Strategy with Decoupled Architecture
AccuWeather is recognized as the most accurate source of weather forecasts and warnings in the world, serving roughly 1.52 billion people per day.
Content marketing is a key competitive advantage for AccuWeather. To create a positive customer experience, the company must deliver lightning-fast weather forecasts across thousands of locations around the world. The content channels they serve include alerts, blog posts, website updates, videos, and more, all of which need to be updated simultaneously.
Their innovative use of the WordPress REST API supports over 750 million WordPress calls per day. WordPress VIP powers the backend of their content platform, which unites both developers and creators on one easy-to-use CMS. Because they use a decoupled, or headless, architecture, they have the flexibility to provide any front-end user experience their customers require, all powered from one central content platform. WordPress has become the backbone of a larger ecosystem that involves enterprise solutions, media partnerships, video coverage, podcast coverage, app integrations, and many other endpoints.
Insights from Accuweather
AccuWeather uses decoupled WordPress to seamlessly deliver content to various endpoints, such as media partnerships, podcasts, mobile applications, enterprise solutions, forecasting, and more.
The robust WordPress REST API powers over 750 million WordPress calls daily.
The decoupled WordPress deployment serves content into a front end that integrates billions of other data points daily, including the temperature, wind speeds, rain probabilities, and radar mapping.
By uniting on a single CMS, both editorial and development teams have the tools they need to deliver business growth.
---
DNCC Makes History Attracting 35.5M Digital Viewers
How do you get voters excited for a political convention when they're home on their couch in the middle of a pandemic? You organize a virtual balloon drop, of course.
For the first-ever virtual national convention in U.S. history, the Democratic National Convention Committee (DNCC) embraced digital agility like never before.
Orchestrating a national political convention is always a huge undertaking. As the COVID-19 public health crisis accelerated, every day brought a new logistical challenge for the organizers. Soon, what started as a single website, demconvention.org, evolved into a robust, scalable digital experience platform for 35.5 million virtual convention attendees—a record-breaking number of digital viewers.
The DNCC chose WordPress VIP as its digital platform partner well before the pandemic hit, thanks to the platform's security protections and ease of use. Expert guidance from WordPress VIP engineers helped DNCC leaders ensure best-in-class security and performance at every stage of the convention's digital transformation.
Insights from DNCC2020
The DNCC fast tracked a center-stage-worthy site capable of powering 15+ live streams in addition to a secure, trackable ballot voting system.
By leveraging an agile, enterprise-grade CMS with scalable infrastructure, the DNCC ran an easily updatable information, content, and video center.
The DNCC kept a high-profile political website safe and secure from external attack by hackers, terrorists, and political opposition.
Partnering with WordPress VIP helped the DNCC offload maintenance and security concerns so the DNCC could concentrate on delivering the best content during the convention.
---
OKdo Fuels DTC Growth with Integrated Content and Ecommerce
OKdo is the direct-to-consumer (DTC) arm of Electrocomponents, a large industrial supply business with over 500,000 products and 1 million customers. OKdo is RS Components' first DTC brand, which sells electronics kits and parts for single-board computing and the Internet of Things.
The new brand was created to launch a global ecommerce business line in seven markets and six languages. Timeliness, agility, and enterprise scale were key project requirements.
OKdo chose WordPress VIP as the home for their platform, and leveraged WooCommerce to unlock the benefits of integrating content and commerce on a single platform.
With the pandemic forcing more people to stay at home, OKdo's agility fueled their ability to bring new products to market. For example, in a single weekend they spun up a new campaign catered specifically to children learning at home.
The flexibility of their CMS and ecommerce integration simplifies their go-to-market strategy and makes it easy to maintain compliance across varying global tax regulations. Their infrastructure seamlessly handles the traffic spikes that come from successful new product releases.
Insights from OKdo
OKdo launched an entirely new business line in eight months with WordPress VIP and WooCommerce.
The DTC brand operates in multiple currencies and multiple languages, and are able to quickly get set up in new markets when needed. "We could spin up into another market within a matter of hours," said Adrian Goodman, Global Digital
Product Owner.
They seamlessly integrate with many payment systems, tax and compliance solutions, and an ERP (enterprise resource planning) system.
WooCommerce enables OKdo to deeply integrate content marketing and products. One example is their revenue-generating projects hub, which gives step-by-step instructions for electronics projects, side-by-side with the products needed to complete it.
Get the ebook
Fill out the form below to receive a link to the ebook in your inbox.