How AccuWeather Leverages Decoupled WordPress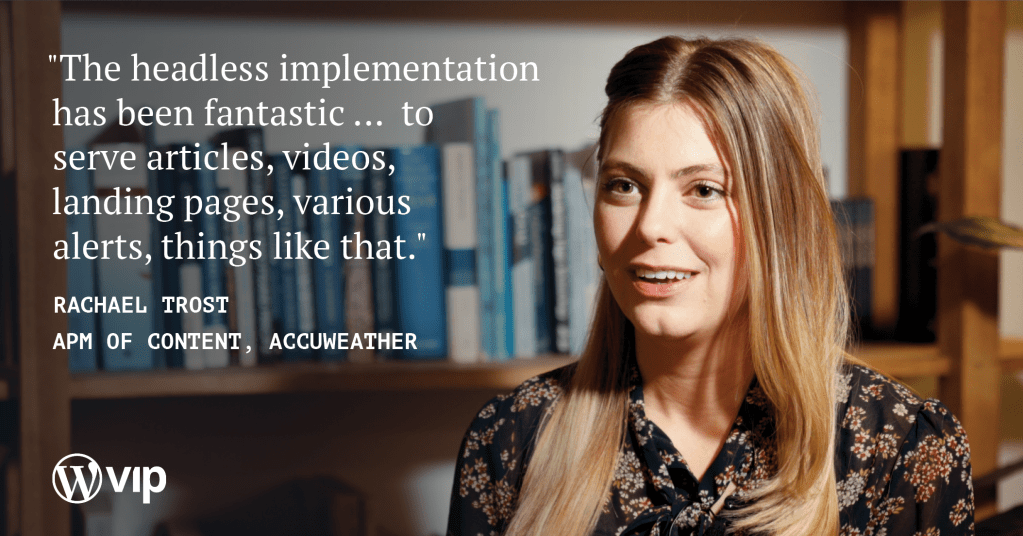 At BigWP NYC, associate product manager Rachael Trost took the mic to discuss how AccuWeather makes use of decoupled WordPress. Founded in 1962, AccuWeather is recognized as the most accurate source of weather forecasts and warnings in the world.
These days, AccuWeather serves roughly 1.52 billion people a day with over 50 billion data calls across their product lines. These products include weather forecasts, local media partnerships, enterprise solutions, APIs, videos, podcasts, and more.
A small but mighty force
Although content forms only a small part of AccuWeather's traffic, content delivery still adds up to over 750 million data calls a day. And content is a key element of AccuWeather's competitive advantage in a market where weather data has become a commodity.

Conscious CMS decoupling
Earlier this year, AccuWeather migrated its CMS from Brightspot to WordPress because the editorial team was struggling with Brightspot's lack of customizable features. After some initial deliberation, AccuWeather selected WordPress thanks to its inherent flexibility, extensive documentation, and straightforward integrations.
Watch Rachael's talk to learn:
The pros and cons of decoupled WordPress
How AccuWeather extends the REST API to deliver localized content
Rachael's three key takeaways from their recent CMS migration
Find all of the talks in the BigWP NYC November 2019 playlist.