The Biggest Questions About Content Marketing in 2023: Answered
Content Marketing Institute hosted a discussion about this year's biggest trends.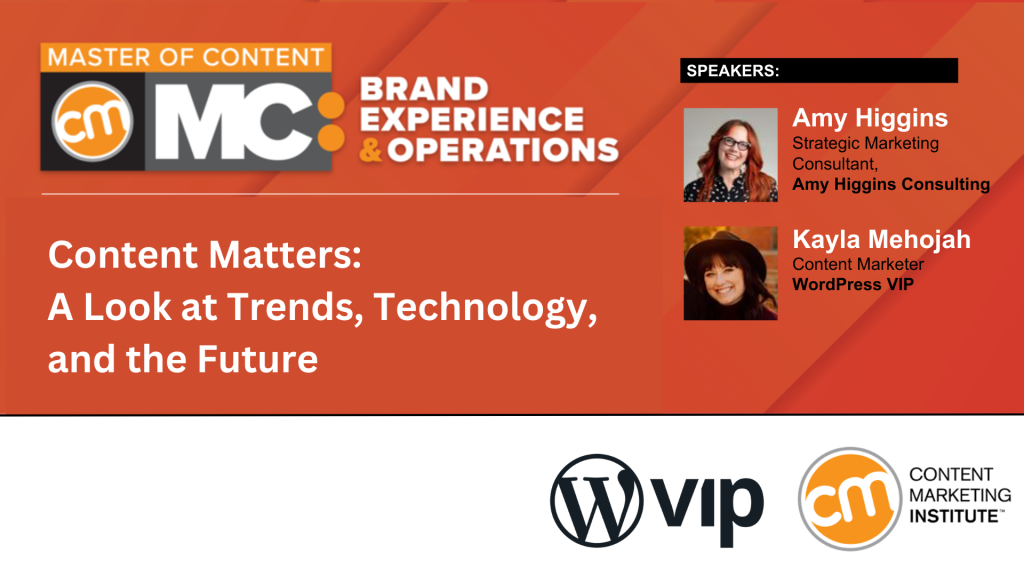 "Content never differentiates you, it's ideas that differentiate you."
During Content Marketing Institute's recent Brand Experience Summit, WordPress VIP Content Marketer Kayla Mehojah talked with CMI's Chief Strategist Robert Rose and Strategic Marketing Consultant Amy Higgins about the deep findings and practical business implications of our Content Matters 2023 Report.
From AI's long shadow to the value of creating "less content" even as demand is rising, the trio pondered and answered questions on the minds of resource-challenged marketers everywhere like:
Should we expect content teams and budgets to continue growing?
Based on the fact teams and budgets have grown steadily the past two years—despite looming economic uncertainty—the future of content growth is promising.
The key, though, to stoking this growth is getting leadership buy-in by proving the value of content. This is done by having revenue goals tied to content. In fact, nine in 10 teams whose leadership understands the value of content report having revenue goals tied to that content, according to the Content Matters 2023 Report. This becomes especially important when 82% also say the need for content to drive revenue is increasing.
Need to tie your content to revenue?
How can content teams focus on quality over quantity?
For growing teams, focusing on content strategy and systems to inform that strategy can't be overemphasized. Because without the integration of project management and content operations, you're going to struggle to tie revenue back to your content.
"When we think about resources, we're missing what matters—the background strategy, keywords, tags, etc. The strategy should be a forethought, not an afterthought."

—Amy Higgins, Strategic Marketing Consultant
A strong strategy, backed by marketing operations, is the missing part of the content equation. "If you don't have your operations set up correctly, it's hard to pivot as the world and the economy changes," Amy says. "It's hard to prove ROI if you're not strategic about what you're doing."
Start doing personalization
Part of that strategy should include personalization because it can act as a stepping stone to prioritizing quality, relevant content for your audiences. When you focus on content that produces results, you'll inevitably need to make less content in general.
"What we're seeing is undeniable. Teams with a personalization strategy are creating less content."

—Kayla Mehojah, Content Marketer, WordPress VIP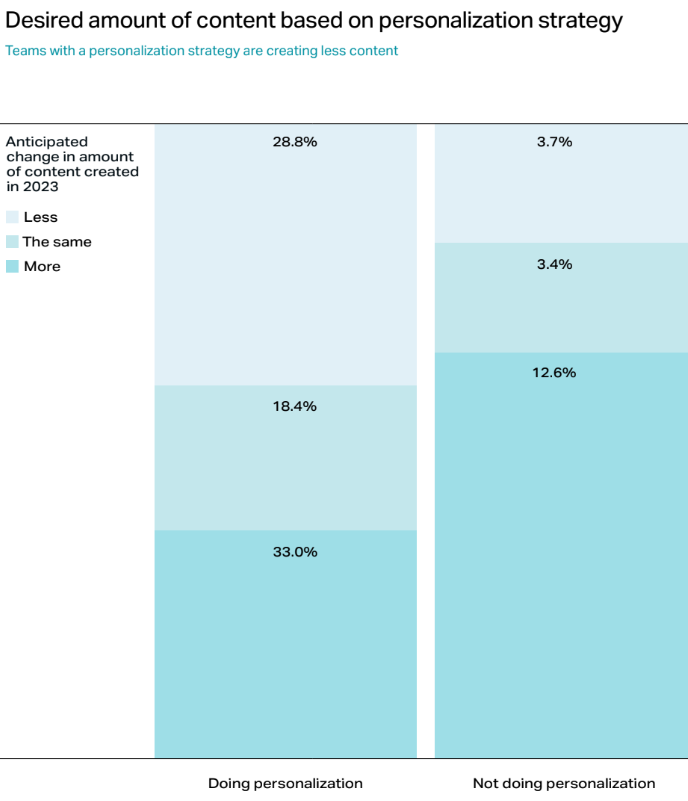 Focus on audience needs
High page traffic may seem like success, but it's a non-starter if the bounce rate is high. As such, you're proving you can only successfully market a landing page, not meet the expectations of your audience or contribute value to your business.
Start by setting up a customer demand journey, identifying where your content fits into that journey. Complete a content audit to learn what content is contributing the most to that journey. This is a great time to prioritize content that fills the gaps, update or eliminate content that isn't working, and hone in on what's contributing to your goals.
"'Let's do a content audit,' said no one ever. Content audits are no fun, but doing them periodically is better than only doing them every few years. It's like cleaning out your closet—you don't want to do it, but if you do it often, it becomes easier."

—Robert Rose, Chief Strategist, CMI
Pro tip: Learn the steps of a content audit with our How to Do Better Content Marketing series
Put more data-driven effort into what you're creating so it goes further in satisfying what your audience is looking for. "People look at the needs of the business rather than the needs of the audience," Amy says. "They never ask 'what does the audience want?'"
Instead of producing content for content's sake, focus on high-quality content that meets audience needs.
Why should content teams use data?
Data helps focus on content that yields results. When marketers cite resources as their biggest challenge, learning to prioritize content will get you closer to meeting your goals. The most important way to do that is using content analytics. "Data is key to making decisions that count," Kayla says, especially if you're serious about shifting to a quality-over-quantity content strategy. Tracking content performance shows you what your audience wants in terms of topics and formats, how they're responding to that content, and what you should produce next.
Assign appropriate KPIs and benchmarks for each channel, topic, and format. Be careful not to generalize content performance, as that may skew your decision-making. Performance metrics for a monster blog with a wide audience won't necessarily translate and hold up for a niche one. "It's comparing apples and oranges," Amy says, noting each piece of content demands its own objectives and success benchmarks.
"People view content analytics as one-size-fits-all, but each type and format of content will have different KPIs."

—Kayla Mehojah
The key to these metrics is measuring what matters—and using those metrics to gather audience insights. Rather than pageviews and clicks, identify the metrics that contribute to your goals. Is it conversions? Engaged time? Recirculation rate? Those KPIs will look different for every brand, but whatever they are, be sure you can tie them to your demand journey and performance goals.
"There's a focus on the content, rather than on the impact on the audience. We're measuring the wrong thing—the number of transactions, not the intent of the transactions. It doesn't help us make strategic decisions."

—Robert Rose
Not only will data help you make better decisions, it's also the only way to truly prove the value of your content and tie your content back to ROI. And tying content to ROI gets leadership buy-in, which helps your budget and teams grow, continuing the cycle.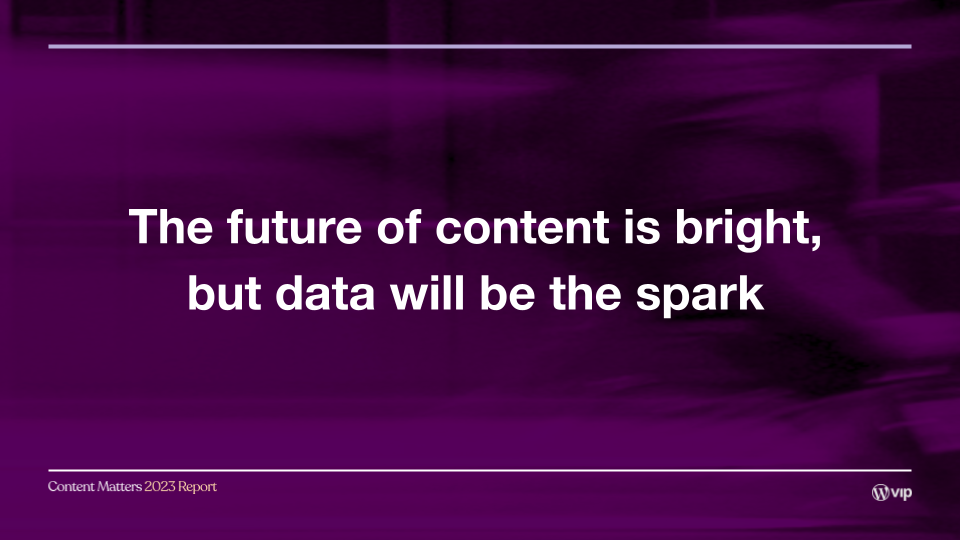 How can content teams become an integral part of the business?
The first step is having a seat and voice at the table. Don't be afraid to show leaders and other marketing stakeholders the value content brings to your role, their role, and the organization as a whole. "Content is such an important part of marketing that it has become an integral part of the overall strategy," Robert says.
Leads driven by content are almost always more qualified than simple cold outreach. Content brings people directly to your business, without forcing them to search. That makes it extremely valuable, especially during economic downturns, because content is always working even when your teams aren't.
But how do you take content to the next level? With a dedicated content team.
"Content is everybody's job and no one's strategy. The first step to making content a real part of the business is to put a team in charge—someone responsible for the strategy, creation, and measurement."

—Robert Rose
Once you arrive at an integrated content strategy, don't stop there. Share that wisdom with your fellow collaborators. After all, the content team can't do it all. It's inevitable other teams—Partnerships, Sales, etc.—will be pushing out their own content. That's okay. As you showcase your business acumen, the Content team can provide tools and information to empower them to create content on their own.
Business-wide content creation is like a dinner party. Someone serves an entree, a side, drinks, etc. But the person following up with dessert has to understand the entire menu so their dish fits and complements the whole. "Let people own what they do best, but give them direction so it fits with the larger picture," Amy says.
"Empower people to do things on their own, with the tools you've provided them. And encourage them to ask questions if they're uncertain."

—Kayla Mehojah
How should content teams use AI and machine learning?
One of the headiest content marketing trends is artificial intelligence (AI) and machine learning—and how they can and should fit into a strategy. Tools like ChatGPT are worrying marketers, already struggling to keep up with demand, over whether they may ramp up even more requests for content. Or worse, make their roles obsolete.
Technology is just a tool, not a solution. Rather than letting it overwhelm you, remember there are still many steps to publishing and distributing content. Every tool needs someone to operate it. It's not the content that matters, it's the people who are creating it and reading it.
"Content never differentiates you, it's ideas that differentiate you."

—Robert Rose
AI is great for the raw construction of content, e.g., webinar abstracts and blog post summaries. But it's the human who'll ideate and implement the strategy behind the content.
"ChatGPT is making content one-size-fits-all. It spits out the same answers no matter who asks the question. How does that differentiate your brand? "

—Amy Higgins
Go ahead, use AI as a tool. But only you can intimately know and understand your brand and audience. Only you can precisely tailor and personalize whatever content machine learning technology generates.
Tools that make your job easier
Whether it's AI, content analytics, or content management, technology can either hinder or help you. Are your current tools working for you, or holding you back?
Learn how WordPress VIP and Parse.ly can make your content strategy more effective and your job easier.