Use the Best WordPress Analytics Plugin: Parse.ly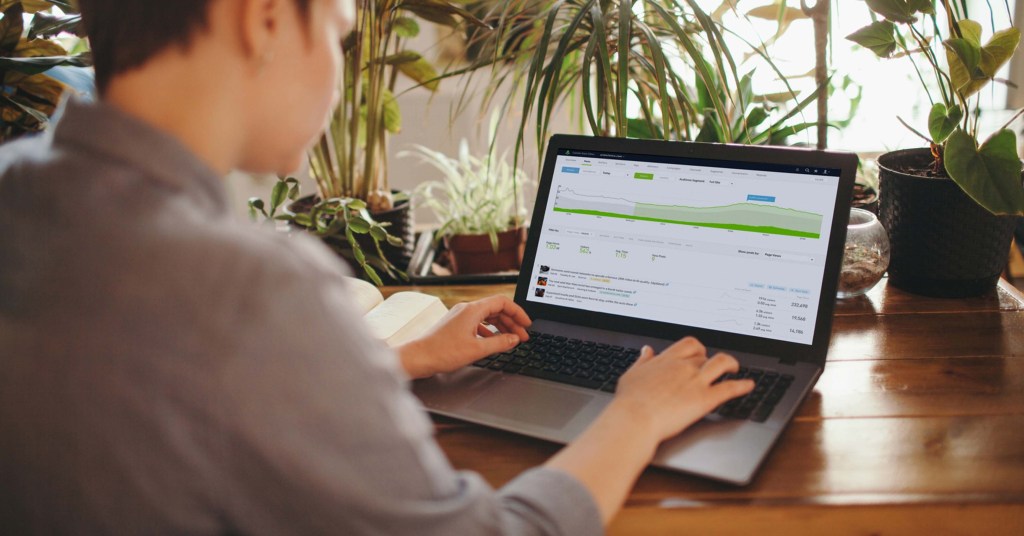 The seemingly endless list of WordPress analytics plugins can be overwhelming, especially for something as critical as measuring the performance of your content. When choosing a tool to track and review content analytics, make sure your top contender:
Is easy for your entire team to use
Improves your content strategy
Offers real-time analytics
Proves content ROI
And the tool's creator should listen to customer feedback and continuously improve its product.
We know you're busy. So let's cut to the chase and explain why Parse.ly from WordPress VIP should be your first choice.
Table of Contents
Why Parse.ly is the best WordPress analytics plugin
WordPress VIP acquired Parse.ly because it was purpose-built for content analytics. WordPress is the easiest way to publish content online—and Parse.ly is the easiest way to measure its performance. Together, WordPress and Parse.ly equip teams with the ability to move quickly, test what works, and double-down on winning content. We firmly believe that the easier a tool is, the more (and better) it's used.
Parse.ly makes data easy
The Parse.ly dashboard is user-friendly, allowing your entire team to access and analyze content performance data in just a few clicks. 
Many web analytics tools fundamentally think in terms of URLs. They're constructed in a way that is difficult for writers, editors, and content marketers to navigate. All web analytics tools generally collect the same data, but only some do the extra work of presenting the data in a way that "just makes sense" to a writer-ly mind.
What does Parse.ly do differently? It organizes your data in terms of topics, authors, campaigns, sections of your website, and more. These are the ways authors consider their content—so shouldn't an analytics dashboard present it back to them that way?
With other analytics tools, you have to set up dashboards and configure a ton of inputs. With Parse.ly, you can immediately view content performance and schedule automated reports based on:
Topics and tags
Authors
Campaigns
Channels and referrers
And more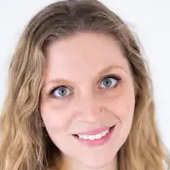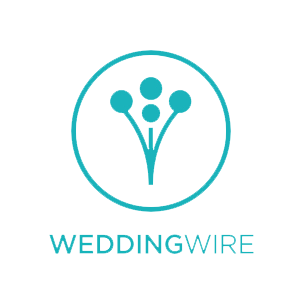 Parse.ly focuses your content strategy
Our main priority is giving customers access to comprehensive content analytics that make it easy to optimize for more than just clicks.
Our top-, middle-, and bottom-of-funnel metrics and content conversion models save you precious time without having to navigate a complicated system. They're also accessible to your whole team, meaning everyone can quickly understand the true performance of your content.
Use these metrics to take your strategy beyond "get more page views":
Historical data
Conversions
Engaged time
Audience segments
New and returning visitors
Comparisons
Recirculation rate
Campaigns

Parse.ly provides real-time analytics
Rather than waiting to react to conversations, participate as they happen with Parse.ly's real-time data. Set up automatic alerts for things like traffic surges and high-performing content, view social interactions from multiple channels, and track referral sources to better understand site traffic. Some of our customers even have the Parse.ly Overview screen broadcast live on a TV in their newsrooms to quickly reference real-time performance.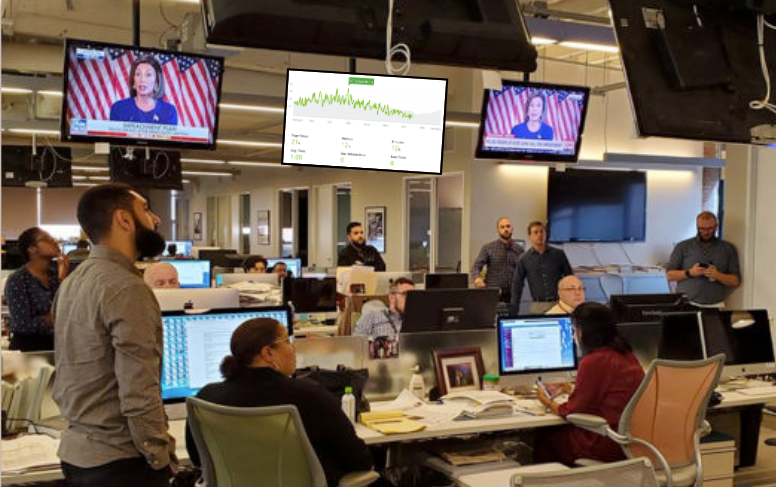 Parse.ly proves content ROI
No more guessing. Tie ROI to your content using Parse.ly's reports, benchmarks, and goals. Share meaningful insights with your team to adjust workflows, and with executives to prove your value.
Benchmarks: Quickly understand whether your content is performing above or below average compared to past published pieces.
Reports: Ready-made or custom reports provide tailored data showing the value of your content. These include reports like:
The best part? These reports can be auto-scheduled to be emailed to you and your team, or quickly viewable as a webpage for anyone you send the link to.
Goals: Create a custom dashboard view to track top-level KPIs all in one place. These Goals are presented clearly and easily so anyone on your team can understand how your critical metrics are tied to the bottom line.
"Random acts of content" aren't enough in today's marketing landscape. It's important for content creators to be able to quickly assess whether their actions have contributed to the team's objectives, which is why Parse.ly created Goals.
In short, Parse.ly makes your job easier and your insights deeper. And when it's paired with WordPress VIP's agile CMS, you have the content power you need within a single platform.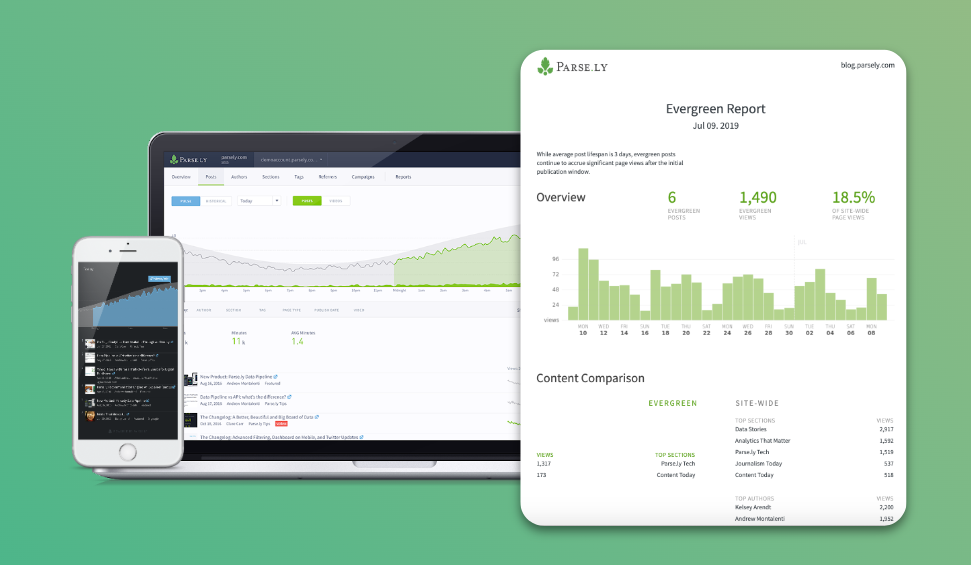 Parse.ly data is now in WordPress
We know how important data is to making content publishing decisions, which is why we brought those key insights directly to WordPress Admin.
With three of our new features, you can now see essential content data and suggestions as you're editing content in WordPress.
Content Helper
The Parse.ly Content Helper is Parse.ly's new data-enriched support tool that offers meaningful insights in the WordPress editor. It's included and free for all WordPress VIP customers—no separate Parse.ly subscription required! While editing a published post, you'll see:
Related top-performing posts based on the primary category or section in play.
Fast facts on how content has performed in the past seven days, including pageviews, visitors, engaged time, referrer channels, and more.
Patterns and hallmarks of successful posts, including structure, style, keywords, etc.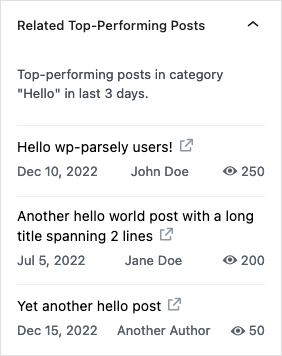 You'll also see performance metrics about that post or page, including:
Number of views and visitors
Average time spent on the page by visitors
Referrer data, including direct visits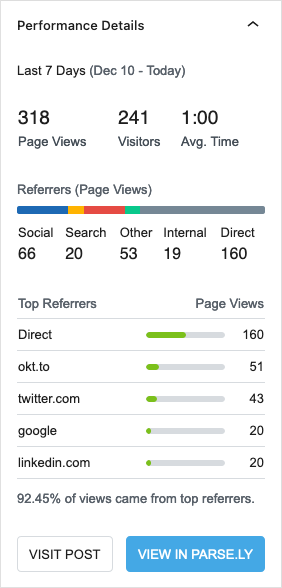 Recommendations Block
The new Recommendations Block suggests links to content on your site based on related pages and posts. This block can be used in Site Editing mode or as a block in any post type, which means coding is no longer required. Anyone creating a new post or page can quickly add a recommended content section in just a few clicks!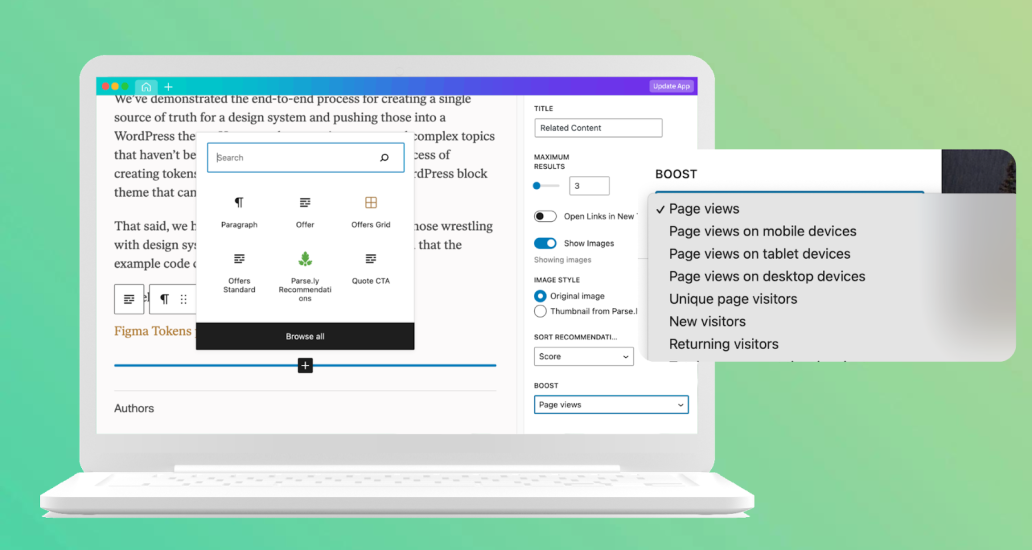 Audience Segment and Dynamic Tracking support
We've added Javascript hooks and the ability to write Javascript inside the plugin. This means you're now better able to manage Audience Segments and Dynamic Tracking within the plugin itself, rather than using more complicated integrations.
Our customers love Audience Segments because it helps them get closer to their audience. You can identify the difference between visitors and customers, for example. This helps assess what content turns casual readers into devotees—and what keeps paying customers loyal.
Dynamic Tracking, which allows developers to send custom events using the Parse.ly tracker, is an advanced feature that requires developers to add custom code (now available via an interface in the WordPress plugin). This feature allows you to integrate specific software—like Demandbase—more easily into tracked events.
Besides new features, we also regularly issue backend enhancements to make the user experience easier, faster, and more secure.
How the Parse.ly plugin works with WordPress VIP
Note: This plugin is available for all WordPress users who have the plugin enabled.
The Parse.ly plugin (wp-parsely) simplifies integration for WordPress VIP users. In fact, it comes automatically installed as part of our core platform.
Here are technical details related to the wp-parsely plugin:
It adds the Parse.ly tracking code to all pages of a WordPress VIP site. This is a small piece of JavaScript that monitors user actions and relays them to the Parse.ly analytics servers.
It includes metadata in one of Parse.ly's recognized formats (either JSON-LD or repeated meta tags) on all pages of the site.
It's customizable and extensible, both from the wp-admin interface and through PHP and JavaScript WordPress filters.
Once the plugin is set to your desired configuration, you're in business! Simply access your content analytics via the Parse.ly dashboard. If you need an assist with the Parse.ly plugin integration, reach out to your account manager.
Get more out of WordPress with Parse.ly
Your content is valuable, now it's time to prove it.
The WordPress Parse.ly plugin is the best way to:
Make data easy
Focus your content strategy
See real-time analytics
Prove content ROI
And with the new WordPress integrations like Content Helper and Recommendations, you can see what works while you write, saving time and improving results.
Not convinced? Let us prove it to you.