From Customer to Partnership: Why Ideasphere Labs Became a WordPress VIP Agency Partner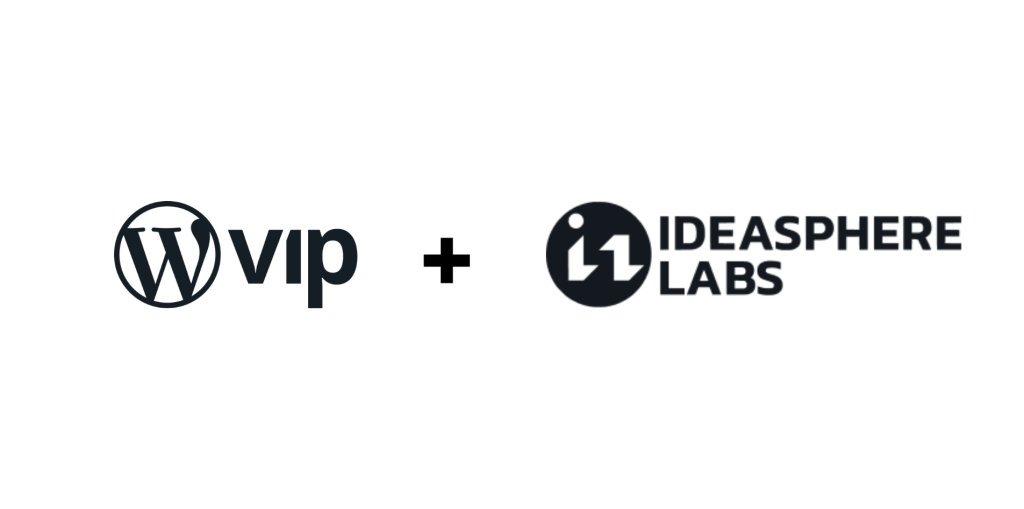 Based in Tampa, Fla., Ideasphere Labs has managed CMS migration and implementation projects at some of the largest companies in the world. "We are technologists, strategists, creatives, implementation specialists, and a proud WordPress VIP Agency Partner," says co-founder Ned Pope. "We've been where you are, and we'll use that experience to help you get where you want to go."
Ned's path from WordPress VIP customer—he worked as a Tech Program Manager for global data science leader Nielsen—to WordPress VIP partner is an inspirational tale of tech collaboration, low-code development, and "teaching teams to fish."
It reminds us of the old school TV commercial featuring Victor Kiam trumpeting the Remington electric shaver, if we might paraphrase things:
When customers become partners, you know you're doing something right.
Ideasphere Labs is just one of our growing roster of WordPress VIP partners who help us deliver best-in-class digital experiences for customers.
Recently, Ned sat down with WordPress VIP Premier Technical Account Manager Pete Schiebel to discuss the challenges Ned and his team faced at Nielsen, including:
Multiple CMS platforms to manage multiple sites
Heavy reliance on developer team
Difficulty maintaining brand consistency
To learn how WordPress VIP helped solve for those challenges and inspire a new business and partnership, watch Ned and Pete's chat here or read our interview highlights below.
Ned, as a Tech Program Manager at Nielsen, you saw first hand the CMS issues businesses face.
Yes. Like using different content management systems to fuel all their sites. Having sites all over the world managed by different teams. Being 100 percent dependent on their development team to do even the smallest site changes. Not fully leaning into low-code development so that content teams can configure things on their own. Overlooking not just brand consistency but layout, content, and user experience.
We were facing those same challenges, especially in the early stages of Gutenberg and the shift from the classic WordPress editor to more of a drag-and-drop style.
We looked at our content management teams and the systems they were using, which were from different vendors and not centralized or consolidated.
What sold you on the WordPress VIP CMS solution?
When we compared all [those challenges] to what WordPress VIP offered—the hosted environment, the uptime, the speed, the standardization, the team interaction—the appeal was immediate.
Teaching the team to fish
As we were looking for a content management platform [to standardize on] and help with content migration, the technical architects on the WordPress VIP side really helped us learn what was possible, how to review code. It was like, "Check out this new technology we're rolling out…"
That's when we said, "Hey, this can actually alleviate pressure on our architects, on our DevOps teams, and let us divert budget into other areas that help us grow the team, grow our products, grow our brand."
Everybody we were working with, including the head of the content management team, agreed we should go ahead with WordPress VIP. "It's going to be the standard. Let's be one of the leaders in that space."
Collaboration
It hadn't helped that our development and content management teams were in different cities. We needed more control and speed, so we could get content out quicker.
WordPress VIP helped us dramatically improve the relationship between our technology and marketing and communications teams, so they could design and configure things on pages with Gutenberg themselves—really leaning into the early stages of low-code environment in WordPress. That allowed our conversations to be like, "Hey, I've got an idea."
It became about creative ideas and innovation. We eliminated all the time and energy being spent on the more mundane design and implementation work and refocused our collaboration on really creative stuff. I'm grateful for that.
White glove service and support
Finally, WordPress VIP really understands what your priorities are and then makes them their priorities. And that was really important to us. Obviously that too left an impression, because here we are now, a partner.
Talk about the road to becoming a Featured WordPress VIP Agency Partner.
It's been a cool journey.
I look back at where we were as a company with Nielsen, when we made the choice to go with the WordPress VIP platform to host all our web-driven sites and services. We saw all of the benefits of WordPress VIP.
And as I moved on with my career, it was in the back of my mind that WordPress VIP is always on the cusp of truly innovative stuff in the enterprise space.
It's pretty telling that I once led a portion of a team that was migrating to the WordPress VIP and transitioning all our sites to that platform. It was an exciting enough opportunity to want to invest in a new company myself and help get Ideasphere Labs started.
I approached [the WordPress VIP Partner team] and said, "Hey, we've got this company that my partner Chuck Papageorgiou and I and other folks are looking to spin up. We've got some good expertise here and we really just want to stay engaged with WordPress VIP."
And Ideasphere Labs was born
We assembled a team very experienced on the WordPress VIP platform and working in that environment.
We're really excited to be on your featured partner list and working with WordPress VIP again, but in a different place. We had really enjoyed the relationship, seeing the vision, and feeling the passion everybody has for the work and for Automattic [parent company of WordPress VIP]. It's a great culture to be a part of.
We're really excited about what the platform has on the horizon.
What's the WordPress VIP process like and how does training and onboarding impact it?
It's been great—we're really appreciative of the entire partnership team, they're wonderful.
As we get ramped up, naturally we're learning new things about the platform as we go, because there's so much on the roadmap. With technical teams and architects at WordPress VIP, there's never any hesitation to engage and get into the specifics.
After all, we want to make sure that we can test things ourselves so that we can deliver new technology on behalf of your clients and the clients coming on board with us.
We want to stay on the cutting edge of that.
Training and onboarding
We get a lot out of training. We participate as much as we can. We love seeing demos, but there's something that comes through in training.
Training on technical stuff can quickly turn into a substitute for a sleeping pill—not with the WordPress VIP team, who have a passion for their work. They're very engaging, very informative. The people who host the training always make themselves available to answer specific questions, and they respond fast.
The more the support, the better
When you go into strategic partnerships with vendors you always have an expectation that the "support upsell" is going to come at some point. And you just prepare yourself for it, right?
WordPress VIP was one of the first strategic partnerships I had ever been involved in where we came to the vendor, asking, "What's your next service tier look like?" We actually initiated the upgrade to the higher service layer because we saw the value there. We saw all of the time and money that we could save.
As a WordPress VIP partner, what do you bring to customers?
Maybe you're trying to bridge the gap between your marketing and technology teams. Or struggling to run your project in an agile way but still meet your portfolio responsibilities of milestone forecasts and reporting. You may even feel trapped by custom components built by consultants more interested in embedding themselves within your annual budget than actually teaching your team techniques that will add long-term value.
We've worked through scenarios like these and many more. You'll find some of the specifics on our case studies page. We've been where you are, and we'll use that experience to help you get where you want to go.
At Ideasphere Labs, we take the approach that your site is a product. So you have to think about what you want your site to accomplish.
Content migration and other tech
We've done some really big migrations. There's nothing sexy, cool or fun about them—it's like the digital version of loading a bunch of trucks in a supply chain, shipping all the stuff somewhere, then making sure it gets on the shelves in the right presentation. But we got pretty good at it.
We're still growing our capabilities there. I'm excited to see the new tooling that's coming out to allow for simpler, more seamless, and more accurate content migration. So that's another thing that we're leaning into.
Things like low-code design, multisite, full-site editing, and your decoupled initiative open up a whole new realm for the way that we're looking at sites and the way that we're looking at product strategy.
Clients love all of that information. We do, too.
Ned, wrap things up for us.
We have a hands-on, consultative relationship with WordPress VIP. You don't see that with a lot of strategic partnerships—they become very transactional, and I've never been that way.
I've always said, "Hey, you can approach a problem a million different ways. You can choose to be frustrated, angry, and micromanage the details." Or you can just say, "We're all on the same page, we have to solve this problem, and there's mutual benefit in doing so. So let's find common ground and a way that we can work toward solutions."
That approach has always been very seamless with the WordPress VIP team.
We're excited to be a featured partner and for what the future holds for us and our clients.
Become a WordPress VIP Partner
WordPress VIP places our partners at the center of the enterprise CMS ecosystem, providing opportunities to grow your business, client base, revenue, and offerings by driving strategic in-market alignment. To become a partner, contact us.