We're Proud to Be a "Strong Performer" in Agile Content Management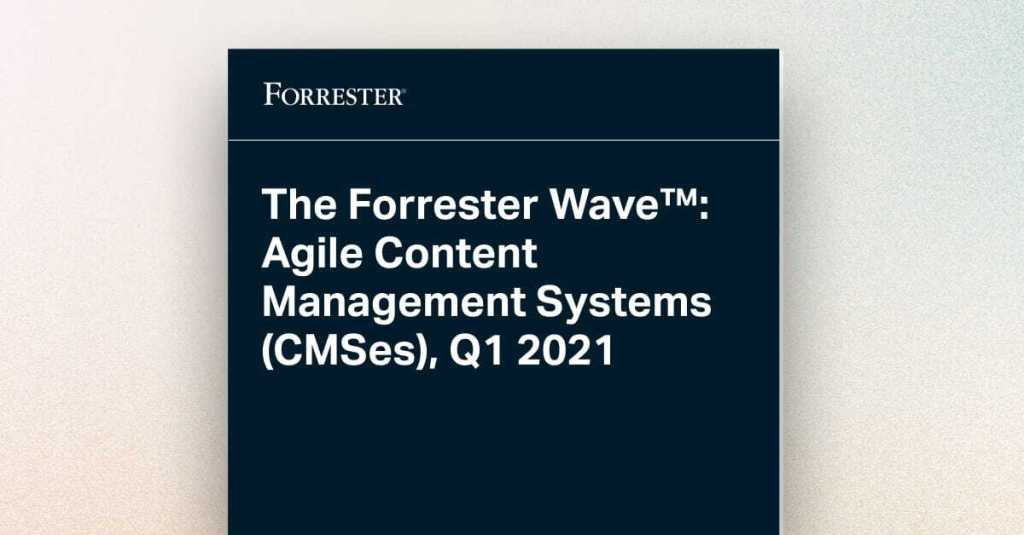 Agile content is the lifeblood of digital.
Without it, enterprises can't grow.
That's why I'm thrilled to share that WordPress VIP (listed as our parent company, Automattic) was recognized as a Strong Performer in The Forrester Wave™: Agile Content Management Systems, Q1 2021 evaluation.
Industry recognition like this is always exciting—we believe it's a hallmark of our rapidly growing market leadership and reflects the amazing team and customers that define WordPress VIP every day.
Findings from the report include:
"WordPress VIP offers strong capabilities in collaboration and planning…"—even more critical in our world of remote and distributed work.
"[WordPress VIP] has a standout practitioner program with more than 700 local user groups worldwide"—highlighting, in our opinion, the massive talent network available for our customers.
"Customer references liked the platform's capabilities to manage content creation on a global scale for governance and compliance"—an essential requirement for today's enterprise.
Read on for a deeper understanding of our evaluation as a strong performer in agile content management. And why customers like Facebook, Microsoft, and Salesforce trust WordPress VIP's content, analytics, and commerce platform to power mission-critical content that drives business growth.
A new era of collaboration between developers and creatives
For too long, enterprise software solutions have been at odds with the simplicity and flexibility content creators need to meet their objectives. Not anymore.
WordPress VIP helps enterprises create meaningful digital experiences by aligning practitioners and developers on a single platform. It's intuitive and flexible, as well as robust enough to power omnichannel digital experiences.
Customers love us because they get "enterprise" where it matters: powerful technology, world-class security, and scalable infrastructure.
They also get "easy-to-use" by adopting the enterprise platform built by the creators of WordPress—a software with such broad appeal that it powers 40% of the web.
A global talent pool for agile content management
Another advantage of WordPress ubiquity? A generation of developers has grown up using and contributing to the software.
The WordPress ecosystem boasts a wealth of technical talent with a rich and active user community. There are more than 700 local WordPress user groups; thousands of people across languages, cultures, and markets have helped shape the software.
For enterprises, this abundant network means you can quickly scale development teams. It's also a major factor in reducing the hidden costs of ownership when compared to our competitors' platforms.
In a recent conversation with one of our customers, their Director of Growth Technology told me, "It would be orders of magnitude more expensive to staff up the developers needed if we didn't have WordPress."
Built-in governance and compliance capabilities
WordPress VIP is a great choice for enterprises that need to publish content swiftly without sacrificing regulatory compliance.
One great example is the launch of Electrocomponents' first direct-to-consumer brand, OKdo.
They use WordPress VIP to power enterprise ecommerce sites in seven markets across three continents and six languages—while supporting multiple currencies and complying with local trade and tax regulations in each market.
Tools for enterprise marketers to scale revenue growth
Content is the cornerstone of modern enterprise growth—and the current business climate is only further accelerating the push to digital.
Mallory Russell, Head of Content at Square, explains it well: "Businesses can't operate the way that they used to. Everything has to be content." Hayley Nelson, VP of Content at Salesforce, agrees. "Tools that can enable us to be agile are crucial."
With WordPress VIP's roots in the publishing industry, our platform was purpose-built for media-rich digital experiences—the kind modern marketers need to forge meaningful relationships with their customers. That's why top brands trust WordPress VIP to power the content that shapes customer journeys. Our platform provides the ease, flexibility, and freedom enterprise marketers need to scale the digital experiences that drive business growth.
All in on agile content management
From commerce to customer acquisition, agile content is critical for success.
Content that's late to the game, that's cumbersome to create, or that can't be published when it's needed is one of the biggest blockers to sustainable enterprise growth. And to quote Nick Gernert, our CEO, "When it comes to creating and delivering content, no one does it better than WordPress VIP."
Read the Forrester Wave report
To guide your own evaluation of agile enterprise content management, download a complimentary copy of the full report.
And if you're curious how WordPress VIP can help you turn agile content into limitless growth, get in touch.