VIP is proud to welcome Multidots as a new Silver Agency Partner. Multidots is one of several agencies joining the expanding Featured Agency Partner program to better serve the growing demand for enterprise WordPress.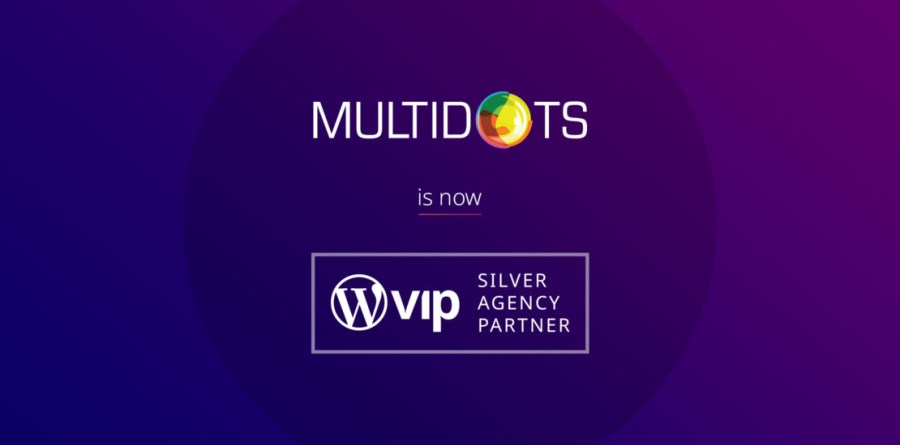 Increasing presence in APAC
Multidots is a global enterprise WordPress agency headquartered in India with sales and support offices in Virginia and California, USA. Their full team is comprised of over 110 distributed employees who serve clients in North America, Asia, and Europe.
Multidots supports digital strategy (including content marketing, performance marketing, and lead generation) for publishing companies like QuinStreet, Higher Educations, and All Star Directories.
Enterprise clients like Accenture, MIT, Jumeirah, NAB, and SneakerNews have turned to Multidots for complex and large scale WordPress implementations and multi-platform integrations.
"Multidots helped ABUV Media to grow from annual revenue of $100K to almost $15M and startup to a successful acquisition. Their technical expertise in the areas of WordPress, page performance and security have been the key to the success of our websites," said Douglas Jones, former CEO and co-founder of ABUV Media (acquired by Higher Educations).
"Their selection to this highly exclusive and reputed WordPress VIP featured partner program boosted my trust and confidence in their talent and team."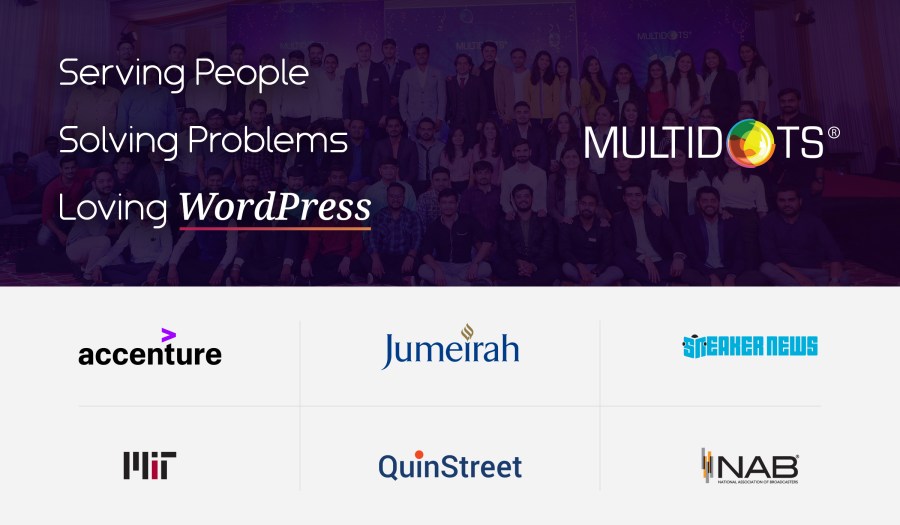 "In the course of 10 years, Multidots has achieved many milestones and success, but Multidots' acceptance into the VIP Featured Agency Partner program is the biggest among all," said Anil Gupta, CEO of Multidots.
"Looking at the fact that there are approx 100,000+ WordPress Agencies in the world and 15,000+ agencies in India alone, Multidots being one of the two VIP agency partners in Asia is the moment of pride and honor for everyone at Multidots."
Contributing to the global community
In the last three years, 20 "Dots" (employees of Multidots) contributed to WordPress core 12 times and 10 contributed to WooCommerce 7 times. The Multidots team also helped manage 32 meetups for the Ahmedabad WordPress Meetup Group, sponsored dozens of WordCamps around the world, organized the first ever WordCamp in Ahmedabad and spoke at local and global WordCamps and WordPress Events.
"With our participation in the VIP Featured Agency Partner program, our WordPress development services come with the extra benefits of the added security, flexibility and performance that our high-volume and enterprise projects demand. We are very grateful and thankful to our existing clients for trusting us on solving some unique problems and motivating us. And we are thrilled and pumped up to continue on our mission, 'Serving people and solving problems.'"

— Anil Gupta, CEO
For more information on our new Featured Agency Partners, or if you believe your agency is a good fit for our growing program, please visit https://preprod.wpvip.com/partners/agency-partners/.