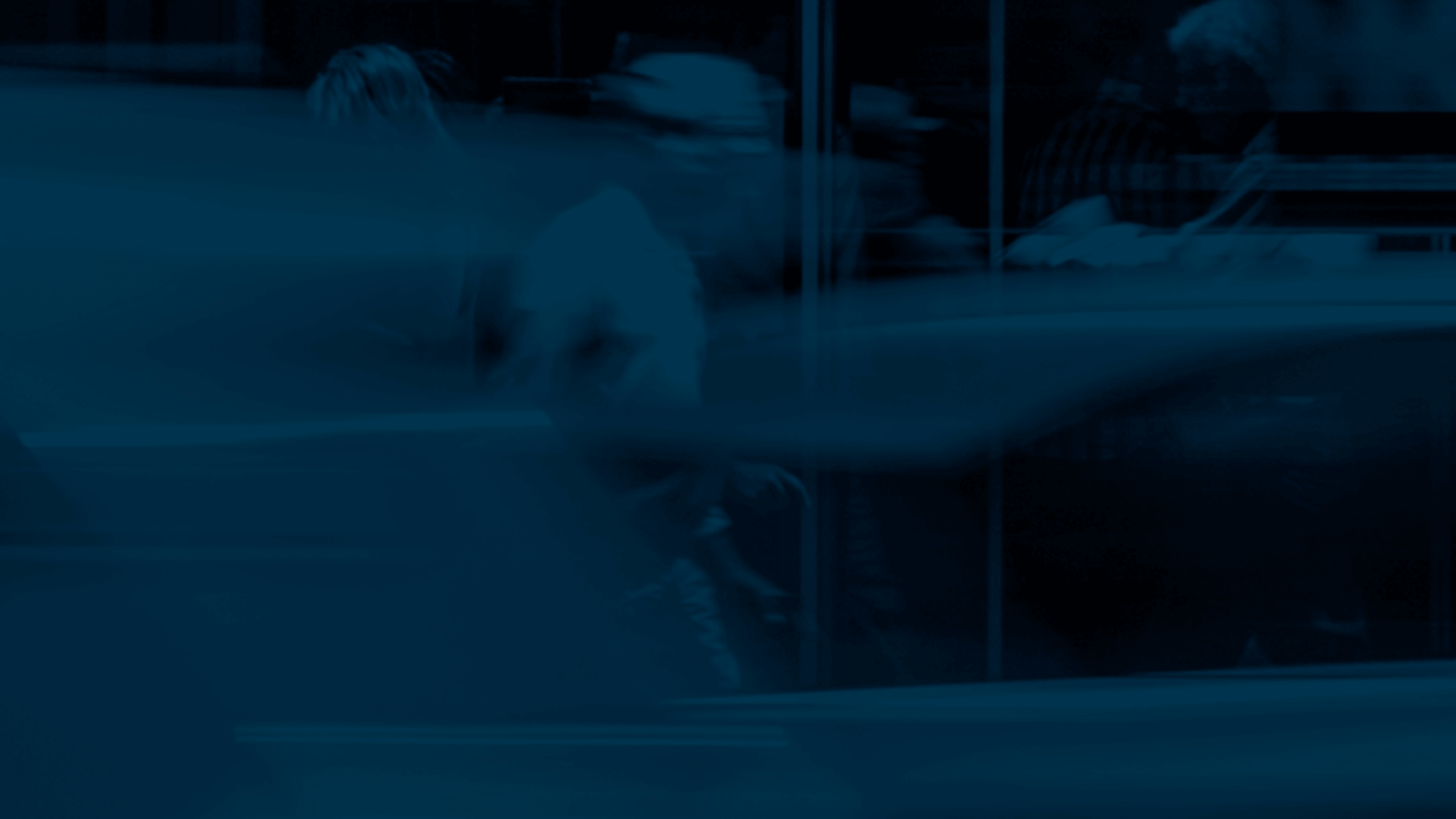 2023 Content Marketing Trends:
Strategy & Execution
It always pays to diversify your investment portfolio. Your content marketing channel strategy is no exception.
That's where our companion Omnichannel Referral Worksheet comes in. In just a few easy steps, you'll learn how to improve your social profiles, search and paid efforts, internal linking, direct tracking, and more! It's yours when you download our Strategy & Execution report.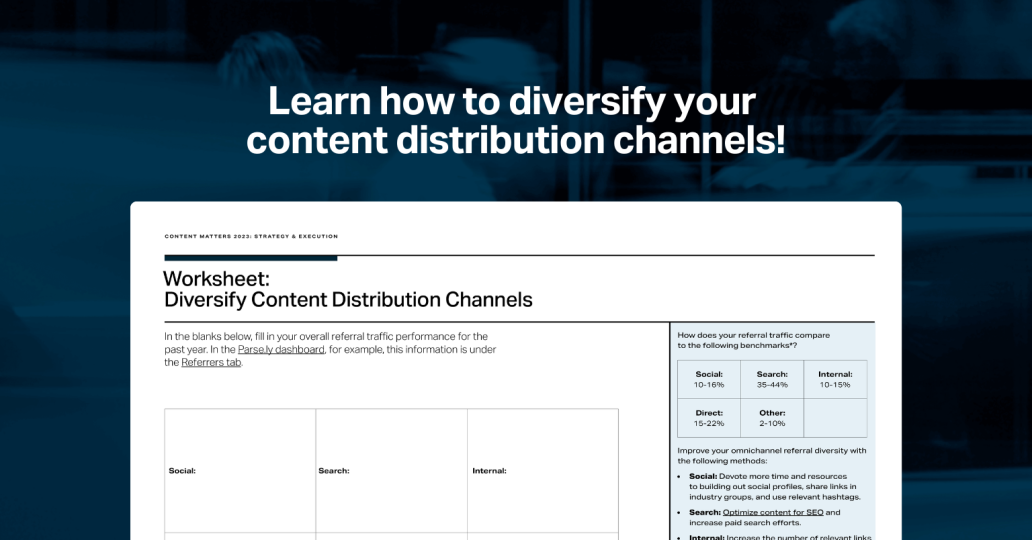 Given the ever-evolving digital landscape that marketers face today, relying on a single channel is a recipe for inevitable stagnation and lost opportunities. By tapping into multiple platforms, customer touchpoints, and communication channels, we not only broaden our reach but also fortify our brand against unforeseen changes or downturns in specific channels.
Diversification enables us to engage with our target audience more dynamically, and tuned to their unique preferences and online behaviors. Furthermore, leveraging multiple channels allows us to test and refine our messaging and targeting, and deliver the right content at the right time to the right prospects.
Ultimately, a diversified demand generation approach across multiple channels is paramount in fostering resilience, driving long-term growth, and maximizing the return on our content marketing investments."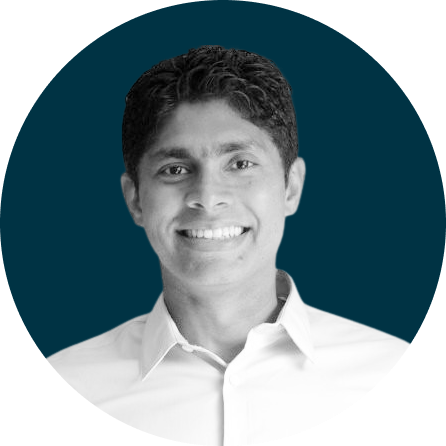 Salim Ali CMO, WordPress VIP
Trending: quality over quantity
Yes, overall, more content is being created than last year, but the percentage of organizations creating more content dropped a bit from 66% to 61%.
Interestingly, 18% are producing less content (compared to just 9% in 2022), possibly focusing on quality over quantity.
Prioritizing content is necessary in a time of limited resources. So, how do you decide which content to create? Many organizations are going straight to the source and surveying customers and prospects about what content they want to see.
We know analyzing content data is the best, most effective way to decide what content to create that will generate the best results. But despite the clear connection between content analytics and leadership buy-in, only 36% use data for making decisions. We expect this percentage to increase as the need for revenue-driving content becomes more important.
As for formats, multimedia content creation has skyrocketed with video and audio both increasing in importance over the past year.
Social media and community building overtook blogs as the most popular type of content marketing. This makes sense, with most teams struggling to keep up with demand. Not only is social media often faster and easier to produce, but much of community building is actually user-generated content, requiring fewer internal resources.
Content marketing activities
Social media posts and online community-building 17.8%
Blog posts/articles 14.7%
Videos 13.2%
Email newsletters 11.8%
Events/webinars 9.6%
Podcasts/audio 8.8%
Infographics 6.9%
Case studies 6.2%
White papers/ebooks/guides 6.2%
Interactive tools/calculators 2.8%
User-generated content 2.0%
What about media?:Video continues to top the marketing wish list
Editorial organizations made the shift to video-first content years ago. The amount of video content increased drastically, but there was never quite the full-blown pivot that was expected. Now, we're seeing marketing organizations follow the lead of media.

The types and amount of content being created by editorial organizations are similar to non-editorial ones, which means content marketers are catching up to multimedia content trends made popular by news outlets.

However, media organizations prioritize content analytics and web data when deciding what to create, emphasizing the importance of tying metrics to content goals.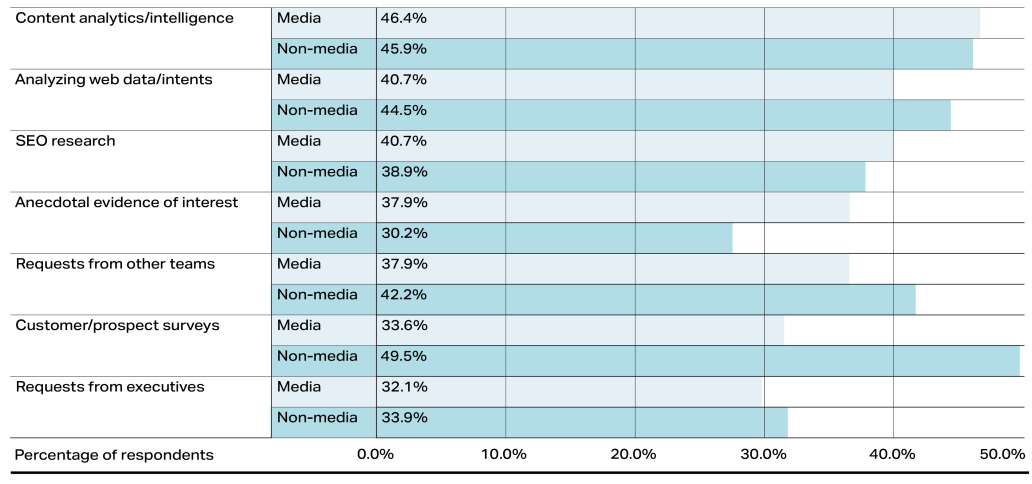 "Video has been our toughest nut to crack.
It's expensive, and it's hard to find the right people to help you bring your vision to life."

Director of Marketing
What about media?
Blog posts/articles: 17.5%
Social media posts: 16.4%
Videos: 14.4%
Email newsletters: 14.0%
Podcasts/audio: 11.3%
Infographics: 8.9%
Events/webinars: 8.5%
White papers/ebooks/guides: 5.5%
Case studies: 4.7%
User-generated content: 2.7%
Interactive tools/calculators: 2.0%
Owned channels top the charts
The types of content created have varied this year over last, but distribution channels have not. This year's results mirror those from our 2022 report.

Despite the importance of advertising placements for revenue, owned channels continue to top the distribution list. Why? Because it's easier to publish content and track performance within your owned channels.

Proving the value of content is a top concern for most marketers, guiding their strategy and actions. If they can see the performance, they can prove the value.
A look at paid channels—are they worth it?
Topping the list of biggest revenue sources, paid channels offer a direct connection to proving ROI. Look for opportunities to expand in your market with paid options like influencer marketing, partnerships, and sponsorships.
Content distribution channels
Own website/blog: 61%
Organic social media: 56.9%
Emails to in-house list of recipients: 52.2%
Paid social media ads: 51.9%
Paid search ads: 33.7%
Paid third-party content placements: 27.5%
Events: 27.5%
Influencers: 23.2%
Press releases: 20.8%
Guest posts on other blogs: 17.7%
Third-party podcasts (advertising or guest spots): 13.3%
Podcast directories: 3.3%
Let's get social
With social media topping the list of popular content types, it's no surprise more people are posting on more social platforms than last year. Facebook, Twitter, and LinkedIn continue to be the top three organic and paid social channels for both B2B and B2C organizations. Of course, the real wild card in that trio is Twitter: our survey deployed at the beginning of the platform's meltdown and subsequent abandonment by large-scale advertisers and droves of users. When we look back in 12 months, will we see Twitter tank below Instagram as a paid media platform?
Unsurprisingly, multimedia-focused channels like YouTube and TikTok have gained popularity, especially among B2C organizations.
Preferred social media platforms by company type
Twitter
B2C 27.6%
B2B 22.3%
Both 17.7%
Nonprofit 2.4%
Facebook
B2C 24.8%
B2B 20.6%
Both 19.8%
Nonprofit 2.9%
Linkedin
B2C 17.5%
B2B 22.3%
Both 15.0%
Nonprofit 2.5%
Youtube
B2C 20.3%
B2B 17.9%
Both 15.4%
Nonprofit 2.3%
Tiktok
B2C 17.1%
B2B 8.8%
Both 9.7%
Nonprofit 0.8%
Instagram
B2C 9.2%
B2B 10.7%
Both 10.7%
Nonprofit 2.0%
Tumblr
B2C 1.4%
B2B 0.8%
Both 2.0%
Nonprofit 0.0%
---
Preferred social media platform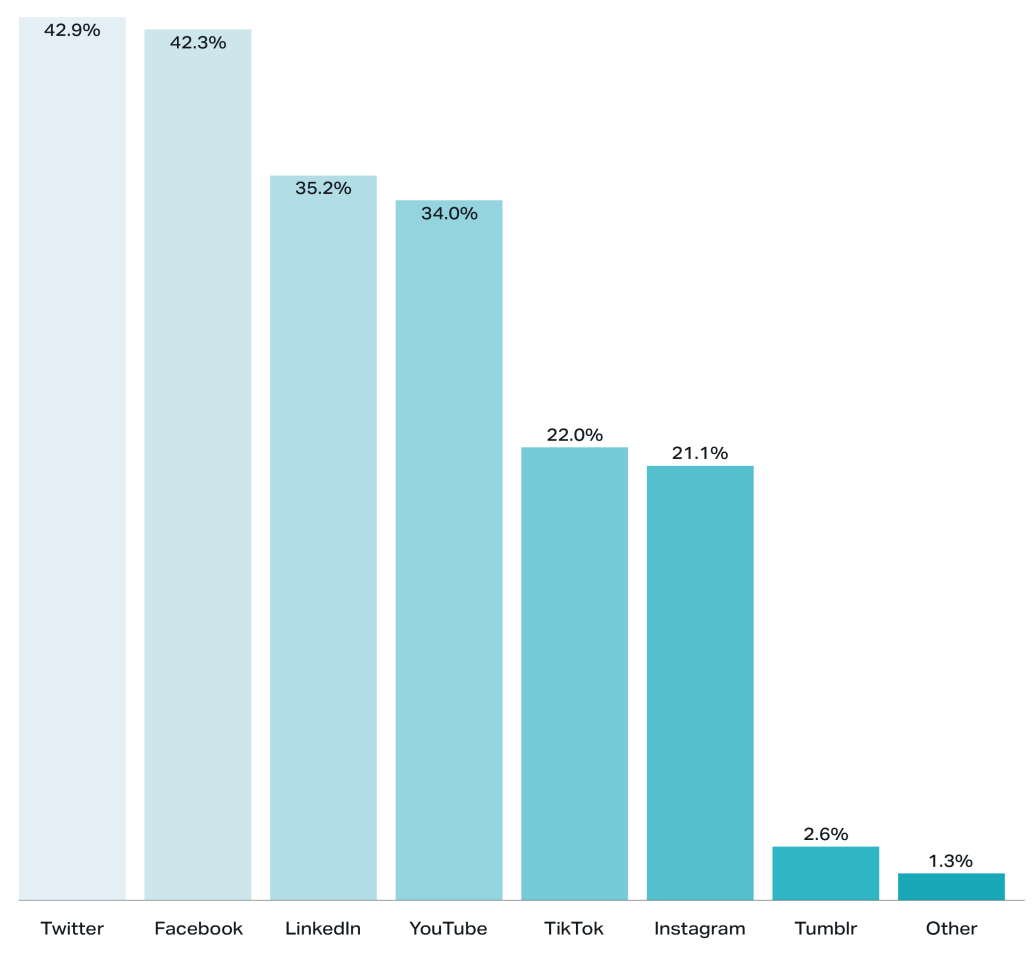 Preferred social media management tool
No tool (post directly on social platforms): 22.9%
Hootsuite: 20.8%
Sprout Social: 20.2%
Buffer: 13.9%
Oktopost: 11.2%
Other/I don't know: 9.2%
HubSpot: 1.8%
Preferred platform for paid social ads
Facebook: 34.4%
Twitter: 29.6%
YouTube: 25.3%
LinkedIn: 25.2%
TikTok: 17.1%
Instagram: 13.2%
Tumblr: 1.5%
Other: 0.5%
Let's get personal
A large part of content strategy involves giving your audience exactly what they want, which is why content
personalization is one of the biggest topics in marketing right now. Yet, a quarter of teams still don't have a strategy
in place. Respondents "aren't sure where to start," noting the process cumbersome.
The number of people who want to create more content is drastically lower for those doing personalization. This is likely due to personalization efforts being successful enough to warrant a decrease in content production, aligning with the quality vs. quantity trend. A strong personalization strategy allows organizations to engage with their audience more effectively with less content.
There are many emerging personalization and localization technologies to make personalization easier, like Salesforce and Parse.ly's content API. These tools will help your team make smarter, stronger content connections.
---
Desired amount of content based on personalization strategy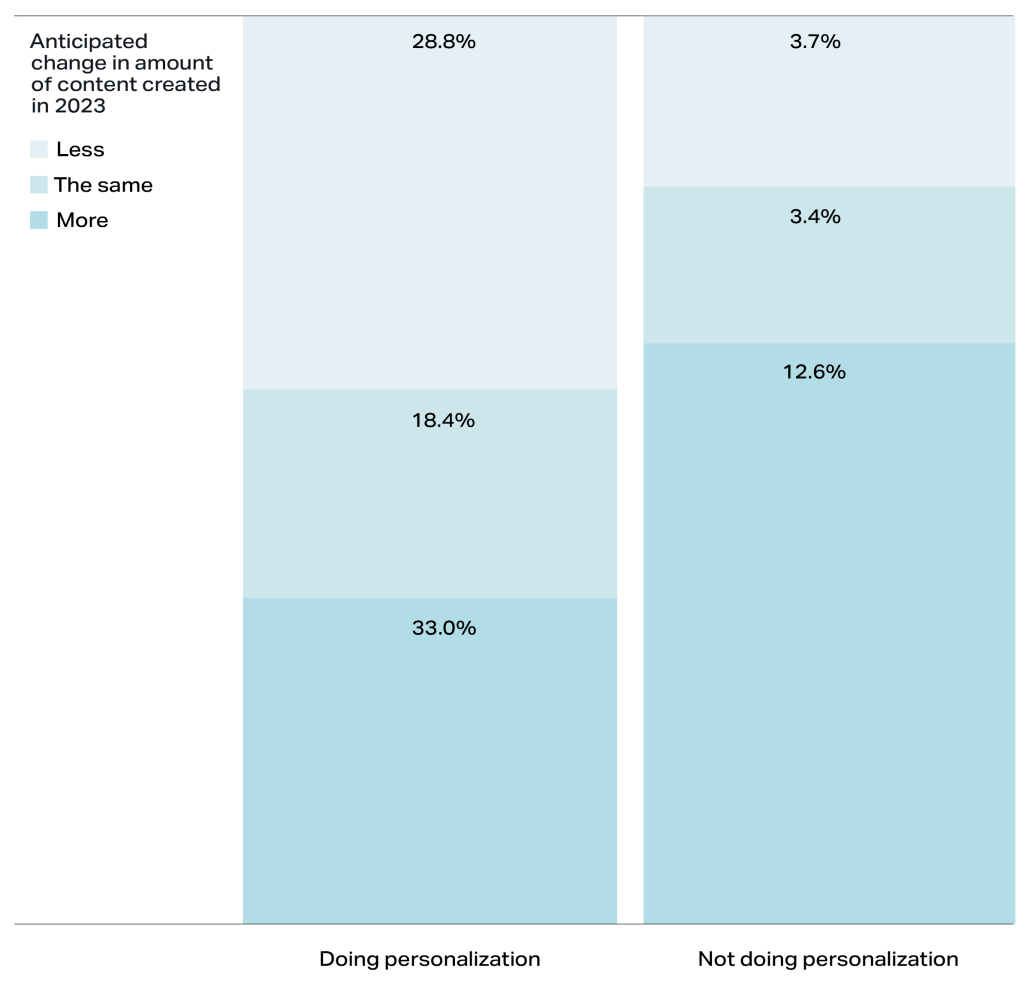 Does your company have a content personalization strategy?
Yes: 78.6%
No: 16.9%
I don't know: 4.6%
Tools used for personalization
Salesforce: 47.3%
Parse.ly: 23.4%
Adobe: 21.8%
Other: 6.4%
HubSpot: 1.1%
Is testing worth it?
To create more resonant content, three in four marketers are running tests (like A/B and headline testing). If the goal is to create higher-quality content (rather than just producing large quantities), strategies like testing should support this effort.
Surprisingly, however, the opposite is happening: 54% of those testing content actually want to produce more. This leads us to believe that testing is not producing effective enough results to relieve the rising demand for
personalized content.
Now that we've seen how successful a personalization strategy can be, we expect many teams to shift their focus there rather than testing.
---
The connection between content testing and production
do you test your content?
Yes: 73.4%
No: 20.7%
I don't know: 5.9%
"Our testing is inconsistent and sporadic, not systematic. We haven't seen much success with it."

Senior UX Content Strategist
How often do you test your content materials?
Once per month: 39.4%
Once per week: 36.9%
Once per day or more: 11.6%
Twice: 9.1%
Once: 2.4%
Not at all: 0.6%
Strategic Challenges
Resources
The sheer lack of time continues to be the biggest struggle for building and maintaining a healthy content strategy. Besides limited bandwidth, many teams have a hard time finding strong writers. We battle with this at WordPress VIP, so we've started experimenting with AI for basic copywriting tasks to free our writers for more important tasks.
"We just don't have enough bandwidth to tackle everything we want to do."

Marketing Assistant
Distribution
Omnichannel publishing is time consuming, but it's also an important part of a healthy content strategy. Balancing the need for more content on more channels is one of the biggest challenges, especially for channels like social media and activities like community building.
"Communities are crucial because they promote participation. They are incubators of brand awareness, loyalty, and trust. But they are also [costly], so marketers need to refine their methods to properly construct them, which is something we struggle with."

Manager of Content Marketing
Personalization
Marketers don't have the time to dedicate to measuring their content performance well enough to inform a data driven strategy, which makes focusing on personalization more of an afterthought. The ones who are measuring performance and dedicating time to personalization are seeing good returns: creating less content but with higher quality and impact.
"Sometimes it takes more than half a day to fiddle around with the test environment, and the test execution takes only five or 10 minutes to
complete. The setup of the test environment is so important that it is sometimes directly related to the quality of test case execution."

Director/VP of Content Marketing
Download Now
Get instant access to our Omnichannel Referral Worksheet!
When you download a shareable copy of our research. Simply fill out the form now.