Creating a Winning Digital Experience Strategy
Creating a Winning Digital Experience Strategy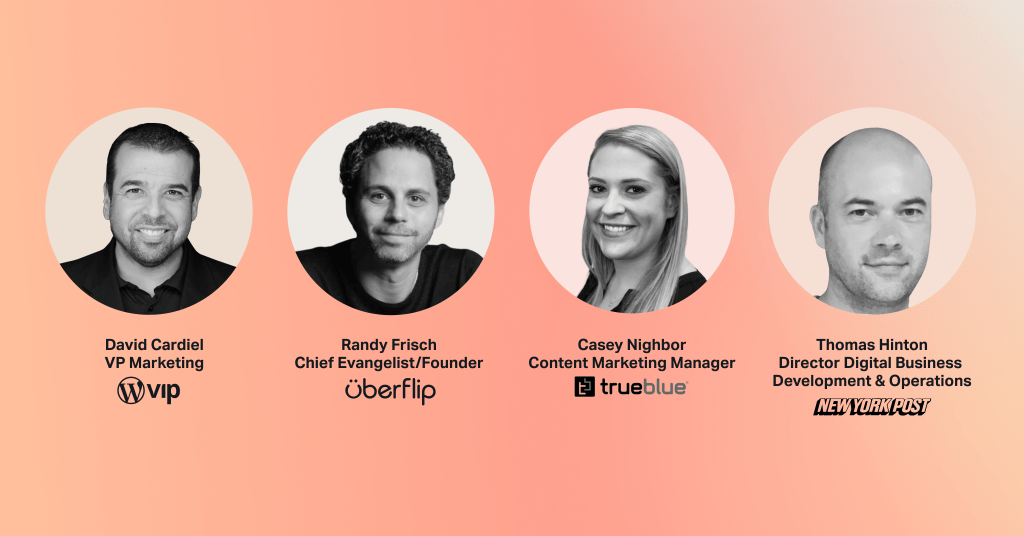 Speed to market. Personalization at scale. Sales and customer experience enablement. Accurately measuring marketing efforts.

Today's digital marketers, already tasked with "doing more with less," face big pain points and big asks on their road to delivering real business results and compelling digital experiences for customers.
Watch WordPress VIP, our featured Technology Partner Uberflip, and customers from True Blue and The New York Post as we unpack how a modern tech stack and digital experience can set marketers up for GTM excellence.
What you will hear about:
How adopting agile content management and content analytics help optimize the digital customer experience—fostering user engagement and driving business growth.
How TrueBlue realized a 58% increase in demand gen leads and The New York Post sped up newsroom content workflow, reduced staff frustration, and virtually eliminated site downtime—by going beyond traditional digital marketing efforts.
How a modern martech stack featuring WordPress VIP CMS + Parse.ly analytics + Uberflip's GTM solution can make digital superheroes out of mild-mannered, time-pressed, under-the-gun marketers.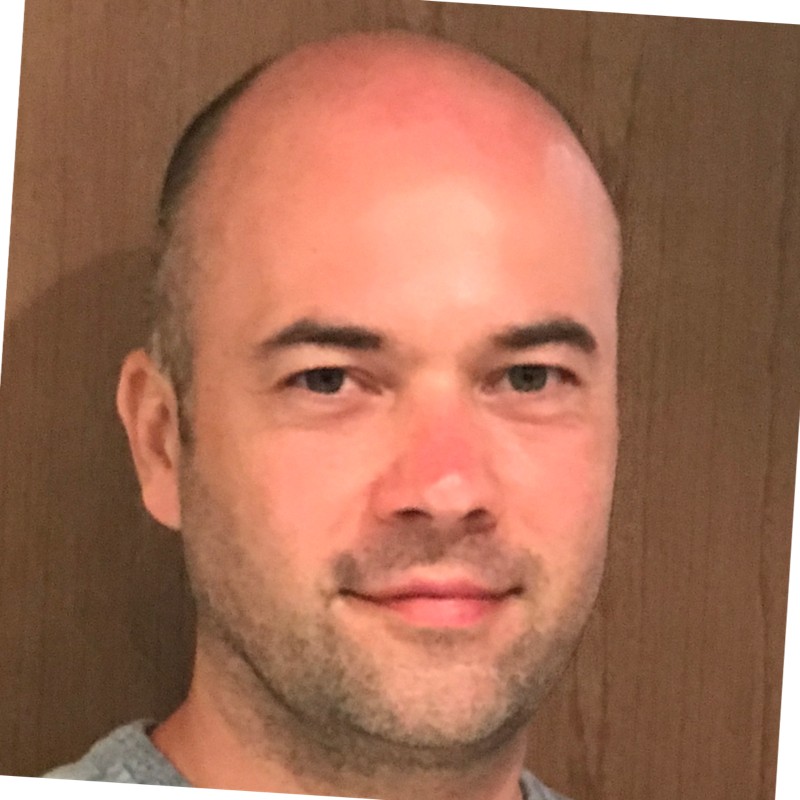 Thomas Hinton, Director Digital Business Development & Operations, The New York Post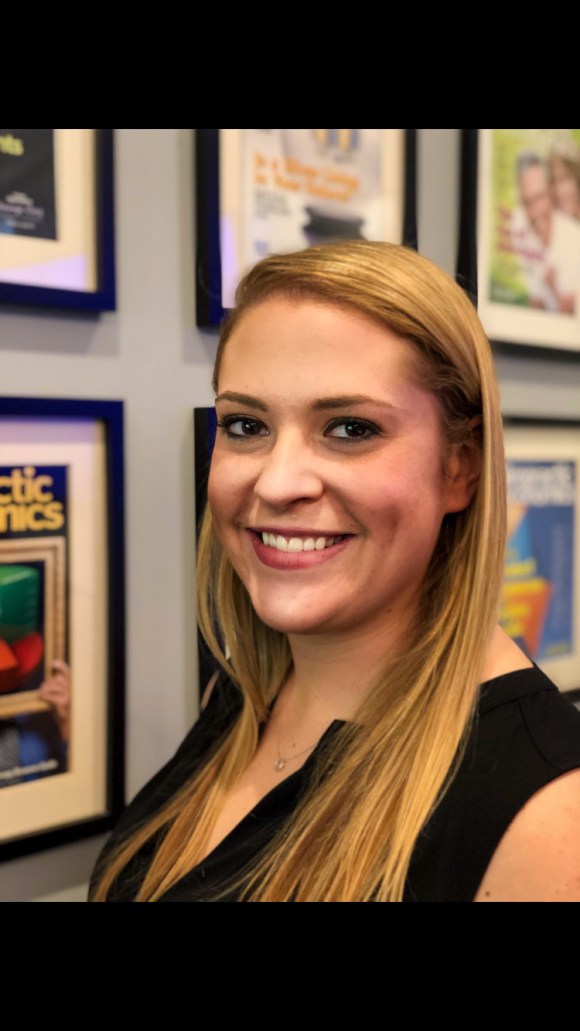 Casey Nighbor, Content Marketing Manager, TrueBlue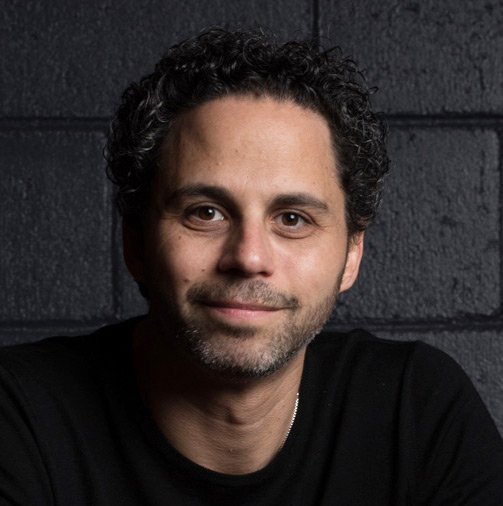 Randy Frisch, Chief Evangelist/Founder, Uberflip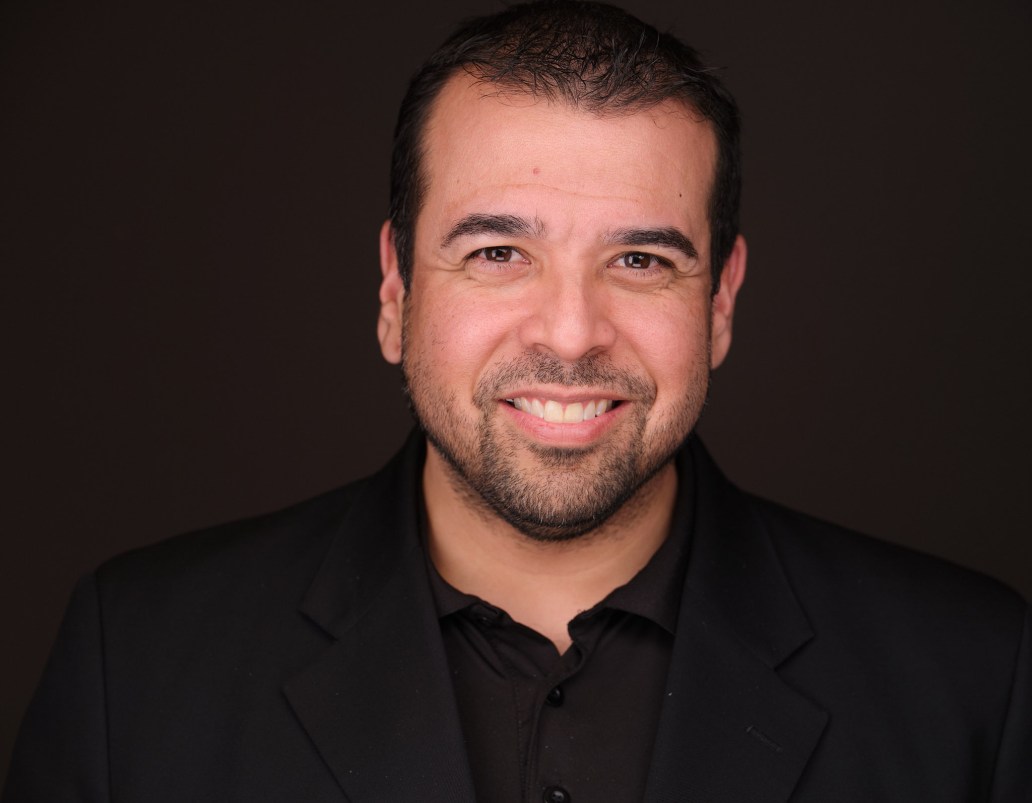 David Cardiel, VP, Marketing, WordPress VIP & Parse.ly
Transcript
Randy Frisch:
Hello, hello and welcome. We will let everyone pile in. I'm seeing attendees drop in at a furious rate, which is exciting. I'm Randy, and I got Dave Cardiel there with me too. Hey, Dave, how's it going?
Dave Cardiel:
Good to see you, Randy. It's great to be here.
Randy Frisch:
Amazing. Well, listen, there will not be just the two of us, but we're keeping our esteemed guests off camera until we bring them in just a few minutes here. And we really want to make this as interactive as possible today. So as much as this is Cardiel and I being very lucky to chat with some customers that we've gone to work with over the years, we want all of you to be able to interact with the two of them, with of us, with each other. There's a lot of great ways that you can do that. So let's get some of that housekeeping reminding. I mean, it's only been a few years that we've all been stuck on Zoom and equivalents, but you can jump in a number of ways. One is you can throw some comments into the chat part of the solution here.
You can also ask questions that will hit, either as we go, Dave's going to moderate those, but also towards the end. But we're going to make sure that the chat works, which I know it works, but we're going to get you all proactively involved right out of the gate. We want everyone to throw in, and let's see if I can even do it. I don't know if I have that power as a panelist, but love to know where you are checking in from. So, throw in there your name, maybe the company you're with at the same time, but what city are you tuning in from. And let's get someone to do that first. First person to do it is going to get the first call-out. So let's see what city you're joining in from.
Thank you to the WordPress VIP Parsely team for moderating this as we go here. I know we've got quite a few people tuned in, so people are probably just trying to find that chat tool, which is part of the exercise here, right, Cardiel?
Dave Cardiel:
Yeah, it's part of the exercise. It actually might be the question tool if I'm not mistaken, maybe what they're seeing there too. But you can pump it in there and then we can-
Randy Frisch:
You're getting them as question.
Dave Cardiel:
Yeah, that might be the… I'm being prescriptive here, that might be where it's at.
Randy Frisch:
All right. Well, in an ideal world, we want everyone chatting. So if you can find the chat button, fantastic. Throw in, as I said, where you're tuning in from, what your name is, and we will all get this party started together. As we do that, I'll hit on a couple of other quick items. We are recording this, as you'd imagine. So if you think this ends up being great content for your team, or you got to jump onto another meeting, maybe even at the bottom of the hour, we're going to go a little bit beyond that. Then by all means, reference the recording that'll be emailed out to you. It'll be living on both the WordPress and Uberflip pages, and we'll direct you to get to find all that great content, as this topic is about great content.
So with that said, let's jump in and keep the flow going here. I've got to share my screen for you all, which I'm going to do right now.
Dave Cardiel:
Oh, I think it was sharing.
Randy Frisch:
It was, wasn't it? [inaudible 00:03:21] sharing again?
Dave Cardiel:
I see it.
Randy Frisch:
Okay, fantastic. There we go. We are back to Sharon. And as you can see, we are going to talk about nailing digital experience. Cardiel, you and I have been responsible for this for many years in the companies that we've run. Myself 10 years plus here at Uberflip. What's on your resume of some of the places that have probably left you sleepless?
Dave Cardiel:
Oh, a few, a few. But for the audience out there, Randy and I, we have known each other for quite some time, and I'll just give credit work credits due. I've needed to create content experiences in the past. I've needed to get campaign velocity going, I've needed to generate ROI as a growth marketer. And yes, just a little self-serving for you as Uberflip's been there time and time again to help create that experience. And my team has invested in that over time, several teams over time. I think next time my invest in Uberflip, I think I get a free set of steak knives, I think is what you promised me there.
But no, like a lot of growth marketers out there, that's what keeps me up at night, is campaign effectiveness, ROI, budget, actioning your measurable results into future campaigns and things like that. That's stuff that I've thinking about constantly as a marketing leader and then also what I've got my team thinking about.
Randy Frisch:
That's great. And you speak to it well, you've done this so many times, not just here at Parsely and WordPress VIP, but you and I have worked together back when you were at Cision, and TrendKite before that, and Blackbaud. And over those different experiences you said earning yourself those set of knives. I mean, there is one about marketers moving often, you get to sell to them again and again as you hit on. But I've honestly been able to learn from you, and why don't we dig in on some of the language that you've often used. It's really helped guide me and other marketers, and you've got a bit of a story to tell about a trap that marketers often find themselves in.
Dave Cardiel:
Well, the trap, it's a collection of data sources, the shiny objects, it's the things that it's thinking about the now rather than the long-term game. Because we, I think as a species we live in the moment, we live in, what can we action today, or how can I look good today? I'm here to tell you it's actually sometimes if you could sell this right, is it okay to take a pause and reflect and really use data to help you make informed decisions. Because what I really want to get here is thinking about how we invest, and how just across different functions, industries and so forth, how we invest in the resources to do our job better. I mean, I for one, when I'm sold something, or are brought into a process, it's like, how is this going to generate ROI for me quickly? No matter the industry or the function that I'm serving, how is this going to make me look like a rockstar internally?
And then what it's about then after that is, if we're following the shiny objects there, thinking about those investments and the channels that we use them for. It's very easy to think we're going to do it all. We're going to hit up, we're going to run pay campaigns, and we're going to blast out emails, we're going to get on chats, or social sales. And yes, I'm here to tell you, diversify and try to maximize opportunities there. But I think what teams can do sometimes is do too much. Not compartmentalize, not use data and resources to help make those informed decisions, and really taking a smarter approach to how they develop the right tactics. And that kind of leads us into the next area, is, what the actual destination is. And that can be ignored without the right platforms, the right informed data to help inform your decisions. And it's very cyclical, right? Because it goes right back up to the top again, in terms of the type of tech investments that you make.
I was reading somewhere, and I was just trying to remember, I think it was on Wildfire or something, that like 83% of folks, it's like a percentage of marketers who are replacing and upgrading their tech stack on a constant basis. You were just referencing my investment in Uberflip. That was a reinvestment in technology so that we could avoid these traps and so forth.
So, getting into that mindset, not falling to the trap of the shiny objects and buying everything for the now, I think is what I would leave folks with this in terms of avoiding this go-to-market trap.
Randy Frisch:
Absolutely. So just to summarize, you got this idea of identifying with data, then using the right channels, but not forgetting that last step. And that's language that I've heard you use many times, it's language I've heard both Casey and Thomas, who are going to join us shortly from both TrueBlue and New York Post, and probably many of you on here, find yourself eventually investing too much in one of these buckets versus another. And these buckets are really make up our go-to market strategy. And that's a different lens I want to give to this. Rather than talking about the trap, let's talk about the focus we need to put on all three of these elements. And I call this a simple framework because you're going to look at this and you're going to say, "This isn't rocket science." And that's exactly the point. You don't need to study this in detail.
Many of you're probably doing this, but it's a simple framework to think about how you go to market. And the first one Dave hit on before is, we have data coming out of your, you know what is he alluded to. And data is extremely valuable, especially when it helps us identify the right buyers. Once we've got that, as he said, then you can take that data to determine the right channels. If we know who we're going after, we know where to find them and what channels to use. And then ultimately that last piece there is to actually engage them. Once we've got them say on that ad that we surface, or the email we send, or that email is being sent from a marketing automation platform or a sales rep, we need to make sure it lands them on a piece of content. And that's where solutions like WordPress VIP and Uberflip, and as well the piece of Parsely of understanding that engagement, are so key to that last step.
Now, simply language that you may not use as a framework, that's why I say it's simple, is this idea of what are the accounts, or what are the buyers or personas, depending on your internal taxonomy, that should buy from us? And then what channels am I going to use to go grab their attention? And ultimately, how do I get them to click? How do I get them to stay on my website and continue to engage with me? Now, this looks very simple, but as you can see, there's a lot of technology out there. Dave referred to 83% of us are constantly evolving and changing pieces. I think the biggest problem with technology is that we buy one piece and we let it live in isolation. And that's not intentional. That's probably another trap that we could talk about in another day where one person owns that tech.
But what we both obsess, Cardiel and I, is this idea of, how do we get companies to get these technologies to interconnect? And you're going to hear stories about that today of companies that are doing this really well, both in the New York Post and TrueBlue. But I'm going to show you some data that may enlighten you, or may not surprise you. And this is a study that we did… Oh, I got a poll already coming up. Actually, could we take that poll down just for a moment? Because I think it's taken all over the screen. Fantastic. Awesome. But we do have a poll coming up, and I probably missed it on the previous slide, which is why they've done that.
So I'm not following my poll cues. We'll serve that poll for the moment. Do we want to do the poll? Let's do the poll now. Let's do a poll now, before I show you the percentages, which is probably why we wanted that poll there. Which of these do you think is the biggest gap for you? Which is the one that you probably need to put a little bit more emphasis on? And Alice, if you want to put that pull up, I should have cued you. That would be awesome.
I've probably made it really difficult to put the same pull-up twice.
Dave Cardiel:
Probably.
Randy Frisch:
It's expired. So we're going to just going to keep rolling, and I will follow my poll cues from here on in. The question was going to be, which one of these keeps you up at night? And I'm going to more tell you the results of this survey and study we did with Forrester. Now, you can see, 74% of people actually feel these days like they have the right data. And I think this makes sense. There's a lot of great solutions out there to help us predict who our accounts should be. These are in the B2B space, solutions like 6Sense, and Demandbase, and RollWorks, and many others. We've got our marketing automation platforms, we've got our CRMs, we've got CDP platforms. All these help us understand who our buyers should be.
The next bucket is, do I have the right channels? And 63%, actually I don't think this is bad, I don't know. David, have you ever been able to actually say that you know the right channels?
Dave Cardiel:
Been directionally accurate, I would say.
Randy Frisch:
Anything over 50 is pretty solid on this one, I guess with that in mind, and not a big shocker. But here's the real disappointment or reality check, if you will, which is, this study we did surveying over 200 marketers, only 11% felt that they could keep someone engaged, that they had the right ways and strategies, everything from people to technology to do this properly. And that's the part that we really want to dig into today. And for that we've got two amazing speakers who are now going to reveal themselves from the camera. And that is both Casey and Thomas. Casey and Thomas, how you doing? Thanks for joining us. We are going to let you start speaking rather than me keep speaking. Casey, do you want to do the first intro, maybe a little bit about yourself, TrueBlue and what you do there?
Casey Nighbor:
Yeah, of course. So I'm Casey Nighbor, I'm the content marketing manager for TrueBlue. So for those who aren't familiar, it's a staffing company, and I work for the division that specializes in onsite industrial and truck driving staffing. And I actually started my career in journalism, that's what I went to school for. And I actually switched and evolved my career into B2B content marketing. And I've been working in that for about seven years now. So, I relate to Thomas a little bit in terms of background, but I did something a little bit different with it.
Thomas Hinton:
Cool.
Randy Frisch:
Fantastic. Well, Thomas, maybe-
Thomas Hinton:
That's a good segue.
Randy Frisch:
[inaudible 00:14:14] for you.
Thomas Hinton:
Yeah, so my name's Tom Hinton. I head up business development in digital operations at the New York Post. We're one of the top newsroom information websites in the United States. My area of responsibilities here are making sure that we're publishing, identifying the partners that we use in order to do that, and also make sure that everyone in the newsroom has access to the things they need and the training they need. This can be everything from a working keyboard to training in WordPress, or training in Parsely usage, to access to different wire agencies or photo agencies.
And then the third part of what I do is make sure that there's a feedback loop with our editorial folks, to make sure that we understand how people are consuming our content. And my background is, I kind of came out of the mid-nineties web world. I was working for an old digital photo agency in Los Angeles as an 18-year-old, as a night editor. And when the web kind of matured enough so that we had browsers like Netscape and stuff, I figured out how to transmit pictures over the web and stuff. Since then I've had a career that spans everything from television to sport news reporting, to multiple kind of Olympic Games and stuff. I've been with the Post now for about 10 years or so, and we've seen our digital audience grow from about three or four million a month to well over a hundred million monthly now.
Randy Frisch:
Amazing. That's a wild career. And I think for both of you an interesting career of ships. And I think a lot of people tuning into this webinar today may have even tried to figure out, aside from us having two amazing brands, how do they connect? And I think it's the reliance on content and the priority of engagement. And I often say that if you're in B2B, or B2C, or media, we can learn so much from one another. And that's really what our goal is today, is to find the similarities and find the ways that these two marketers have broken through in some of the challenges that we were discussing just a little bit earlier.
Specifically, when we think about that failure to engage, which is something that we saw on the previous slides, and that mindset that only 11% feel that they can keep people engaged on their website. I mean, that costs us so much money, so much opportunity regardless of whether you are a media company trying to get people to consume and rely on you as the expert in Thomas's world, or you're trying to generate leads and generate pipeline in Casey's world. Dave and I can really understand both.
So, for all of you tuning in, we had a whole bunch of conversations, and we went through various different struggles that people had. But we were able to distill them down to three, that we wanted to talk through with you today. And Dave, maybe you want to key up the first one for us. Oh, Dave, I think you're on mute.
Dave Cardiel:
I was trying to be mindful of everyone speaking there. Apologies for that. Yeah, it was good conversations to have, and very difficult to whittle down to three, but I think we've got three solid ones here. And the first one's speed to market. And this is really just the establishment of your business presence. Whatever the product or service you're trying to put out into the marketplace, are you driving an effective strategy? And then you're doing it in the timeline that meets your needs, meets your financial plan and so forth? I'm going back to a little bit in the MarTech industry.
I mean, you were talking about a $350 billion business worldwide, this is a jaw-dropping type of investments that organizations are making in the technology and getting away from a little bit of what we alluded to earlier about the shelfware, how we set up our infrastructures, what we invest in, so forth, so we can be effective and create this type of experience is absolutely paramount. So when I think about the speed to market, I think about the tech technology setup, I think about proper data set up to actually use data to make actionable results, which we'll get into just here in a second. But that's absolutely paramount, absolutely critical.
Randy Frisch:
So we're going to dig deeper on this. I want to set up the next bucket that we'll hit on as a group here, and that is personalization, it's scale. And it's very interesting as well on this one. I was out at the Forrester B2B Summit maybe two, three weeks ago, and what was wild was that the opening keynote, the first keynote of this event after they hadn't had the event in-person in years, was about the future of content. And specifically they referenced the importance of content experience, and the mindset of serving up the right content. They simplified it down to this idea of we need to nail the right buyer, at the right time, with the right content, in the right place. And those elements we're going to talk about because those are so true across both media and B2B marketing. Some more to come on that to create these Netflix-like experiences, if you will. Dave, we got one more that you're going to tee up here.
Dave Cardiel:
Measuring the results. And so if you're following our track here in terms of getting to market, setting your infrastructure, personalization, I was at that conference with you, Randy, that was one of the highlight core pieces mentioned. When you think about content, when you think about experience, when you think about flexibility and so forth. But more importantly, it's using those data sets in order to identify what's working. Are you creating the right type of experience, the right kind of journey for your visitors? And I love the Netflix example of creating something that's episodic in nature, get people coming back to the experiences that you're creating there. And using the results, that's the key there. And I think that's a kind of back to the trap a little bit what I was talking about before, is being able to use that results to create a repeatable process, not make it so difficult on ourselves, not make it such a heavy lift on our teams to create something new out of the gate every time, get those revolutions so that you're being more effective in your business.
Randy Frisch:
Couldn't agree more. Now, before we turn to Thomas to comment on the first one, I'm going to do my job this time, and I am going to cue a poll. I'm not going to screw it up twice. So here we go. Here's a poll. We want to know which of these three keeps you up the most at night. Is it that speed to market, the ability to get either media up, or a campaign out the door? Is it the ability to meet customers in a more personalized way, or is it the ability to actually know what's working? And very possible all three of these are keeping you up. We want to know that the top one here. So we're going to keep this open for another moment. I'll let the team determine when we've got a good number of responses, and we'll shut this and keep things rolling. I think we give them a six count. Five, four, three… All right, let's shut the door. Can we reveal these data points? Maybe they're in front of me and I just can't see them. Dave, do you have them there?
Dave Cardiel:
I don't. You should be able to just show poll results.
Randy Frisch:
There we go. Amazing. Look at that. All right, a little commentary from you, Dave. What do you think here? Surprising?
Dave Cardiel:
Oh, not surprising. I do like to see measuring results a little bit closer to personalization at scale. I figured that might be the leader. We're still living, for the most part, in an all digital climate. Let's just be honest with ourselves. You think about screen time, you think about a lot of folks have not returned into an office setting and so forth, so the screen is our friend. So creating those experiences for our businesses, or experiences, to bring people in as we were just talking about, that seems to be paramount to a lot of folks, is creating that personalization at scale. And then for me, being revenue minded, seeing measuring results come up a close second, that's encouraging, I think, for the future. But yeah, I would love to hear from Thomas, for instance. What do you think when you see these results?
Thomas Hinton:
Yeah, it's interesting. For me, I saw this poll come up and I was speed to market, but that's because I've already figured out personalization at scale, we feel like. And we've already got measuring results. I think going speed to market without actually listening or seeing what the results are, I think would be a bit foolhardy.
Randy Frisch:
Yeah, I couldn't agree more. Well, let's take the poll down and we'll keep rolling here. And Thomas, even though speed to market was the lowest one there, I think if people could select all three, they'd probably select all three. So why don't you start off by talking to us about why speed is so important in your world.
Thomas Hinton:
Sure. I think we've set ourselves up now to focus on speed to market. And by that I would say speed to how quickly we publish yours and how many stories we publish a day. And the reason why that's the focus is because we've set ourselves up properly with various analytics tools to listen to the results of the stuff that we publish quickly. Most of our business is going to be, is a bit different from some of the folks here, because our content is our business, is our kind of commodity that we traded. And so increasing the value of that commodity by making it get to people quicker is part of what helps the post resonate with our leadership.
Randy Frisch:
So, talk maybe a little bit, I know Thomas in your world you use, easier for me to talk about WordPress VIP and Parsely without being too pushy because it's not my platform, but I'll do it on behalf of Dave. Maybe tell us a little bit about some of the difference between life before WordPress VIP and publishing and speed, versus what you're able to accomplish today.
Thomas Hinton:
It used to be that we would have to commit a bunch of engineering resources to setting up the systems that we had in order to publish to the web. And with WordPress VIP, we have a kind of top to bottom solution where we've got everything from the content management system that stays updated, to a content distribution network that we don't need to worry about. It used to be that the architecture we had to publish a story would take us up to 15 minutes before we could update a page, or before we could publish a new story. And with WordPress VIP that's happening in real time.
Randy Frisch:
Yeah, I mean, that mindset, and I'm more the consumer in my reply to you here, Thomas. I think of examples like a sports game, where I want to know if a player got injured and how bad it was. The source of truth, the source of moment for me is almost Twitter, but it's not someone tweeting. It's some sort of media that has been picked up on Twitter in that moment that I know is trustworthy, relevant, resourceful. And I think that's what you're getting at, even 10 minutes to publish something is too long in your world. And maybe turning-
Thomas Hinton:
10 minutes is an eternity and it kills you in things on social media, with our SEO strategy. As a news organization, we've got to make sure that we verify the veracity of all the stuff that makes it into what we're publishing. But at the same time, we know that we've got a very competitive set of folks trying to break news as well.
Randy Frisch:
Casey, I'm sure in your world it's no different. I mean, even though it's not the latest sports injury, or something that's making front page news, sometimes that front page news can affect you. I imagine the last three years all the updates around Great Resignation, and now the uncertainty of the market ahead, people are trying to probably figure out what this means for the HR industry. How do you move quick?
Casey Nighbor:
Yeah, absolutely. So I mean, obviously I don't break the news like Thomas, so I am lucky in that regard. But yeah, it's obviously a volatile market, as I'm sure everyone's noticed. The job market is changing pretty rapidly and it has changed multiple times basically overnight in the last three years. So I need to stay on top of trends, I need to keep up and make sure that I can quickly be the person in our industry that has a voice on those topics. We have competitors who are in the same space who are talking about the same things. So the faster that I can get on top of those trends, be up front as a thought leader, having our experts talk about some of these things, is really important. And I think these are topics that really impact people's businesses, so they really need to know a lot of these things, and what to do, and how to move forward.
Randy Frisch:
So, one of the interesting things within your business, and I'm aware of Casey is, you're not always selling to the same buyer. I mean, true Blue's a very large organization, I believe there's different brands, let alone different personas. How does that speed influence maybe the next bucket that we'll hit on here, which is all around that need to have personalization.
Casey Nighbor:
So I have three brands that I am writing content for, and creating a content experience for. And those are all three brands with very different needs. The customers that we have have different pain points, they have different priorities. So personalization and also speed is super important for them. I'm constantly trying to juggle understanding personas, and then aligning content to that buyer. So someone who is, let's say an executive, is going to have a different need than someone in HR. So for me, it's finding that right buyer, finding the topic and the pain point that they really care about, and then making sure that they see that content. Because for us, it's like anyone could hypothetically use staffing. You need to narrow it down. Otherwise, my audience is anyone who owns a business, and that's obviously way too broad. And not everyone's the best fit. So I'm trying to figure out what's the content that matters the most to them and how can we educate them, and be helpful, and use our content to get our foot in the door, and then our sales team could take over.
Randy Frisch:
Really interesting. I know we have an example of your go-to-market queue up. Before we go to that though, I'm just curious for Thomas maybe to comment on that last mindset and this idea of, how do you think about multiple different audiences when it comes to the New York Post? Are you treating everyone more the same, because the New York Post is what it stands for? Or is there any degree of segmentation the way Casey has within your delivery?
Thomas Hinton:
Yeah, that's a good question. I think when we look at the content strategy that we had in print that we've kind of adopted to web, it used to be that we'd have a web section, a TV section, an astrology section, a gossip section, a news section, a business section. Some of those have gone by the wayside, of course, like weather, and TV listings, and stuff. But we still see each of these kinds of sections of our website is bringing in a particular kind of audience. And in that way, the personalization of us happens proactively on the readership side, all we are doing is setting up our content strategy to speak to that broad audience of people that we can bring news and information to.
Randy Frisch:
Interesting. All right. Well, let's get back to you, Casey. I know you've got a great case study. And it uses the framework that we set out at the front of this webinar, which is the go-to-market framework. Three simple buckets, if you recall, the identify, how do we understand the right accounts that should buy from us, how do we attract them with the right channels, and how do we engage them. And the cool part here we'll get to is that you're using both Dave and my world in terms of having WordPress and Uberflip as part of that. But let's ease our way to that plug. Talk to us first about how you identify the right accounts that you want to target.
Casey Nighbor:
So we use 6Sense and Salesforce to really narrow down our ideal customer. So, obviously anyone can use staffing, but there is a particular type of operation that works best with our different platforms. And obviously, with truck driving, not everyone needs a truck driver, so we're kind of constantly figuring out the type of customer that fits best. And then, moving them to the attract phase, we use Pardot, and LinkedIn, and Google Ads to really hook them and get them interested in our content. A lot of our content is thought leadership based and also based on pain points. So, are you struggling with consolidation? Are you struggling with getting enough people? Are you struggling with turnover? So we kind of use those ads to really target those people.
And then we use Uberflip and WordPress to really get into the content. So we're focusing on personally those emails and then streamlining the content experience in Uberflip, and on our website through WordPress. And we're really focusing on just giving them relevant content. My biggest motto is be helpful. How are you identifying the things that they are struggling with on a day-to-day basis? Because obviously staffing, that's a huge headache in your operation if you can't get people to work. So for me it's like, what are those things that they're really, really struggling with, and how can I help them see our business as a solution?
Randy Frisch:
Amazing. Well, just a reminder for everyone tuning in right now, by all means, if you have a question, throw it into the question part. David's doing an amazing job at moderating that, queuing the questions, we're going to hit them at the end. Or anytime there's something dead on, Cardiel, you can jump in here.
Dave Cardiel:
Happy to.
Randy Frisch:
So, for everyone's reference of what they're seeing up top on this screen, top left if you will, would be an email sent through Pardot, I assume. The right-hand side is the mesh of the overall site structure managed through WordPress as well as Uberflip being the content that's served on the pages that we're hosting. Talk to us about some of the things that you're maybe testing, and I know landing pages is one that you've seen some great results with.
Casey Nighbor:
So, for us, before Uberflip, we were really stuck in this what we call landing page hell. We were just constantly building a landing page, building a landing page, building a landing page, and it took way too long. And again, to reference back to the speed of market, it took forever. So, you're going through three different people to get just one ebook launched. So we've kind of streamlined that. It's really easy now, you just click the email, you fill out your information, you get the PDF, that's done. And yeah, we're doing some experimentation with personalization. So last year we did a lot of location-based personalization. Different markets of the country have different staffing needs. So somewhere like California that has a lot of staffing, compliance, regulations, all that stuff, on the next slide, has different needs than somewhere like Illinois, or Florida, or somewhere like that, where the compliance files are a lot different.
What we're kind of moving towards is a persona-based content experience to really build out our strategy. So different titles, job titles have different needs, they're worried about different things. So I'm trying to build content that kind of speaks to each of those personas a little bit more. And then also we're experimenting with a pain point personalization. So, what is the thing that really you struggle with in your job, and how can staffing and our company help that specific thing? So someone in HR may be worried about compliance, they may be worried about turnover, something like that. A floor manager is probably worried about recruitment and making sure they have enough people. And those are kind of different. They're similar, and they may have some crossover, but they are different for each persona.
Randy Frisch:
It's interesting, I'm remembering what Thomas said, this idea of, I mean, back when I used a printed magazine, I would go for a certain section. And I knew content would be organized in that way. And I think what you're alluding to is that need to emulate that experience in B2B. And to ensure that someone can come and know, I am this type of buyer, you've organized content for me in this type of hierarchy, or structure. And funny enough, too often I go to a website and everything's organized by format. Here's all of our eBooks, and here's all of our videos. It would be going to the New York Post and you having a section of, here's just our editorial, no matter what the conversation, here's our editorial, versus understanding that there's editorial tied to sports, or editorial tied to international news. These are two different elements that I may be coming in for. And again, we can learn so much from these two amazing examples. Dave, over to you.
Dave Cardiel:
Yeah. And I was going to just piggyback right on that, because there's a natural flow to what Casey's talking about there. And when you talk about personalization at scale, and I mean, I'm not going to do it justice by teeing it up, but Thomas just had a really great example using Doritos, using chips as a-
Thomas Hinton:
Do you want me to…
Dave Cardiel:
It's queued up next, so I just kind of see [inaudible 00:37:44]. So we're just going to [inaudible 00:37:45] in the growth that you've seen, I'd love to, yeah.
Thomas Hinton:
Yeah. So what we're doing at the Post here is we're bringing kind of a perspective of the world onto our audience. And this is what you do in any part of media, is you're building the perception that people have for the world. And it doesn't matter if you are writing romance novels, or writing market information for stock markets and stuff for WSJ, what you do is you're kind of bringing perspective to that, and that's the value that you add.
At the Post, the way that we see our value add is we add personality and character to the news that we're covering. Now, you're probably thinking at this point, "What does the heck does that have to do with Doritos?" Well, value add is this concept that you know might pay, I think I just looked this up earlier after chatting with these guys, you might pay $265 for a ton of corn. So what Frito-Lay's done is they've invested in marketing, doing taste-testing with audiences to figure out how they can process an ounce of corn and sell it for a buck, or two bucks, I don't know how big the bags are, the Doritos that you guys eat.
And they literally will make hundreds of thousands of dollars off that one ton of corn by cutting it up into little triangles and color covering it with a lovely orange powder. And that's kind of an example in the commerce world of value add. But we see the same thing in information, where if we don't bring personality and character through the news, it's going to be completely indistinguishable from how other people cover the news.
Dave Cardiel:
And that's such a good point. I think you did a great justice and I'm very partial still to the try and true Nacho Cheese for me, just if anybody out there was wondering.
Randy Frisch:
Cool Ranch.
Dave Cardiel:
Cool Ranch.
Randy Frisch:
If only that chat was working better, we could get everyone to drop in their flavor.
Thomas Hinton:
I mean, you've got Salsa Verde, and I didn't even realize they had it as a flavor.
Dave Cardiel:
What about you, Casey? What's your Doritos flavor of choice?
Casey Nighbor:
I'm going to go with Nacho Cheese.
Dave Cardiel:
Nice.
Randy Frisch:
Classic.
Casey Nighbor:
I've never been a Cool Ranch person, all right, Randy?
Randy Frisch:
Maybe it's a Canadian thing. I don't know. I don't know.
Dave Cardiel:
It's just different. Yeah, I don't know.
Casey Nighbor:
No, I feel like a weird one that doesn't like it as much as others. So who knows? And I'm from the Midwest, I should like ranch. I don't know what's going on.
Randy Frisch:
Well, listen, we're proving here the importance of, maybe the most important thing is knowing what people want. Knowing that people want Cool Ranch, or Nacho Cheese, or that rare Salsa Verde that somehow got the hero pick. Those are things that Doritos's doing because they have data, I'm sure as well. And that's where we want to round this conversation at, is around the importance of measuring results. We had a great conversation as I alluded to before this webinar so that we could structure to all of you. And one of the things that we talked a lot about was, what is the KPI and how do you make it happen? So Casey, maybe you want to walk us through this idea of what are some of your core KPIs and your role when it comes to creating engagement?
Casey Nighbor:
So, with B2B, obviously, I'm pretty responsible for generating leads. That's kind of my big KPI that I am measured on. And then also obviously content downloads, which leads to leads. But for me, how do I make that happen is return visitors. So I personally am really focused on making sure that my content is relevant enough that someone will come back to read more. And I'm really focused on quality. So for us, 50 leads that are quality, that are a good match for our business, that are ready to buy, and ready to learn about our solution, are better than 5,000 people downloading our content and none of them convert. So for me it's really about quality, getting the right people to look at our content, to engage with our content, to see us as leaders in the space and come back. And that's really what I'm focused on. And then obviously time to publish that speed to market right now is just such a huge factor with everything in the pandemic, and how that's sort of changed the job market, and the trends, and everything else.
Randy Frisch:
Makes a lot of sense. Dave, do you want to bring up the contrast here?
Dave Cardiel:
Yeah. I mean, I think just looking on the other side when you think about what's important in the media publishing space, Thomas, he's got some very specific KPIs he's running too. And we'll let him talk through that. And just a reminder, Randy, you got a poll right after he gets done here.
Randy Frisch:
No one trusts me.
Dave Cardiel:
Because I don't want to miss another one.
Casey Nighbor:
I can't imagine why.
Randy Frisch:
[inaudible 00:43:10].
Thomas Hinton:
Yeah, so we've got a number of KPIs that we follow at the Post. And what we're looking for is we're looking for share of market, the American market particularly. And we use directionally comm score numbers to figure that out. But the contributing factors to making sure that that happens is making sure that we have a high visit account, that we've got plenty of pay views. And in order to increase those two numbers, what we realize is that we need to increase the number of articles that we publish. You're never going to get a massive share of the American public if you're only publishing 10 stories a day. You need to keep that count up.
And what we've done is we've almost quadrupled the number of stories that we're publishing daily. We've built out an SEO team, and we've made sure that we've got efficiency in the way that we're putting stories together, the way that we're training people up. Not so much because we're trying to make them into content machines, but we realize that if there's an efficiency that we can save in publishing stories, more time that we can allow editors and writers to explore other ideas to tell.
And really the focus for us is making sure that we get all the noise out of the way with the different digital tools that we use, so that we can make sure that our journalists can tell stories in the most compelling way possible.
Randy Frisch:
All right. Well, I know you've got some supporting slides, but Dave, do you want to cue this poll so I don't forget?
Dave Cardiel:
Yeah, let's cue it up here. Yeah. Next poll question, keeping it interactive, folks, want to know what KPIs are you tracking most closely? We're talking about measuring results here. So, from what you've heard, from our panelists here, it's checking out one of the following. Is it page views, is it leads, pipeline, more important, revenue? Or is there something else that we haven't mentioned here? What KPIs are you most closely tracking?
And yes, there could be a couple here that are like, "Wait, I'm tracking a couple of these things." It's what KPI are you tracking most closely. So let's give it the countdown, copy you here again, Randy. Let's go, five, four, three, two, one. Let's see what our responses are here. All right. Leads. Leads, leads. Okay. Yeah, let's just hear from Randy, your quick take here on what you see here.
Randy Frisch:
I'm not surprised, because I think leads is the traditional way for marketers to show that they're bringing something to the table. But I think we're going to see a combination of those third and fourth, as long as everyone's seen the same as me, pipeline and revenue. I think those in general are going to start to really start to rise in terms of influence. Creating leads is not enough. And I think really it was put well with that TrueBlue example from Casey just a moment ago, that she'd rather have great quality leads than ultimately have thousands of them. And the best way to show that is pipeline and revenue. And I think that that's probably true both in B2B marketing and media. For Thomas, maybe passing it over to you, Thomas. I mean, page view is no debt or important, but page views ultimately lead you to ongoing engagement, which allows you to drive revenue, correct?
Thomas Hinton:
Yeah. And this is an interesting point. We've actually been having some discussions over here about this in particular. Of course, any business, their bottom line KPI is going to be revenue, and it's going to be the revenue that they net. But figuring out what the contributing factors are in order to making that a success, what we see is the KPIs for, it doesn't matter if you're getting a hundred-page views on a story and only one lead, right? And for us, if we don't have ad delivery on a hundred-page views because of some issue with ad ops, that's a problem. So, I think, as you're looking at generating leads, you try to figure out what's going to convert to a sale, is going to convert to a revenue.
So at the end of the day, that bottom line is what all business is focused on. Now, I think for many of us, and I think if I speak for the journalists in the newsroom, they're going to be focusing on page views, and they're going to say to the publisher, "Look, revenue's not my issue. You figure that out." And I think when you're working on B2B stuff, if the phone's not ringing, if you're not making contact with new potential business partners, then you're in a bad spot. That make sense?
Dave Cardiel:
I think it does. I think it does, Thomas, and it's great to get that insight. And I'd like to actually flip it over if we can close the poll and get over to some of the measurable results that you're seeing here to support the KPIs you were mentioned before. So we're kind of seeing what the audience is tracking. You're tracking some pretty significant results yourself with some growth, that's where it's mentioning here. So, why don't you tell us about it?
Thomas Hinton:
Sure. We'll use this slide. So we were talking about personalization and content strategy, and broadly speaking, these are the big buckets of content that we have at the Post. There's national news and breaking news. There's Metro News, which we don't break out separately on this slide here, but that's also very important.
To the news side, we've got eight bureaus around New York state, I think four or five alone in New York City. Everything from having a presence in one police plaza, a bureau we call the shack, to making sure that we've got people in the criminal courts. But we've also got people in DC, we've got people in Florida, we've got people in Texas.
And then lifestyle stuff. This can't always be about news. There's often human interest stories, which aren't stories that break or they develop, they're just kind of insightful stuff. I think sports and page six speak for themselves. I think we're all familiar with the appetites surrounding gossip and sports, and the different characters in sports. And then we also have a website called decider.com, which is, I guess, in a nutshell, it's what we call the TV guide for the digital streaming age. And we've got coverage on there, on when things are coming to streaming platforms and where you can find that stuff.
The numbers that we follow ultimately are where we are on the competitive set. Now, if we said to ourselves, "Hey, we want to do a hundred million page views a month." If we said that to ourselves 10 years ago, we would've been the number one website I think in the planet at that point, with a hundred million page views, because the market hadn't developed yet. So we think measuring ourselves as a KPI across the competitive set of news and information publishers in the US is the way to figure out how we're doing month to month.
We know this stuff is going to grow, and Comscore is a good way of agreeing upon the… Making sure that we measure ourselves by the same yard stick, since we're not privy to their internal numbers there. And that's why we use, this is kind of figuring out, okay, how have we been reaching an increasing share of the audience in the US?
Randy Frisch:
Really interesting, and amazing. Congrats for being in such a prestigious company here, Thomas. I mean, seriously, it's no easy feat.
Thomas Hinton:
Well I would argue with you on that point, Randy. I'd say they're in prestigious company.
Randy Frisch:
Well put. Good rebut. Well, we've got some time for questions, Dave, you've been curated on what you got for our panel.
Dave Cardiel:
Got a few. We want to just maximize this last nine or 10 minutes we have with the audience, because there's some great questions coming in, and keep pumping them into the question Q&A widget there, folks. We'll get to them there.
I'm going to compartmentalize a couple that have come in here, but it's a very common question. We've talked a lot here about these measurable results and success, both you, Thomas and Casey have seen, and what you're learning from all of this. One thing it always comes down to is the money, the budget. So, just thinking about the scope of our audience that maybe they're a smaller team with large aspirations, large KPIs and things that they are trying to achieve, maybe just they're just not resource larger organizations, what have you. What advice would you give to those audiences across the areas that you cover, or maybe some starting points for him? What tips would you give him?
Thomas Hinton:
Casey, do you want me to take that first?
Casey Nighbor:
I can take this one.
Thomas Hinton:
Okay.
Casey Nighbor:
So I think that it's a big myth in content marketing that you need a giant budget to create good content. Meaningful content really does not require a big budget. It also does not require a bunch of money in your tech stack. Flashy tech and a big budget cannot cover up awful content. I think as content marketing evolves and people are consuming content, on a digital content on just a regular basis, people are smarter. I mean, even clickbait doesn't work anymore. I mean, that sort of was the thing of the moment, and people caught on that it's crappy content.
So I mean, I think this idea that you need some giant budget to do this is a fallacy. I've always worked on a pretty small marketing team, and it's been successful because we put value into creating meaningful content. So it's not how you put it out, it's what you put out. And if you're focusing on good quality and relevant content to your audience, and to who you're trying to get to buy your solution, I think that's enough.
Dave Cardiel:
Yeah. One there, Thomas, or any comment to that?
Thomas Hinton:
No. The other thing that I would say is I think often we spend so much time planning and plotting and things, and when we actually put content out there, we realize that it's not resonating like we expected to. Or that we need to tweak it in other ways. And I think one of the things that I think a lot of people need to be quicker to do is to recognize their failures and move on to the next to plan B, right? I think too often people think, "Oh, let me double down on that," because they really believed in their idea. But the analytics will often tell a different story.
Dave Cardiel:
To get some insight from the two of you on this next one, and again, sort of compartmentalizing some of the questions that are coming in here, and that's prioritization of gated versus un-gated content. I know that's a question, a fun discussion to have across teams, is that, if you're doing something trying to create brand awareness as well as generate leads, as we saw from our audience poll, there was a popular response there, what's your sort of advice or just some tall tracks or some north star directions you're implementing in your company to make those decisions gated versus gated?
Casey Nighbor:
Yeah, that's a conversation we actually just had last year, because before I came on had a strategy of let's gate everything. And it just wasn't working. I think for us it's how much value does the content that we're offering give our intended customer. So for me it's like I'm not going to gate a case study, I'm not going to gate something that is educating the client on a very basic level about what our business is. I don't think you should be gating everything. However, when you do gate things, it's high value items. So it's research pieces, it's information that they cannot get absolutely anywhere. So we've sort of shifted our strategy in terms of if it's a high value piece, that's what you gate. You don't just gate absolutely everything. I think people will chafe at that idea of, if I gave you my information and all I'm getting is an info sheet about your business, I just don't think that's a very good content experience.
So yeah, just looking at the value that that content offers a person, and whether or not you would be willing to give your email for it. I think that's another thing that people don't think about with content. If you're not going to consume the content and you wouldn't find value in the content that you're creating and that you're gating, then you shouldn't be gating it, or you shouldn't be creating it. So, just really focusing on, if it's not quality, don't make someone give you their information for it. People know what you're doing now. This isn't the first era of content marketing. We've sort of moved past it. I think consumers are a lot smarter, so you can't just throw a gate on everything and expect people to not catch on at some point. And I think too it's like you're starting the sales cycle from someone being sort of pissed off at you of. But I didn't want this, I just wanted to learn more, I wasn't ready to commit. So I just think being really mindful of what you are and are not getting.
Randy Frisch:
Really interesting. I can see Thomas from having to answer this one, because the debate in media is maybe more heated than the debate in B2B marketing.
Thomas Hinton:
Yeah. I mean, you could think about this as about pay wolves and stuff like that, but we've been dealing with, I think a form of content decay, when we think about how much stuff that we actually put into a tweet, how much stuff we actually put into a Facebook post, or how much stuff we put into a video we put on TikTok. We've got to make sure that we're not publishing out the channels that we can't monetize and giving away the whole story. And so we've got a balance between teasing the story and having a clickbait tweet, or something like that.
But also, we have an established relationship with many of our readers. And if they start clicking on our stories and they're not delivering, then we've got a problem. But certainly, what I was saying, we could have posted an entire Oracle onto Facebook years ago, and Facebook realized that was a problem. So they helped us monetize the way that we post stuff there by the [inaudible 00:58:56] platform.
Randy Frisch:
It's really, really interesting. And this is a topic we could do a whole webinar, without question, I think. Casey, I like the way you put it, because there's no right answer here, first of all. So we've always got to make sure there's something else for them. And that's the way I think about it, is the old landing page how you described as part of the problem. If you just meet a gate, you're going to bounce, and you're going to go to a competitive media outlet, or competitive vendor in the B2B world.
And what we need to be doing is creating an experience where at the very least we have choice, and they can get to know us, and they can get to trust us. And I think we'll leave it on that note, because I know we were dead at a time. I wanted say some quick thank-yous. First off, I know Cardiel and I both want to thank our teams at Uberflip and WordPress VIP/ Parsely, that have put this together and worked to bring you all to it. And of course, we want to thank both Thomas and Casey at New York Post and TrueBlue. This conversation had so much life because of the two of you, so we are extremely grateful.
Thomas Hinton:
Sure.
Casey Nighbor:
Happy to be here.
Randy Frisch:
Take care, everyone. Thanks so much for tuning in.
Casey Nighbor:
Thank you.
Thomas Hinton:
Thank you.