Webinar Recap: Inside Our Content Matters 2023 Report
Learn what industry leaders think about the research and upcoming trends.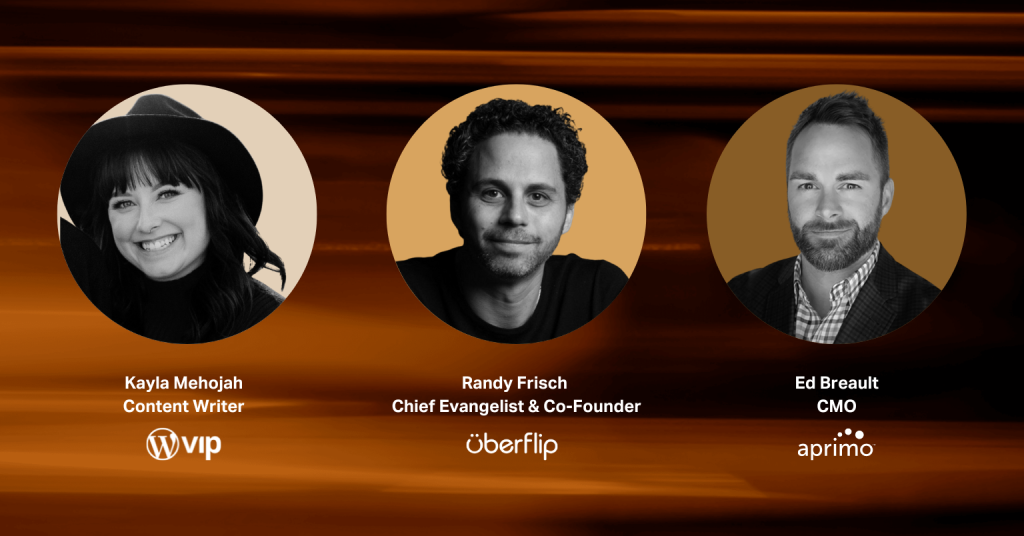 Did you know content teams and budgets are projected to grow this year, even in an economic downturn? Or that content personalization is on track to become the new SEO?
Those are just some of the nuggets from our webinar Data Is the Spark: Inside Our Content Matters 2023 Report, led by our own content marketer Kayla Mehojah in conversation with Uberflip Chief Evangelist Randy Frisch and Aprimo CMO Ed Breault. The panel walked through major takeaways from our exclusive look at the state of content marketing offering insight and advice on trends related to:
Budgets and teams are still growing
While many may be surprised to see content teams and budgets continuing to grow in an economic downturn, both Ed and Randy felt it's on par with what they're seeing in the market and at their own organizations.
With 82% reporting the need of revenue-driving content increasing, it makes sense the teams creating that content will require more resources like budget and talent.
As budgets tighten, it's more important than ever to attain—and retain—leadership buy-in to content value. In fact, of the organizations with leadership who understand the value of content, 9 in 10 have revenue goals tied to that content.
"There has been an evolution. Not only is content really valuable to generate leads, but it is even more important to progress someone through those different stages of the buyer journey."

—Randy Frisch, Uberflip
Keeping that in mind, the next step is building out an effective content strategy and then measuring the impact of that content.
"Make sure you have a good financial lens on your content strategy. You have to have the measurement layer in place with systems that serve up data at a consistent rate over time. You want confidence in the data that you're going to put your name on when it goes to leadership."

—Ed Breault, Aprimo
Content strategy is evolving
With the need for revenue-driving content increasing, teams are shifting their focus to quality over quantity. Sixty-one percent are still producing more content (down from 66% in 2022), but the amount of teams producing less content has doubled from 9% in 2022 to 18% this year.
"When you go at high volumes, you create a lot of content pollution… Be more conscientious and intentional with what you're doing because it represents your brand."

—Ed Breault, Aprimo
This is in part due to limited resources and burnout, but also to an improvement in strategy and technology. For example, using personalization to serve tailored content to audiences has skyrocketed in popularity. And teams with a personalization strategy are creating less content, whereas teams still doing A/B testing are actually creating more content.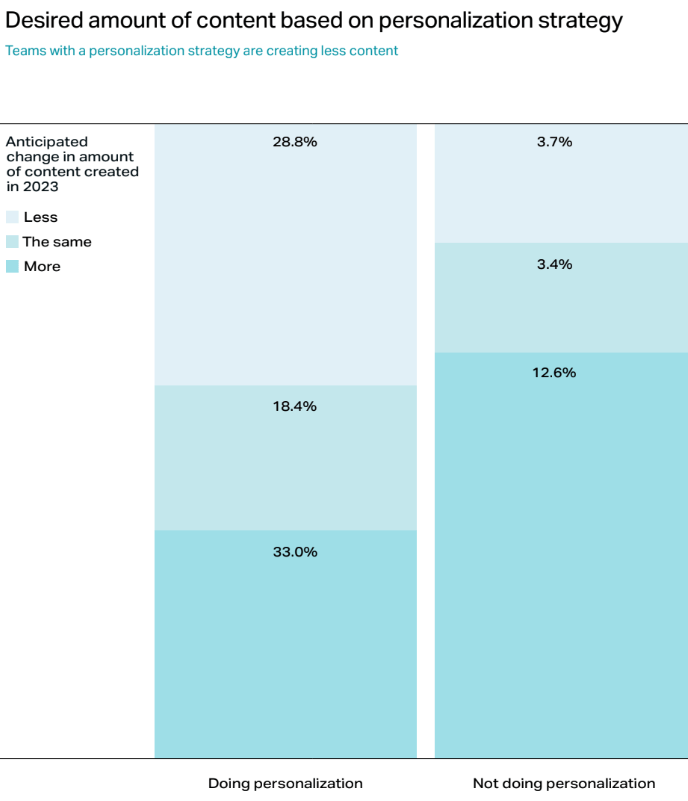 "In my opinion, personalization is the new SEO. It's rising to the level of importance SEO has on marketing teams. It delivers that tailored content experience that drives business results, and it's important to have it in your strategy."

—Kayla Mehojah, WordPress VIP
Randy cited Spotify's sterling personalization efforts in meeting and exceeding user expectations by going beyond simply greeting each subscriber by name, to providing custom-tailored playlists that feel hand-picked for each person.
"We need to think of ourselves as DJs. We need to pick the best playlist of content for our buyers."

—Randy Frisch, Uberflip
The tricky part about personalization is that it can be cumbersome for teams to implement. How do you ensure it's working? How do you measure its effectiveness and decide if it's worth the effort?
Data.
Yet, only 46% of teams use content analytics to make content strategy decisions, which leads to a major disconnect between content strategy and execution.
Content analytics are critical for proving content value
Even for those using content analytics to make strategy decisions, the focus is still on vanity metrics like pageviews, which don't tell the full story. "When we think about content performance, a lot of us just think about pageviews," said Randy. "I don't care if a million people actually read one of our posts or downloaded one of our ebooks, because I'm not looking for a million new customers this year—we couldn't handle that kind of volume." Instead, he suggested looking at metrics that show you the quality of visitors, like engagement and conversions.
"If you can't measure it, why are you doing it? You've got nothing, not one leg to stand on."

—Ed Breault, Aprimo
Surprisingly, less than half track conversions despite the need to prove ROI. The panel stressed the importance of account-level analytics, like those provided by Uberflip, and following attribution models for conversions, like those provided by Parse.ly. Even more importantly: the need for everyone to be looking at content analytics, not just content marketers.
"Content marketers shouldn't be the only ones looking at content analytics. Everyone should be looking at them and understand what they mean for your business."

—Randy Frisch, Uberflip
Increasing content analytics usership and thereby leveraging data-driven insight keeps teams on track to hit their success goals. In times of economic uncertainty and limited resources, measuring performance is essential to proving the value of your content.
Overcoming resource challenges
Resources are by far the biggest challenge for both marketing and media teams, who today need to start doing more with less.

But how do you do that? How do you overcome a seemingly insurmountable demand for high-quality content when you don't feel you have the time, talent, or technology to execute?
"You have to have a maniacal focus on what matters," said Ed, "and just do that really well."
The key is using data to find out what's working (and do more of that) and identify what isn't working (and either fix it or move on).
"Respectfully, none of us have resources," Randy said. "Resources are a problem whether you're a marketing team of four or 400. With every resource you're given, expectations rise. Figure out what your priorities are, what you're trying to accomplish—and rally people around there."
Hear our panel expand on their advice for both content and technical marketers as they unpack more takeaways from our Content Matters 2023 Report.