How to Repurpose Content That Already Exists in Your Organization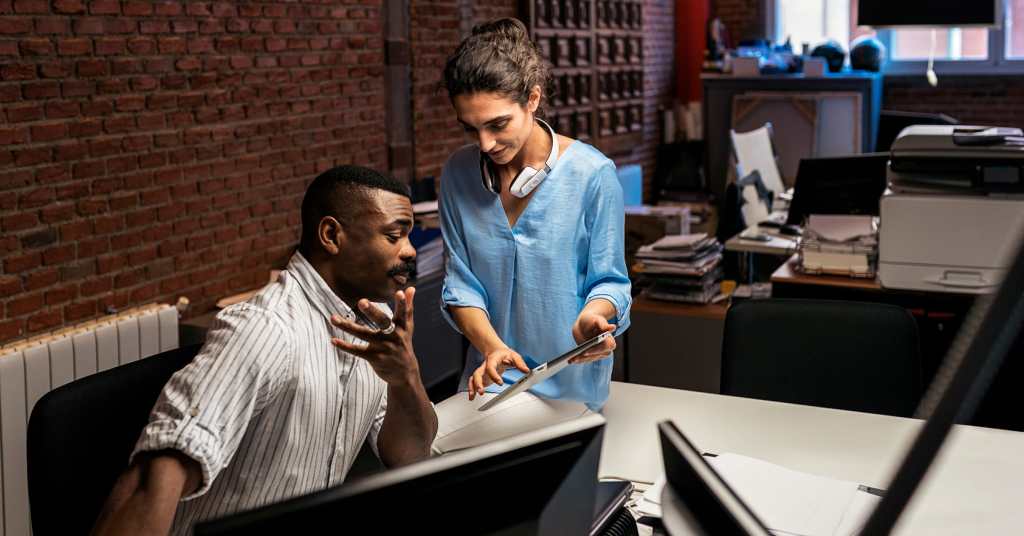 We surveyed more than 800 companies for our Content Matters report and discovered 52 percent of companies are creating more digital marketing content than they used to.
Businesses have realized content drives growth. As a result, small content marketing teams are asked to do more than ever before. Our report shows 79 percent of content teams have fewer than 11 employees.
One tactic for combatting the need for more content with fewer resources: repurpose the existing content within your organization's communications.
Content marketers already possess a treasure trove of potentially high-quality content in the form of emails, training materials, sales guides, customer feedback, and internal experts.
Your marketing strategy should incorporate and repurpose that content for a new audience—your customers. This is a way to get new life from old content while building trust with your audience and spurring business growth.
Use existing content to lend authority to your work
Small teams are creating lots of content and feeling pressure from their organizations to create even more.
That leaves content marketers looking for ways to squeeze more juice out of the lemon, which brings us to repurposing content.
Repurposing content isn't just about taking snippets from an old blog post and putting them in a new format for your social media platforms. It's about soliciting the expertise of every department in your organization to unearth the content your colleagues are creating in the course of their jobs.
Who are the subject matter experts in your company, and what do they say about customer needs and pain points? Which department is the go-to when you have a question about industry trends? What emails, Slack channels, or in-house training sessions are generating new insights for your team? These are the internal sources you can mine for "old content."
By discovering old content that already exists in your organization, you can spin up authoritative new pieces quickly. This content is internal, which means it may be old to you, but it represents new information for your customers. Because it's internal, it also means this is content your customers can't get from your competitors.
Repurpose this existing content to meet your content creation goals. That could be SEO plays to garner organic traffic or thought leadership that offers your target audience deeper insights into the industry. These kinds of original takes often prove to be a brand's most popular posts.
In short, "what was once old becomes new."

Mine the knowledge shared in emails and memos
Your team strives to make sure everybody in the organization is aware of industry trends, technology updates, and potential challenges the company faces. All of these internal communications, whether they come in the form of emails or memos, are full of interesting insights relevant to your customers.
If a certain topic or two keep coming up among your coworkers, maybe they're ripe for a roundup of interesting takes that can be turned into a new post on your own blog.
For example, WordPress VIP's marketing team spotted a content piece from one of our web performance engineers about Google's new Core Web Vitals metrics and why the lab data didn't always match the field data for a website. The content team worked with that subject matter expert to polish this gem and republish it as a long-form blog post.
Turn company training sessions and talks into webinars and online courses
Your field is constantly changing, and that means training and education are ongoing endeavors. Share with your readers what you're learning during company retreats and industry conferences.
For example, you could turn visual content from all those SlideShares and PowerPoints into bite-sized infographics for social media posts. Your content team could also repackage the lessons from your training sessions into an e-course. Then, use this e-course as a gated asset designed to generate leads and grow your email list by distributing it through your email newsletter.
Or, you could record the session and edit the video content to create brief snippets for your YouTube channel. Then, create a transcription of one of the presentations and use that text for new content like blog posts.
After the training sessions are over, consider a follow-up to the original post to show how your team put their education into practice.
Tweak sales materials into new blog content
Your sales team likely has templates for customer interactions. They've dialed in the language, data, and anecdotes to help close the deal with a prospect or teach an existing customer about a higher-value product. All of that information is useful for creating new types of content up and down the content marketing funnel.
Take product launches, for example—is there already sales enablement material being created? Was there an internal announcement? How can you reuse that content in different formats for a public audience?
Down in the bottom of the funnel, direct comparisons with different products and niche use cases are great content for white papers. It's likely this is information your sales team documented to help with sales calls, so turn to the experts when crafting this content. You can also coax sales into the content creation game and help them craft guest posts.
WordPress VIP put this principle into practice when it introduced its new and improved product documentation portal, purpose-built to help developers with technical questions. The marketing team interviewed the content architects, technical account managers, designers, and developers responsible for this big project.
Yes, the post served as a product announcement, but it also put a magnifying glass over the company's work. Instead of varnishing over the blemishes in the process, the post was an opportunity to show customers how WordPress VIP's team of experts assessed and worked through problems to arrive at a solution.
Turn support team conversations into social media content and tutorials
No one knows your customers better than your support team. The documentation and knowledge customer support uses to work through concerns and problems, respond to feedback, and keep customers happy is invaluable for the content creation team.
Every company asks for feedback after a customer support experience. Hopefully, constructive criticism builds better internal processes, but what happens to the positive feedback?
Happy customers are opportunities to provide social proof for your product. For example, email and SMS marketing software company Klaviyo learns from account executives how a company uses its tools to grow their company, then highlights those experiences in case studies.
The content derived from internal feedback doesn't have to be nearly that involved to have impact. Positive customer quotes can be turned into simple quote graphics for great social media content or testimonials on product pages.
Consider different formats, too. Your content team could re-fashion a testimonial into a YouTube video, then reuse an audio clip from that testimonial and place it in your next podcast episode.
Don't shy away from negative feedback, either. The challenges that crop up most often for your customer support teams, and the ways your support team walks customers through those challenges, can be turned into tutorials and other useful evergreen content like FAQs and how-to articles.
Get the latest content updates
Want to be notified about new content? Leave your email address below and we'll make sure you stay updated.
Use a CMS that helps give old content new life again
The key to breathing new life into old content is having a CMS agile enough to allow content creators to find, reuse, and publish content quickly.
WordPress allows for multiple contributors, which makes collaboration between different departments seamless. Plus, it's the world's most ubiquitous CMS, so everyone already knows how to use it. Backed by the security, scalability and support of WordPress VIP, enterprise content marketing teams have the tools they need to produce more content fast, without having to always produce new content.