For Enterprise Content Creators: Our 8 Favorite Features in the Latest Version of WordPress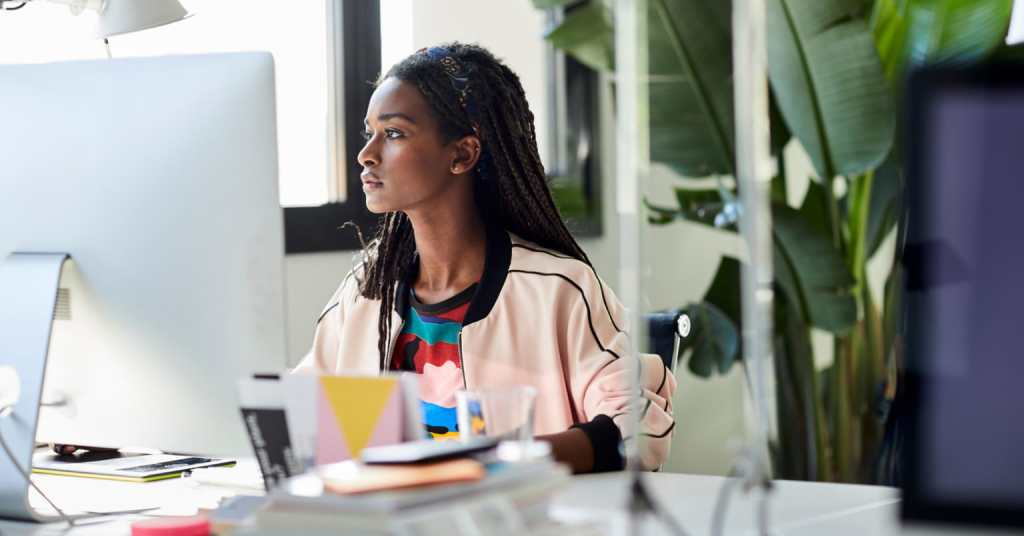 WordPress's Gutenberg block editor just got supercharged. With the WordPress 5.8 release, enterprise content creators enjoy an even more powerful editorial experience.
We're so excited about this new release that we wanted to share eight of our favorite features. Read on to discover how you can leverage these new tools for enterprise content creation.
Finally, blocks come to the widgets editor
Unlock more customization options with the block-based widgets editor. Now, you can use all your favorite post editor blocks in widget areas on your site by default, enabling greater flexibility and consistency across content areas.
The new block-based widgets are enabled by default in WordPress 5.8, so content creators can use them immediately in widget admin screens.

What about legacy widgets?
Existing widgets and third party widgets can be edited in the block-based widgets editor via the new Legacy Widget block. This block has three states: Select, Edit, and Preview. The Legacy Widget block is not available in other block editors including the post editor, though this can be enabled for advanced use cases.
To restore the classic widgets editor, developers have three choices: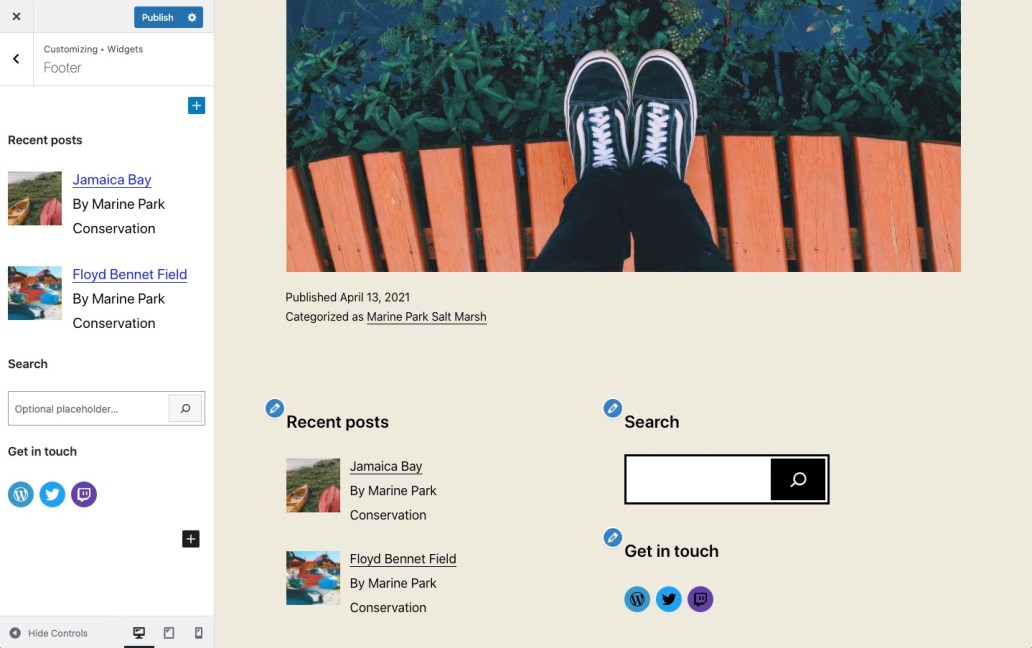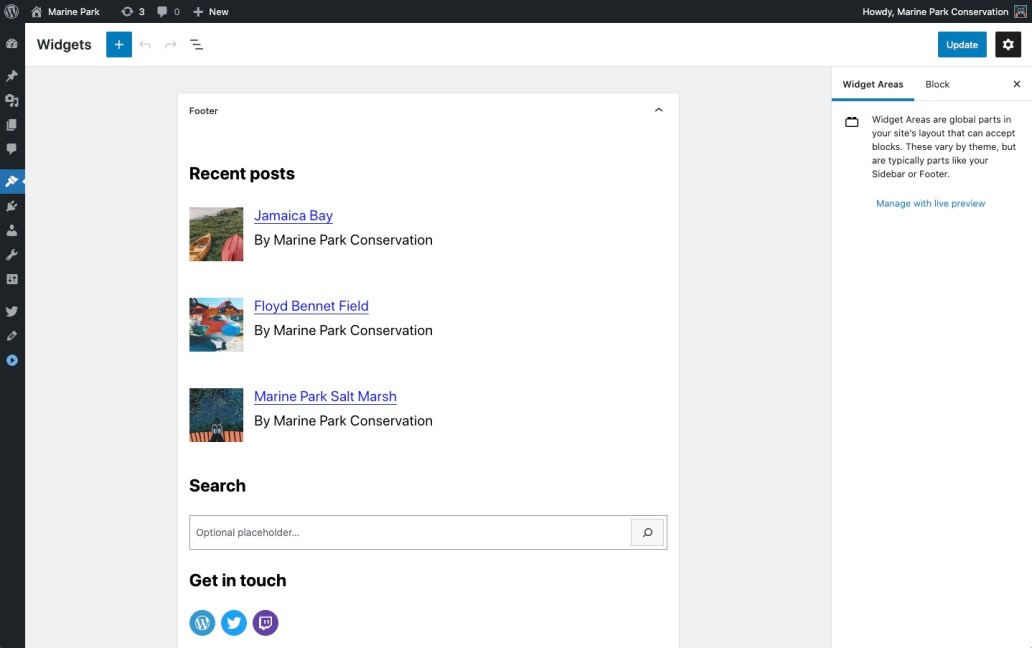 Reusable blocks get even more usable
With WordPress 5.8, reusable blocks now have revisions in place, allowing content creators to restore and cross compare previous versions. Content creators will enjoy the workflow improvement and increased governance over reusable block changes.
There's also a prompt to add a name to new reusable blocks, allowing more control over an organization's chosen naming conventions.
The posts block of your dreams
Content creators and theme authors alike have waited for a block as powerful as the new Query Loop block. Deceptively simple, this block allows creators to easily display posts from a specific category with a few clicks, for instance, spinning up a case study archive or a featured blog category page.
Unlocking multiple options for post lists, this block also comes with new patterns that take advantage of its flexibility and creative possibilities.
See the block outline at a glance
Content creators now have an improved List View experience, which makes it easier to move between exact pieces of content on the page. Think of it as the ultimate outline tool: navigate block complexity, select exactly what you need, and easily view all of the blocks that make up your content at once. Better yet, you can toggle it on/off as needed.
Going a step further, if a block has an ID or anchor set, it's displayed in List View so it's easier to distinguish between other blocks and reference as desired.
Blocks break out of the post editor
With the new full-site template editor, enterprise content creators can leverage the power of Gutenberg blocks to create and edit the templates of posts and pages.
The new template editor is disabled by default, and can be activated on an opt-in basis, either by adding support via theme code or with the Template Editor plugin.
Once enabled, block templates allow enterprise content creators to lay out entire pages in the editor using any of the familiar blocks from the post editor.
New default theme blocks give greater flexibility
WordPress 5.8 includes more than 15 new default blocks, empowering enterprise content creators with more flexibility when building posts, pages, and templates: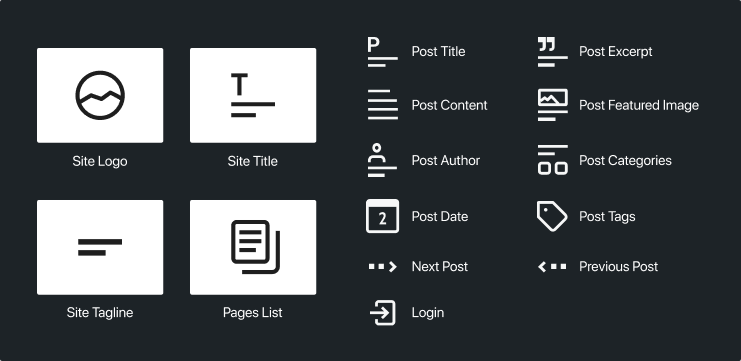 New block patterns mean greater agility
Block patterns allow content creators to save frequently-used multiple-block layouts for reusing on multiple pages and posts, greatly reducing the time needed to spin up new content.
WordPress 5.8 comes with built-in support for the Pattern Directory, a curated library of block patterns anyone can use. In the future, patterns can be submitted by anyone, similar to the theme and plugin directories.
There's also a new Pattern Transformations tool that suggest block patterns based on the block you're using. Pattern suggestions are automatically activated when inputting text such as a heading, query, social icon, button, or paragraph into the post editor. WordPress automatically formats content based on the template selected.
Add color filters to images with a few clicks
Content creators now have new duotone and colorize filtering tools available right in the WordPress editor. These filters entirely replace the colors of image and cover blocks, however, images and videos in the media library remain unchanged. The duotone effect works using SVG filters and the CSS filter property, so the image or video is never modified in your library or other channels that pull the image URL directly.
The 5.8 takeaway for content creators
With WordPress 5.8, enterprise content creation gets more powerful than ever. For more on the new features, check out the official release announcement.
To learn more about how WordPress VIP implemented WordPress 5.8 in our own site redesign, watch our webinar Gutenberg Full-Site Editing: Unlocking Agility for Enterprise WordPress. And if you're a WordPress VIP Premier Support customer, reach out to your Technical Account Manager for hands-on training.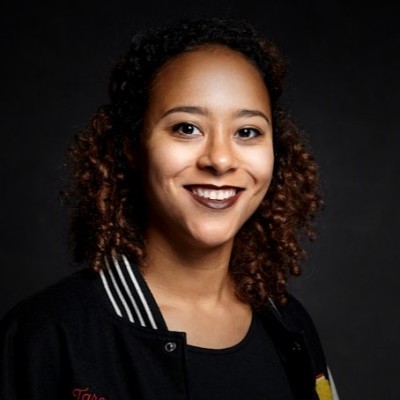 Destiny Fox Kanno
Technical Account Manager, WordPress VIP