How Microsoft's Will Tuttle Uses Content Analytics to Shape Xbox Wire's Success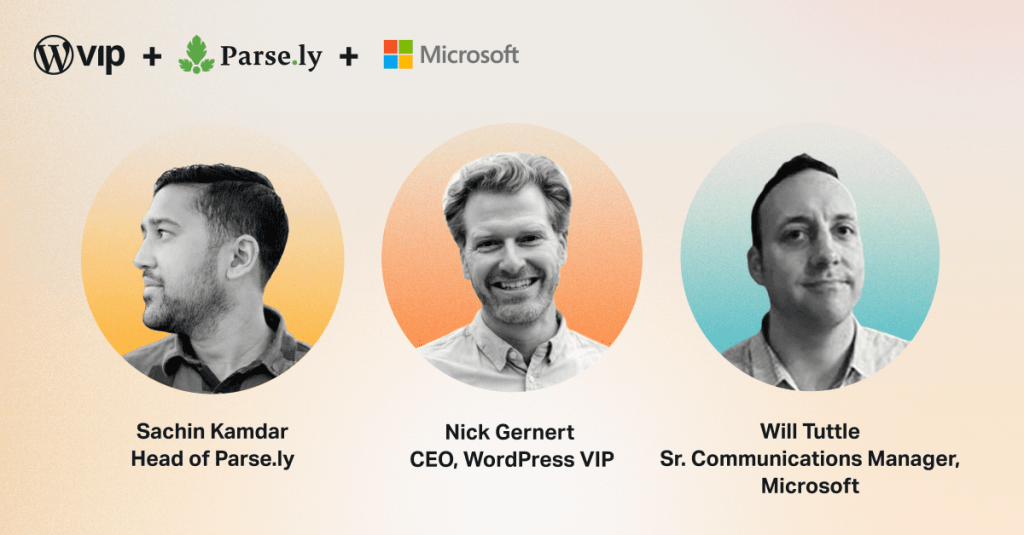 The companies winning the content game in 2021 have two distinguishing characteristics: First, they know why their context exists. Second, they use content to achieve their goals.
It's no longer enough to analyze the performance of content by its impact on the top of the funnel. Instead, marketers have to approach content analytics through the totality of the funnel—how effective is content at converting readers into buyers?
That's the question Will Tuttle asks himself every day. He's the Senior Communications Manager for Microsoft's Xbox Wire. Launched in 2013 as a press site, Xbox Wire quickly became one of the hottest destinations for gamers to learn about new releases, product launches, and more. It's now published in six languages and contributes millions to Microsoft's revenue.
Lending his analytics expertise, Will joined WordPress VIP CEO Nick Gernert and Head of Parse.ly Sachin Kamdar in our recent webinar Behind the Acquisition: How WordPress VIP and Parse.ly Are Transforming the Way Content Teams Work, which you can watch on-demand.
Below, we present his first-person take on how better content analytics have transformed the way Xbox Wire approaches its content marketing—with lessons for all content marketers.
Asking (and answering) better questions
"When I started, page views were still the end all, be all of analytics and metrics. While that's certainly a good thing to look at—and easy for non-analytics users to understand—there's much more we can be doing. It can be hard to get the full picture when you're just combing through spreadsheets and page views, adding up things and finding averages.
"It's important we find ways to use [analytics] wherever we can to inform what we're doing. Whether that's figuring out what's bringing people to the site, or how we can best keep them there. What sort of things they're doing after reading an article? That's always a big one for me: are they just bouncing or are they sticking around and reading other stuff? If so, what stuff?"
Empowering teams (and reducing manual effort)
"I want our analytics to work for me. I don't want to be working for the analytics. I spend a good chunk of my time just pulling numbers for people—fielding requests like, 'How did this article do?' or, 'How many page views did it get?' Part of analytics is figuring out ways we can empower people to find their own answers.
"I've been looking into ways that we can auto-generate reporting, where we can anticipate what's going to be asked of us, especially in terms of article performance or news performance. Where we say, 'Okay, we know that this team is going to need these numbers on Thursday of next week.' It's about empowering those teams to have the information that they need before they even realize they need it."
Uncovering audience insights to drive content strategy
"Recently, we had a story on Black History Month. We saw huge traffic numbers and weren't sure where they were coming from. It took digging, but we found a huge number were using the Microsoft Edge browser on the Xbox console itself. Normally, it's minuscule. [Here it was] like 99% of hundreds of thousands of views on the story.
"We figured out that the story was shared on the Xbox dashboard. When you turn on your console, it's right there. People were clicking on it, saying, 'Oh, I want to learn more.' It was taking them to Xbox Wire on their console.
"That was eye-opening for us. We didn't think of [the console] as a place where people read content. We figured people just want to play their games or watch Netflix. But there was a ton of engagement there. That was a really exciting thing for us. Just seeing that audience there that we didn't realize was actually there in the first place. Now we're looking at different ways we can do that again."
Finding an approach that converts
"Storytelling is about empathy. It's about understanding what your reader wants and giving that to them without making them feel like they just wasted a bunch of time or just been sold or pitched to. Be authentic. You don't want folks to feel like they're reading a corporate blog or getting their news from sterile corporate environments.
"Rather, have a tone of voice that doesn't make it feel like it's a sales pitch. We find that that type of engaging content really resonates with people more and it makes them more likely to purchase a product or download a service."
Content so good, revenue is no accident
"We never considered revenue as one of our key focuses. Revenue generated directly by Xbox Wire has grown exponentially over the last couple of years and been directly responsible for millions of dollars in sales—basically, without [us] even trying.
"Not spending time scrolling through spreadsheets has been a boon to me. I can focus more on the content creation and strategy part of my job. Finding the right tools is a huge, huge part of it. It allows us to embrace our role as storytellers, more than just product marketers."
For more of the conversation, watch our on-demand webinar.