How the WordPress Gutenberg Block Editor Empowers Enterprise Content Creators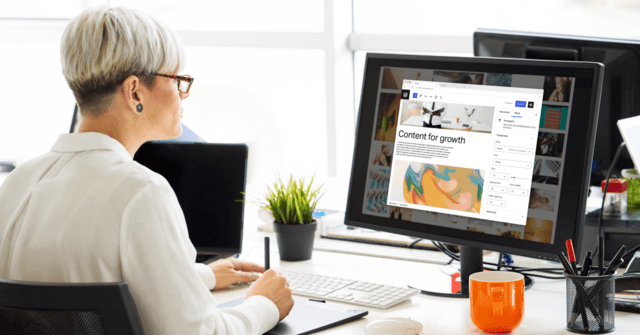 Increasingly, "no-code" tools like the Gutenberg editor in WordPress, are helping content creators effortlessly craft meaningful experiences for their customers. Instead of writing code, creators use customizable blocks to add and rearrange text, images, and embed additional content as needed. This leads to efficiency across the board, as low code/no-code solutions have the potential to reduce development time by 90%.
These tools help teams get projects up and running faster, and enterprise companies are increasingly using them. They help create a better experience for consumers too. After all, making content beautiful is a must-have in this age of short attention spans and instant gratification. In fact, 94% of first impressions of a website are design-related. When reading web content, consumers decide within 10 seconds if they can trust a company based on design alone.
Before no-code tools, only those comfortable with HTML and CSS (and sometimes even JavaScript) could create complex web content. It was impossible for anyone but a developer to fix and maintain an enterprise's digital presence. Now, what was once a tall order is accessible to anyone with a computer.
WordPress's Gutenberg block editor is a game changer for enterprise content
Block editors and other no-code tools use code in the background to help creators build pages and posts quickly and efficiently. While code is used to further customize anything on a web page, it isn't necessary to create something beautiful.
As more people become familiar with block editing software in their everyday lives, the barrier to entry or untrained users is lowered. In the enterprise, this means that any member of the team no matter how non-technical, can edit and change content and design without needing in-depth knowledge of coding and how everything works. This makes sure that time isn't taken away from the busiest on the team, and nobody has to worry about breaking things because they don't fully understand how to code. Gutenberg is intuitive and easy to use, making it crucial for enterprise content creation and design. With the Gutenberg block editor, the whole team can get involved, giving everyone a part in the process. Learn more about how we do that right on this website.
Tools like the WordPress Gutenberg block editor allow users to insert blocks into the page editor with easy options for formatting, organizing, and showcasing different content elements. Of course, practitioners with full knowledge of HTML and CSS can customize their pages even further, utilizing both blocks and standard coding practices to create engaging digital experiences.

Why the WordPress Gutenberg block editor is the best balance of design and content
With Gutenberg, WordPress makes it simple to manage and deliver beautifully branded content painlessly. Any person on the team can quickly and easily make small changes without full knowledge of code, and without a full stack of software.
Integrating beautiful graphics and other imagery with your copy is incredibly simple with Gutenberg's block editor. When a reader encounters a full, unbroken block of text it can be intimidating, and is difficult to read. With the Gutenberg editor, team members are empowered to create attractive content that's easy on the eyes, seamlessly merging design and copy to draw users in and increase both user engagement and overall time on site.
Often, designing a website means designing separate versions for desktop and mobile. With Gutenberg, your website is responsively designed from the get-go. More technical users can also leverage WordPress's Gutenberg editor and their coding skills together to make even more powerful content for their audience. Off-the-shelf plugins can enhance the platform's functionality and enable even more complex and impactful experiences.
The takeaway
The challenge of hard-to-use enterprise software tools has long plagued companies needing to publish great content quickly. With WordPress's Gutenberg editor, managing and delivering content is made easier than ever before. Easy-to-use tools allow anyone to create content without coding or design experience. The Gutenberg block editor is the best option for both bringing new sites and pages online and for rolling out edits quickly.
Instead of waiting days for developers to make minor changes, non-developers with access to the editor are able to make the fixes themselves. This frees up bandwidth for those already busy developers while empowering less tech-savvy users. With no-code solutions like Gutenburg, the whole team becomes more efficient.
Experience the WordPress Gutenberg block editor right now.
Get the latest content updates
Want to be notified about new content? Leave your email address below and we'll make sure you stay updated.