3 Ways an Integrated CMS and Ecommerce Platform Can Boost Growth
Electrocomponents is a 70-year-old company whose mission is to deliver innovation and inspiration to engineers worldwide so that they can do their business better. And we're talking about a lot of engineers: across six lines of business, Electrocomponents serves 500,000 products to 1 million customers in 80 countries each year. In a single day, Electrocomponents will ship upwards of 50,000 packages.
In 2019, Electrocomponents launched its first direct-to-consumer business line, OKdo, focused on serving the single board computing (SBC; think Raspberry Pi) and the Internet of Things (IoT) markets. OKdo provides end-to-end support for all SBC and IoT segments, spanning makers, entrepreneurs, industrial designers, educators, and reseller partners.
Adrian Goodman has worked for Electrocomponents for over 20 years, and he's now the Senior Digital Product Owner for OKdo. Last year, WordPress VIP and our agency partner Box UK collaborated closely with Adrian and his team to launch OKdo's global ecommerce platform, powering sites in seven markets across three continents and six languages, supporting multiple currencies and complying with global tax and trade regulations. (Get the full story in this case study.)
We recently had an opportunity to chat with Adrian and Allie Brock, Product Owner at Box UK, about their experience building and operating OKdo's new global ecommerce platform at scale.
In the course of the conversation, Adrian revealed the key to OKdo's success so far: adopting an ecommerce platform that integrates natively with their CMS—in their case, WooCommerce and WordPress VIP. (Be sure to check out the webinar for more insights!)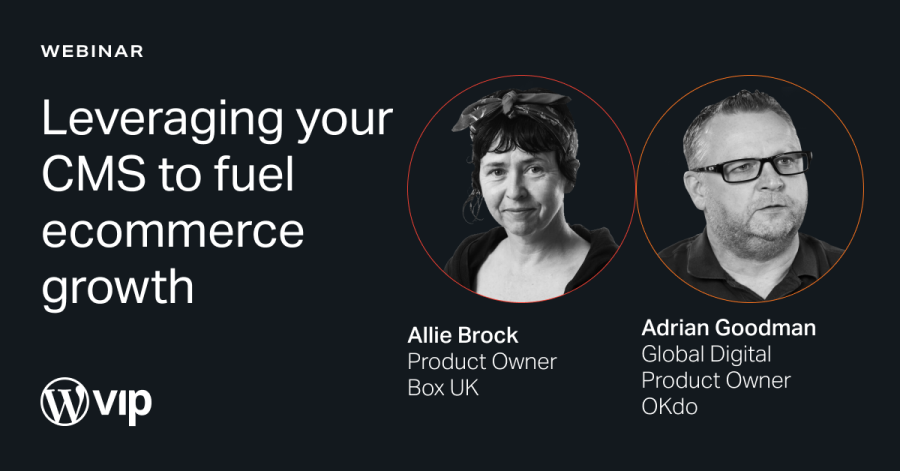 1. Increased flexibility
One of the benefits of choosing an integrated CMS and ecommerce platform is increased flexibility. "We're a very small team at OKdo," Adrian explained. "We're part of a large organization, but our team is very small. Having the entire platform integrated helps us be nimble."
From the beginning, Allie knew WordPress VIP and WooCommerce would be a great fit for OKdo's needs. "To me, having content and your ecommerce platform together seems natural," she elaborated. "Any gap in connecting those together leads to delay."
2. The ability to quickly spin up new offerings
Another benefit is the ability to get to market quickly. "With a B2C business model," Allie said, "you're not just marketing a product—you're marketing an idea." And bringing new ideas to life requires tools that empower rapid product launches.
One example: when the UK received notice earlier this year that schools would be closing to limit the spread of COVID-19, Adrian knew OKdo could help.
"We hit on a campaign called Kits for Kids. We had a bit of a flash of inspiration that we could pull something together to create a value-add offer targeted at children and families at home trying to learn something and keep occupied," Adrian said.
Luckily Adrian's team had recently upgraded to Gutenberg, the WordPress block editor, which made it super simple to create new branded, modular product pages and launch them within days across multiple markets. "It literally was a Friday lunchtime idea and it was live by Monday."
To promote the offering, OKdo employees took kits home and recorded videos of their own kids playing with the product. They pushed it out on social and generated strong engagement. "It was quite popular," said Adrian. "It wasn't about making a ton of revenue—it didn't set the accountants' hearts beating. But it did help build the brand." And as a fairly new company, building brand awareness is a huge win.
3. Bringing out the best in your team
Finally, an agile CMS can bring out the best in your team. Easy tools with intuitive workflows enable each contributor to deliver quality work in a timely manner instead of wasting their time wrestling with clunky software.
Allie has seen this dynamic play out in real-time with WordPress VIP and WooCommerce at OKdo.
"Last week we had a product launch with OKdo that involved updating products, creating a landing page, creating a press release, making changes to the home page, updating the hero, all of that kind of stuff. And it all being in the same system meant that people who are experts at managing products also became experts at creating content."
Planning ahead
When asked about the future of OKdo, Adrian emphasized the role of content in OKdo's ongoing business growth.
"We want to reach as many customers as we can, through not just product but through content as well." The SBC and IoT markets are both expanding rapidly, and Adrian knows OKdo will need to be proactive to compete with players like Google and Amazon.
With WordPress VIP and WooCommerce, he's got a game plan for success. "It's more content, it's better content; it's more product, it's better product, and doing it all at scale."