Celebrating The 360 Blog, a new milestone from Salesforce and WordPress VIP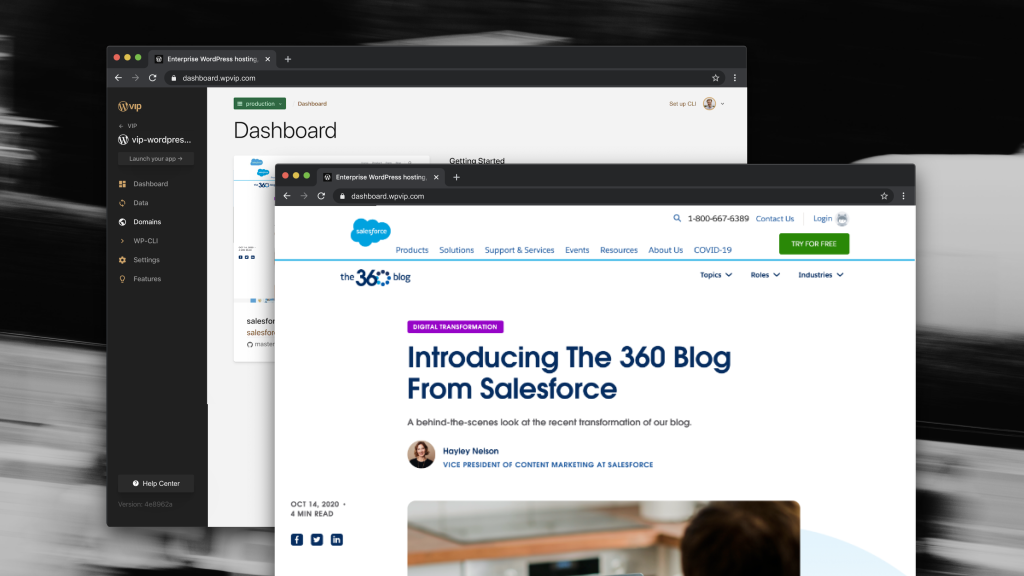 Today we are thrilled to celebrate a milestone in Salesforce's digital transformation journey: the launch of The 360 Blog, powered by WordPress VIP.
As Salesforce's Vice President of Content Marketing, Hayley Nelson, explained in our conversation earlier this year, Salesforce is on a mission to tell impactful stories that provide customers with relevant, timely information to confront the challenges keeping them up at night.
Agility is key to creating a valuable customer experience
With content at the heart of their customer experience, Salesforce knew they needed a CMS agile enough to empower them to respond quickly to changes in the market. When COVID-19 hit, for example, the content marketing team rallied to create the Leading Through Change series—to deliver helpful guidance to business leaders navigating the unknown.
"Unfortunately, our legacy publishing systems were not as flexible as we were, and it took weeks, not days to create the key pages we needed to house our new initiative," wrote Hayley in her post introducing the new blog. "We're optimistic this kind of pivot will go differently in the future."
Usable software provides both flexibility and control
Hayley also needed a CMS that could ensure Salesforce's marketing team—over 1,000 strong—could deliver a consistent customer experience across all their channels. The intuitive WordPress editorial interface makes it easy for large teams to build exactly what they need while adhering to a cohesive design system.
"With WordPress's drag-and-drop modules and a full range of options for multimedia embeds, we'll have greater flexibility to customize the presentation of our stories," Hayley wrote.
"We are also now poised to efficiently deliver content to our global community in multiple languages, and soon we'll scale this infrastructure and design system to nearly 20 markets around the world."

A next-generation digital experience
Behind the scenes, WordPress VIP and our agency partner 10up worked hand-in-hand with Salesforce's team to build, migrate, and deploy this new digital experience on the VIP Cloud. The project builds on the success of other launches on our platform including the Salesforce Newsroom and is a key demonstration of the agility that WordPress VIP provides. Core to our mission is to empower customers like Salesforce to focus less on infrastructure and more on delivering a valuable customer experience.
Salesforce is without a doubt one of the most transformational companies of our time and WordPress VIP is pleased to partner with them as they bring their next-generation digital experience platform to life. Stay tuned.