We're excited to announce our newest technical partner, Setka! Setka creates tools that make it easy for content creators to produce beautiful, customizable, multimedia content pages that work across platforms.
Part of what makes the Setka Editor special is it brings the elements we love about print design into the interactive environment of the screens we use today. It puts power directly in the hands of editors and designers to create stunning content with beautiful features—without much extra effort (and without always having to rely on developers). They can change page layouts, add interactive and multimedia elements, and make other design decisions based on what will serve their content best. The user-friendly WYSIWYG interface combined with customizable layout and style templates give the people producing content creative freedom while making sure they stay on-brand with design.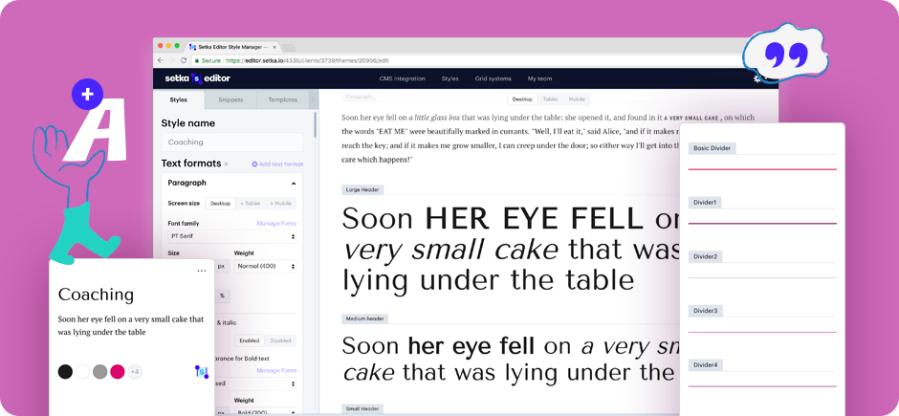 While the user experience is a breeze, the Setka Editor is working hard behind the scenes. It's already compatible with the new Gutenberg editor, and will stay on track as WordPress moves to version 5.0. It pairs with the AMP for WordPress plugin to generate eye-catching Accelerated Mobile Pages. It generates the mobile version of your article pages automatically. The HTML is stored in the database, so your content design stays the same even if you uninstall the plugin, and pages can be exported in any necessary formats. The plugin seamlessly integrates into both editorial processes and scaling technical infrastructures to keep everything moving efficiently.
"We're so proud to be a WordPress.com VIP Partner, since VIP and the WordPress community value design as much as we do. We can't wait to keep adding more features to help you easily produce amazing content," said Katya Bazilevskaya, co-founder and CEO of Setka, who spoke on visual storytelling at this year's VIP Workshop in Napa.
If you'd like to know more about how Setka can improve your daily workflow, drop us a note.