WordPress VIP Is FedRAMP Authorized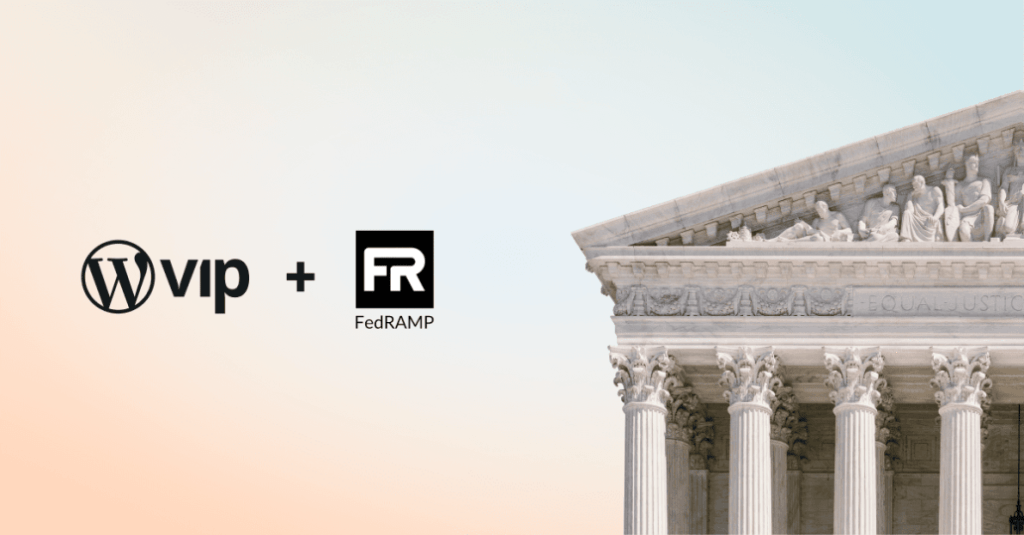 We are happy to announce WordPress VIP has received FedRAMP authorization—the only WordPress enterprise platform to do so.
According to a Deloitte survey, 70 percent of federal organizations felt they lagged behind private sector websites in terms of digital capabilities. In the case of digital content, US Government agencies have historically been limited to inflexible legacy content management solutions, slowing their ability to create and deliver digital experiences with speed and agility across web, mobile, and other channels.
Now, WordPress VIP offers government agencies the opportunity to reduce the toil and cost of building digital experiences through our secure, user-friendly, and agile content platform.
What is FedRAMP?
The Federal Risk and Management Program (FedRAMP) is a cybersecurity risk management program for cloud products and services employed by US federal agencies.
According to Gartner, more than 45 percent of IT spending on system infrastructure, software, and business outsourcing will shift from traditional solutions to the cloud by 2024, as organizations increasingly use cloud service providers for new initiatives or to replace outdated systems.
That shift brings mission-critical concerns about cloud infrastructure security, which is where FedRAMP comes in. Trusted to keep data safe, secure, and up to strict standards, only FedRAMP-certified providers of cloud services can work with secure federal government data. Notably, WordPress VIP is the only WordPress platform to achieve FedRAMP Authority to Operate (ATO).

The benefits of WordPress VIP for government agencies
WordPress VIP is the best option for government agencies that require strict security protocols with their data. WordPress VIP's agile content and design capabilities are now open to agencies looking for more than their current CMS can offer.
WordPress VIP takes the heavy lifting out of content creation, and enables modernization of legacy infrastructure, also offering expert support, flexible architecture, and industry-leading security protocols with a FedRAMP ATO. The WordPress editing interface is easy to navigate, and accessible for those with little content creation experience.
Hear how WordPress's ease of use meant that the Democratic National Convention Committee could get the convention's website up and running in a matter of weeks.
WordPress VIP's FedRAMP ATO empowers agencies to focus on more than content. With FedRAMP sponsorship from the Department of Veterans Affairs, WordPress VIP has already caught the attention of government agencies for its proven impact to accelerate digital transformation.
FedRAMP authorization demonstrates WordPress VIP's commitment to data security for all its customers. While WordPress VIP's stringent security protocols protect sensitive information, the intuitive and easy-to-use content management workflows seamlessly gives users up-to-date, accessible, and accurate information.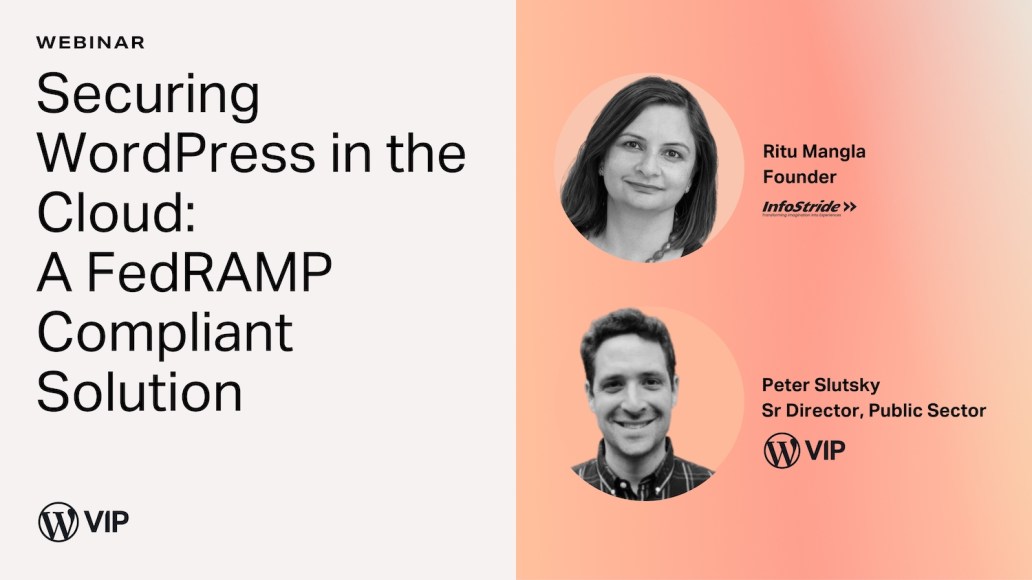 Discover how to strengthen the security of your WordPress website in the cloud while achieving FedRAMP compliance.
Why should your CMS be FedRAMP compliant?
While FedRAMP is an important certification for US government agencies, it's also peace of mind for global brands in high-risk industries like finance, health, defense, and tech who want to leverage the many benefits of WordPress.
That's because content is essential to business growth. For content creators and developers to be successful in today's demanding environment, that content needs to be hosted on a secure platform. Data breaches are bad for business—in 2020, the average cost of a data breach was $3.86 million. These incidents also damage brand reputation. Using a FedRAMP-compliant platform is another step in protecting your applications and safeguarding customer data.
FedRAMP authorization is further proof the WordPress VIP platform adheres to the highest security standards, so marketing teams can enjoy greater agility, while IT and security departments can sleep well at night.
It's also important to note, FedRAMP compliance is an ongoing commitment. That means as security threats evolve, so will WordPress VIP protection, giving enterprises and government agencies a partner they can trust today and in the future.
Get the latest content updates
Want to be notified about new content? Leave your email address below and we'll make sure you stay updated.
FedRAMP + WordPress VIP
A FedRAMP ATO is big news for WordPress VIP and our customers. Government entities and other risk-averse organizations are now empowered to create excellent digital experiences with ease.
"Security and compliance are some of the most critical disciplines for WordPress VIP," said Eduardo Lundgren, WPVIP's Chief Technology Officer.
"Global brands in high-risk industries like finance, health, defense, tech, and government need to feel confident when we power their applications. All of our origin data centers maintain SOC 1 and SOC 2 Type 2 certifications, and now we are the first WordPress enterprise platform with a fully hosted FedRAMP certified solution. We enable our customers to focus on building digital experiences and get them to market quickly and confidently, all with government-grade security and compliance."
Learn more about our agile content management, commerce, and analytics platform solutions for government agencies.