Performing a Content Audit
Your content takes on a life of its own as soon as you hit "publish." But too often, marketers post content and never think about it again. Then in the blink of an eye, your content is aged and outdated and provides little value to your audience.
Enter: the content audit.
By keeping your content in check on a regular basis, you get a pulse on how your content is performing, can easily maintain your existing content, and find out what you should change.
Here's what you need to know about performing a content audit.
What is a content audit?
A content audit is the process of measuring and analyzing the performance of content that lives on your website, such as landing pages, resources, and blog posts, over a given length of time. Rather than being just an inventory of your existing content, a content audit is an in-depth evaluation and analysis of your content based on key performance indicators (KPIs) from multiple data sources.
A content audit is a more involved version of the routine historical content analysis you perform to understand your target audience, prioritize ideas for new content, and guide your content strategy.
Perform a content audit to add additional data-backed context to your regular daily, monthly, and yearly content reporting. Taking the time to regularly perform content audits positively impacts your business as a whole—not just your content team.
Taking the time to regularly perform content audits positively impacts your business as a whole—not just your content team.
What is the purpose of a content audit?
It's a best practice for businesses large and small across industries to perform a content audit at least once a year—if not more often. But why is it so crucial for success? There are two main purposes of a content audit.
Search engine optimization (SEO): For many businesses, organic search is a main driver in increasing web traffic. This means SEO makes a big impact on the business, especially when it comes to brand awareness. A website content audit helps you identify the areas that are hurting your website's SEO. By conducting a content audit for SEO, you're able to determine some actionable steps to take to improve your site's organic search performance.
Content marketing: Beyond analyzing visit metrics, engagement, or social shares in a silo, a content audit also allows you to see how your audience is responding to each piece of content in the context of multiple data sources. Being able to cross-reference your content's performance with all of its related metadata is a crucial step to learn what's working and what's not, and make changes accordingly.
A content audit shows your business where you need to focus your future SEO and content marketing efforts. It gives you insights into the changes to make on your site to provide a more seamless and compelling digital experience for visitors—your potential customers.
What are the benefits of a content audit?
There are several benefits of content audits. The first, as mentioned above, is evaluating your SEO efforts and finding new ways to improve your organic search ranking. Another is determining other weak spots or inconsistencies on your website.
For instance, you may find broken links or pages where your brand voice isn't consistent. By addressing these previously undiscovered issues, you can provide a more compelling digital experience for your audience.
Lastly, a content audit helps you gain data-driven insights into all of the content on your website. Equipped with this data, you're empowered to:
What tools do you need to perform a content audit?
A good content audit requires time and resources. You can manually source data for your website content audit over a period of time, but using analytics tools to automate parts of the data-collection and research process will make your life much easier.
Here are some of our favorite tools to aid your content audit process.
Screaming Frog provides a fast and advanced SEO site audit tool called SEO Spider, which can be used to crawl websites of all sizes. The tool collects URLs from your sitemap and creates an SEO content audit, allowing you to find broken links, analyze page titles and meta data, discover duplicate content, and much more. The goal is to help you quickly identify site issues and make informed SEO decisions.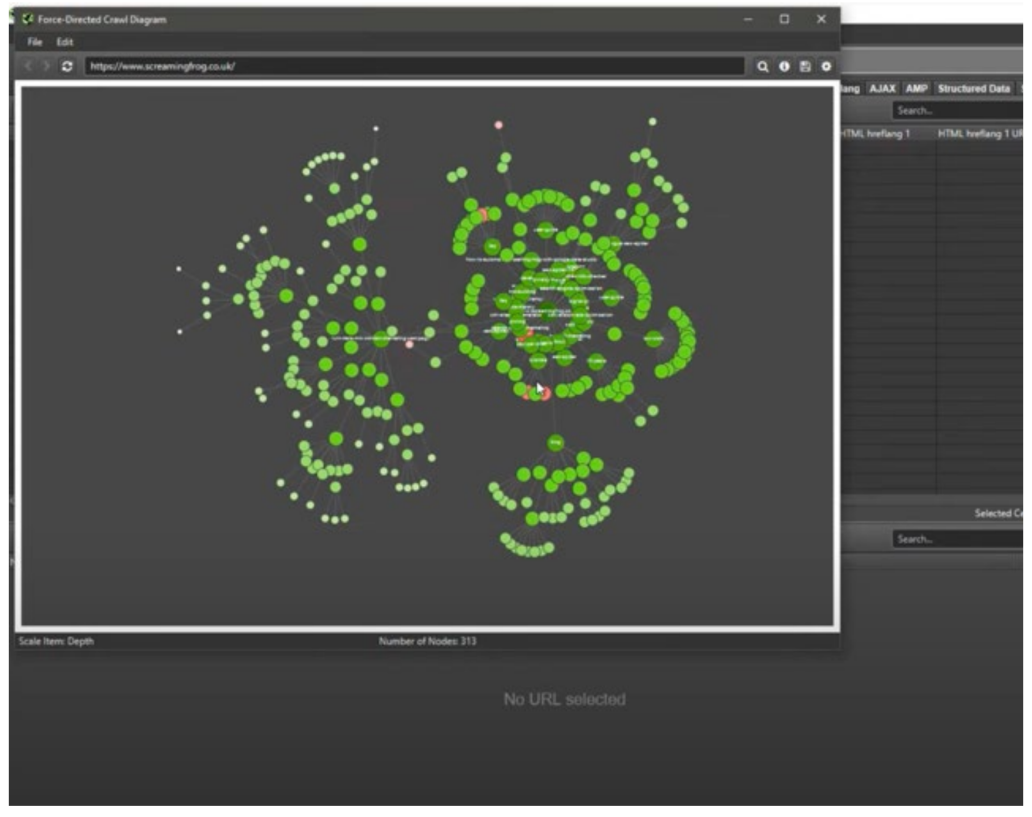 2. Semrush is another useful content audit tool. You can personalize your content audit based on real-time metrics from Semrush, Google Analytics, and Google Search Console. Input your website domain and you'll get a custom report that shows areas of your site that need improvement.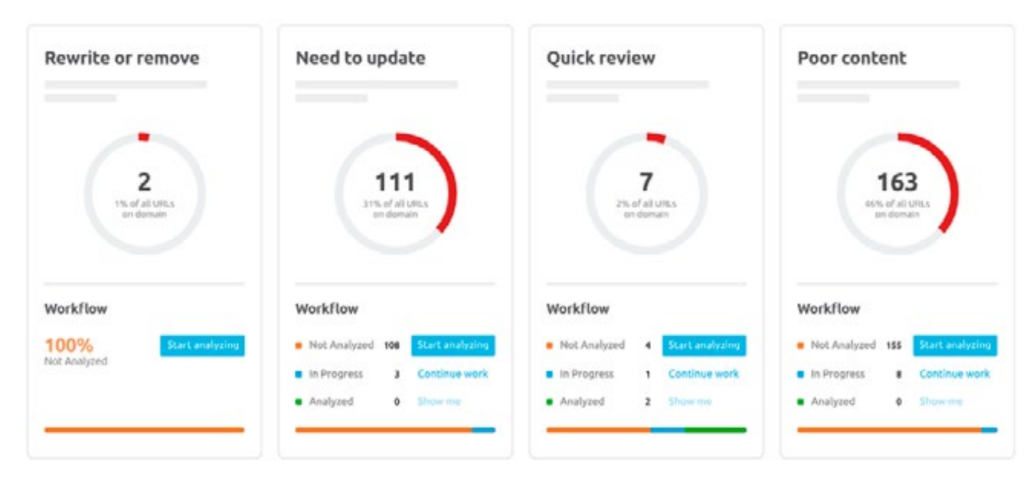 3. Yoast SEO is the #1 WordPress SEO plugin. It makes sure your site meets the highest technical SEO standards and gives you the tools to perform a content audit and optimize your content for SEO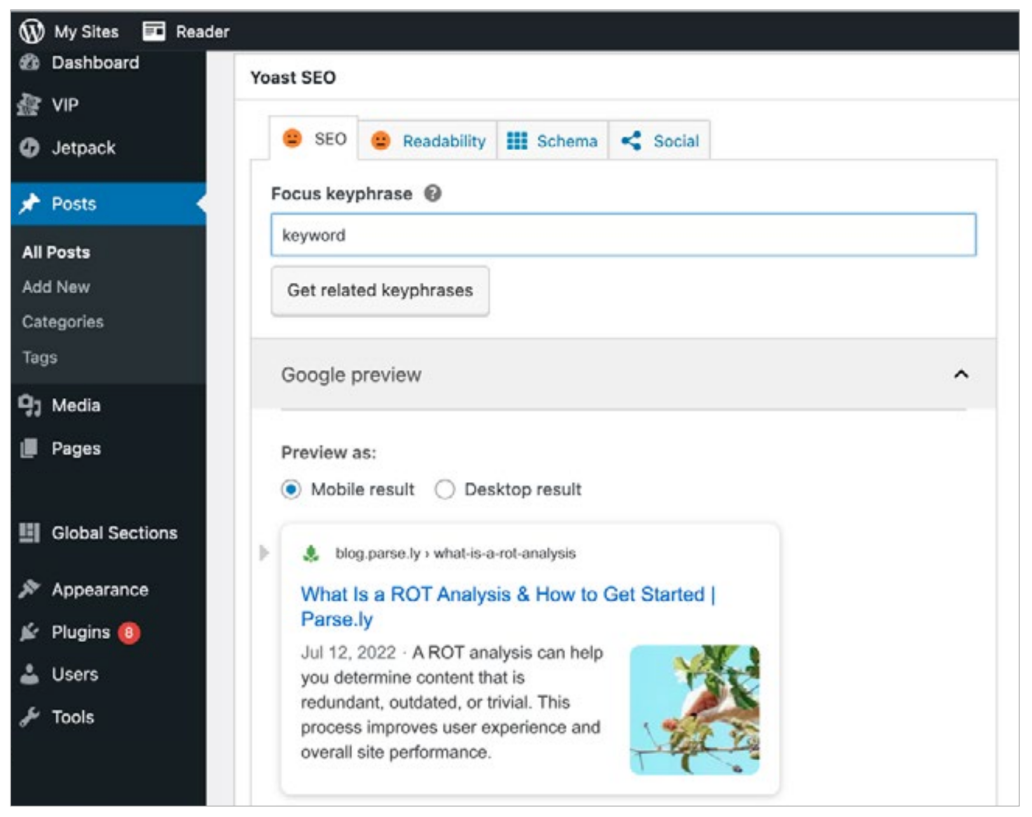 4. Google Search Console helps you improve your performance on Google Search. With it, you're able to gain content insights via Search Analytics, crawl individual URLs, get immediate alerts on site issues, and more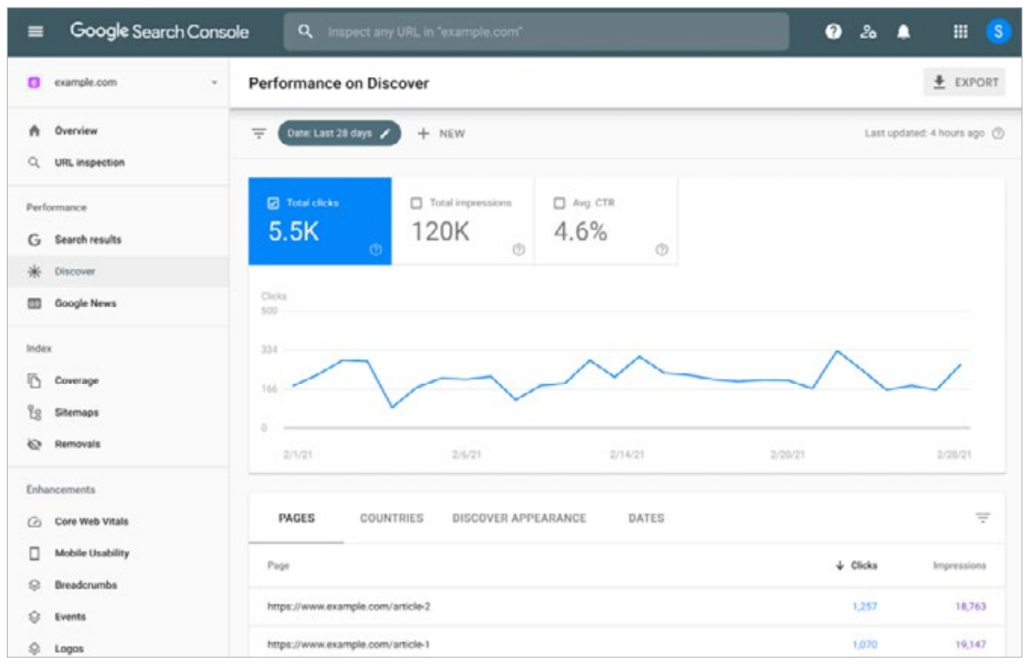 5. Moz is an SEO software tool that helps you crawl your site on demand, discover technical SEO issues instantly, and find specific ways to improve your site, such as adding title tags. You can also build your own custom dashboard.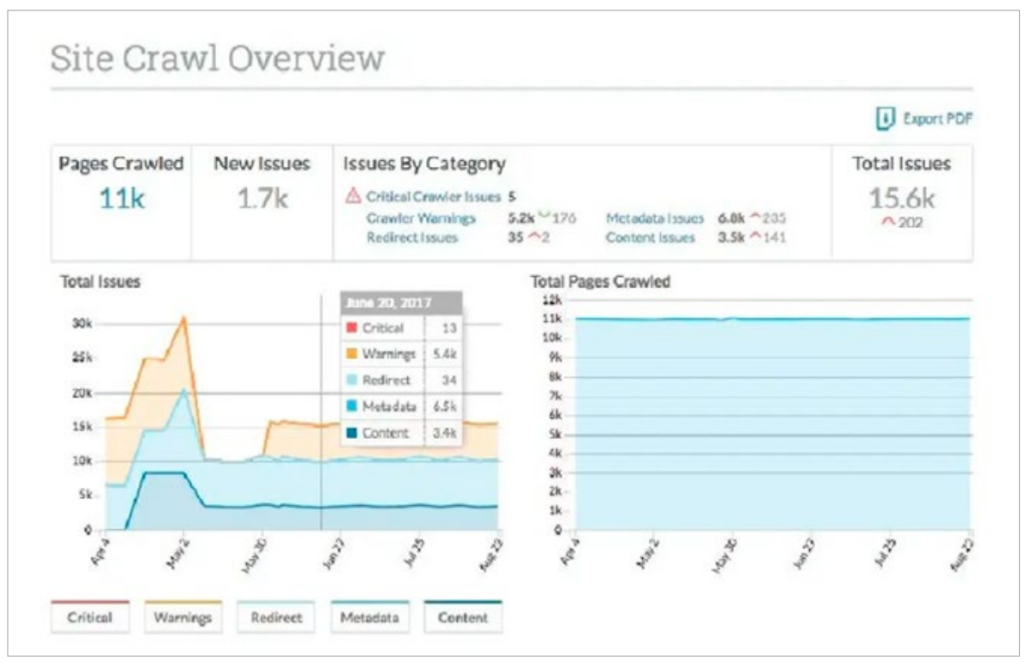 6. Parse.ly, part of the WordPress VIP platform, is a content analytics solution that is specifically designed for measuring the performance of content, unlike SEO or general web analytics tools. It helps content teams gather real-time and historical data, either by using filters to focus on a particular aspect of data or through automated reports. By automating your content analytics, you're able to gain trustworthy, data-backed insights into the performance of every piece of content on your website during your audit.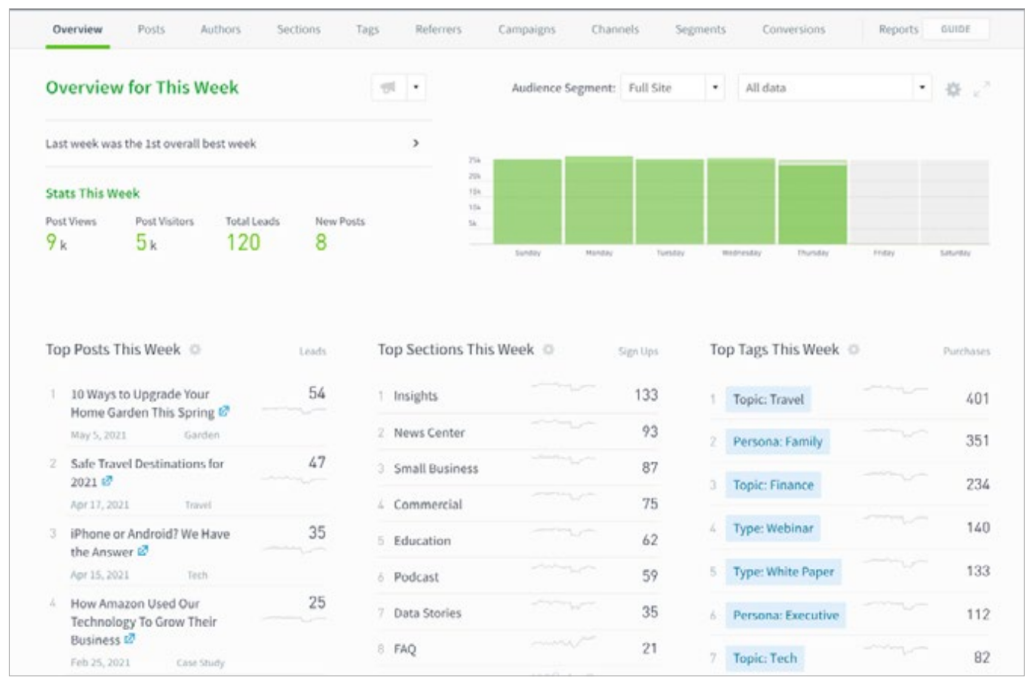 How do you perform a content audit?
Now that you understand the value of a content audit and the tools needed to do the job, it's time to start executing. Here's a step-bystep guide on how to perform a content audit.
Step 1: Define your scope, goals, and metrics.
Before collecting and analyzing any data, think about what you want your content audit to accomplish. What do you want to measure? What overall company goals is your content team driving and contributing toward? And what problems do you want to address?
First, set the scope for the content and metrics you'll evaluate in your audit, considering these questions:
Do you want to audit your entire content archive? Or just content published in a specific timeframe? Perhaps just a specific type of content?
Do you want to analyze the all-time performance of your
content? Or just the performance over a certain period of time?
The answers will depend on the date of your last content audit, the next one scheduled, and the timelines of any long-term content initiatives or projects to account for.
Better optimize pages for search engines.
Discover whether your metadata, such as tags or categories, is being used correctly.
Identify high-performing content to promote on your homepage or via a newsletter and other public-facing channels.
Identify high-performing topics and create more
engaging content.
Update or remove outdated, stale, and redundant content.
Strengthen your brand voice with consistent messaging
and tone.
Organize content for easier discoverability and
higher conversion.
Find what content works best at different stages of the
buyer journey