It's Official: The Future Is VIP Go!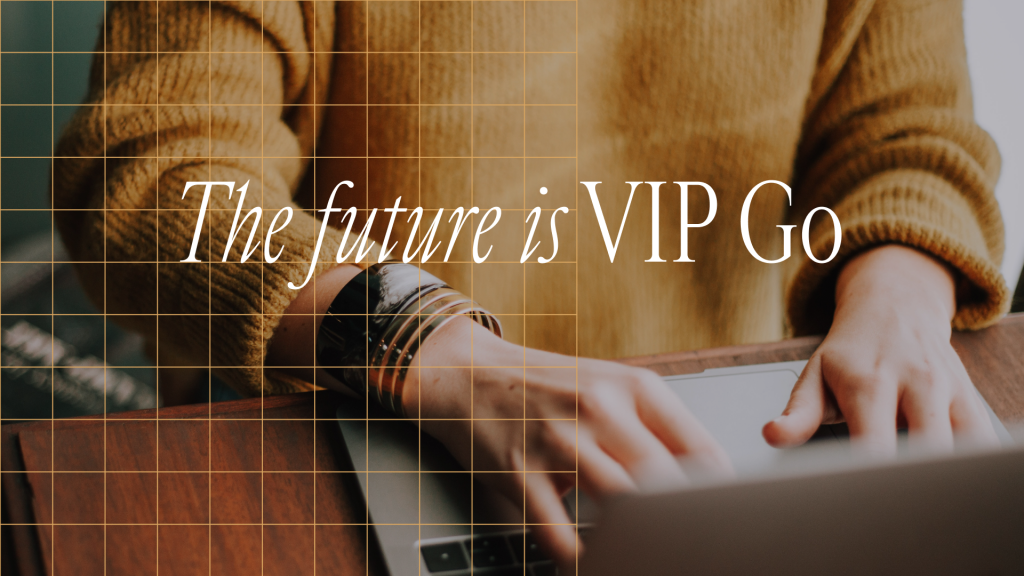 We're excited to announce that by the end of 2020, all WordPress VIP customer sites will be upgraded to VIP Go.
VIP Go is our proprietary cloud platform custom-built for enterprises who need to deliver amazing content at large scale.
Why VIP Go?
In the decade-plus that we've brought the benefits of WordPress to large organizations, we have learned their needs are concentrated in four key areas: agility, flexibility, simplicity, and ownership. VIP Go addresses each of those needs in a powerful, intuitive platform with the rock-solid performance and reliability our customers have come to expect from WordPress VIP.
What are the benefits of VIP Go?
Agility
With VIP Go, our customers' development and marketing teams are more agile than ever. VIP Go introduces GitHub workflows and a new command-line interface (the VIP CLI) which puts more power in developers' hands to ship new code quickly. Editorial teams enjoy the same intuitive interface as before, with faster turnaround time for shipping new sites and projects.
Flexibility
Direct access to the WordPress API makes it easier than ever for our customers to build exactly the experiences they're looking to deliver with seamless third-party integrations. With the introduction of true pre-production environments, teams are able to experiment freely, test thoroughly, and tweak to their hearts' content—all before making any changes to the customer-facing application.

Simplicity
Can we say three cheers for added simplicity anywhere we can get it these days? Our engineers built VIP Go based on over a decade of expertise powering the most sophisticated implementations of WordPress at scale. Over the years, we've learned what works, what doesn't, and how to optimize the experience (from performance to usability to security) so customers never have to worry about things like uptime or traffic spikes. VIP Go bakes that expertise into the very infrastructure of the platform, so customers are free to focus their attention and resources on driving revenue and delivering their product roadmap.
Ownership
The new VIP Dashboard grants additional visibility and access to content syncs, domain mapping, command line history, and more, putting control of the application in the developers' hands. The VIP-CLI makes it convenient to run commands and query applications. Furthermore, code review is no longer required, though it is still available for customers on a by-request basis. Our goal is to grant our customers increased ownership of their applications while continuing to provide the world-class support that has always defined our approach to customer partnerships.
What's next?
As of today, more than 75% of our customers are already enjoying the added benefits of VIP Go. This group includes some of our larger organizations with complex, mission-critical applications—think brands like Intuit, Vanguard, Facebook, and more. Each of these companies migrated from our previous platform to VIP Go with great success, and we're excited to move nearly all of our customers onto VIP Go by Sept. 30, 2020. At that point, we will begin phasing out support for sites on WordPress.com VIP and transition completely to VIP Go by Nov. 1, 2020. (Are you a current customer with a question about your migration? Please reach out to your Relationship Manager for more details.)
VIP Go is a significant milestone in bringing the best of open source to large organizations who need agility, flexibility, simplicity, and ownership in their software in order to bring out the best in their teams and their business. Content forms the heart of every customer experience, and we believe every customer experience should be delightful. We are proud to play a role in making the web a better place, one deploy at a time.